It's most definitely the end of an era -- some might say the end of an error. Alcatel-Lucent is effectively no more.
Today marks the first day of full operations of the "new" Nokia Corp. (NYSE: NOK) following its successful acquisition of Alcatel-Lucent. The Finnish giant, which has undergone a significant transformation during the past few years (offloading devices and the HERE unit to focus on networking, professional services and intellectual property management), now has 104,000 staff, annual sales of about US$27 billion and a claim to be the number-two provider of networking hardware, software and services to communications service providers globally (trailing Ericsson). (See Nokia Confirms Leadership Team, Eurobites: Alcatel-Lucent Reaches Finnish Line, Nokia to Claim #2 Carrier Vendor Ranking and Nokia + AlcaLu: What the Analysts Say.)
It also marks the end for the joint venture between Alcatel, the former French networking and technology powerhouse, and Lucent, once the darling of the US telecom technology market. Now those brands are no more, joining the likes of Nortel and Tellabs in the file marked "Retired."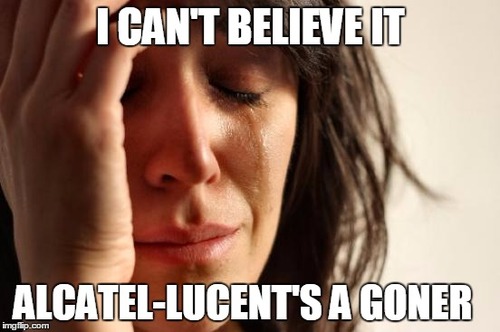 Alcatel-Lucent was born in December 2006 with Pat Russo as its CEO and a share price of €10.07. She presided over the company for about two years, during which time it suffered from excessive internal politics and cronyism. But she still left with a near $9 million golden goodbye. (See Alcatel-Lucent Stays Tight-Lipped and Who Will Replace Russo?)
By the time Ben Verwaayen took over as CEO in September 2008 the vendor had a share price of €3.58 and was on the slide. Verwaayen knew that radical changes were needed and that the telecom and web worlds needed to integrate, but he was unable to execute. (See Verwaayen Takes the Helm at AlcaLu and AlcaLu's New Vision: More Convergence.)
When Verwaayen was replaced by Michel Combes in April 2013, the share price was sailing close to the €1.00 mark and the company was nearly bankrupt. Combes introduced a Shift Plan to keep the company in business and focus it on all things IP. (See Alcatel-Lucent Builds Future Around IP, Alcatel-Lucent Unveils Shift Plan and Alcatel-Lucent CEO Preps Kill List.)
It was a painful strategy that resulted in major job losses but it kept the company from going under. Despite proclamations that Alcatel-Lucent was strong enough to survive on its own, Combes helped to engineer the takeover by Nokia and when that deal was announced in April 2015 AlcaLu's share price reached €4.25. (See Nokia, Alcatel-Lucent in Merger Talks and Alcatel-Lucent CEO: We Can Go It Alone.)
Now it's 2016 and that company is part of Nokia. Throughout its turbulent near ten-year life, the one consistent part of the AlcaLu story has been the success of the IP division headed up by Basil Alwan, who joined Alcatel back in 2003 when his company, TiMetra, was acquired by the French vendor. Alwan is one of the few AlcaLu executives to make the switch to the Nokia senior management team and there's every reason to expect his IP/Optical team will retain its quite remarkable momentum. (See TiMetra at Heart of AlcaLu's Shift.)
The landscape for Nokia and Alwan is quite different now, though. Virtualization is turning the networking hardware market on its head and the combination of Nokia and AlcaLu was arguably the catalyst for the heavyweight partnership between Cisco Systems Inc. (Nasdaq: CSCO) and Ericsson AB (Nasdaq: ERIC) ("Ciscosson") that was announced last November. (See Cisco + Ericsson: From Soup to Nuts.)
So now the stage is set for a major scrap between Nokia, Ciscosson and Huawei Technologies Co. Ltd. for a large part of the communications networking sector spoils. Let battle commence, albeit without some of the most familiar brands of the past few decades.
And Nokia's share price? It's down 2% to €6.74.
— Ray Le Maistre,

, Editor-in-Chief, Light Reading