For any IP telephony skeptics out there, get ready to take your medicine. The technology is providing cost and productivity benefits that meet or overreach almost every expectation, according to a report by Sage Research Inc. out this week (see Sage Sees VOIP Productivity Gains).

The report, titled "IP Telephony & Employee Productivity: A Survey of IP Telephony Adopters," found that more than 80 percent of users of both IP telephony (IPT), which travels over the local-area network (LAN), and voice over IP (VOIP), which travels over the wide-area network (WAN), see increased productivity within six months.

"That's pretty quick payback for a technology deployment," says Sage research director Chris Neil, who oversaw the report.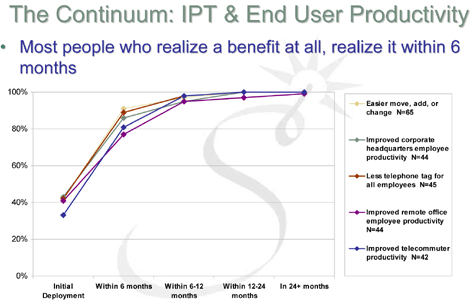 Sage prepared the report for Cisco Systems Inc. (Nasdaq: CSCO), one of the largest IP telephony equipment vendors, but insists that the 100 IT decision-makers it surveyed for the report had deployed IP technology from a range of different vendors. "It's not vendor specific," Neil insists.

To participate in the survey, vendors had to have deployed IPT or VOIP for more than a year. The study also looked at results from three online focus groups.

The main reason cited by users for moving to IPT was cost savings, but 65 percent of respondents also said that improving employee productivity was a big driver. Most surprising, according to Neil, was the finding that more than half of those respondents were targeting productivity gains among their non-IT staff.

Sage expected to find IT staff-related benefits associated with the new technology -- such as faster moves, adds, and changes. For example, 72 percent of respondents said they save 1.5 hours or more each time an employee moves. But the improvements to non-IT staff productivity were startling, Neil says. Sixty percent of respondents said that IPT made moves easier for non-IT employees, and employees at half of all the companies surveyed spent less time playing phone-tag after switching to IP. This, Neil says, is mainly due to features like follow-me and unified messaging.

Almost across the board, companies realized the productivity improvements and cost savings they had expected before deploying IPT, the report states. There were, however, two exceptions. While 55 percent of respondents had expected their IT staff to spend significantly less time supporting end-users after deploying IP Telephony, and 62 percent expected the staff to spend less time managing equipment, fewer than 45 percent said these expectations had been met. "More people expected this as a benefit than actually realized it," Neil says.

The gap may not be very large, but falling short on key expectations could derail further expansion plans for IP telephony. "IP vendors need to focus on this," Neil says. "The early adopters do hold a certain amount of sway over public opinion."

— Eugénie Larson, Reporter, Light Reading