After spending three years developing what it thinks is a unique approach to rating, billing, and creating real-time wireless data services, Massachusetts-based ProQuent Systems Corp. has a problem -- how to describe its fancy new device.

Officially, the venture-backed startup is shipping what it terms an IP Mobile Services Switching Point, but, concedes CEO Tom Hamilton, most folk don't have a clue what they're talking about. "When we're talking to people from the telephony world we say we have an IP service switching point, and when we're talking to IP people we call it a programmable router."

The ProQuent box works pretty much like an Intelligent Network (IN) state machine in a voice network, which recognizes freephone or premium rate numbers and triggers an event report to the carrier's billing system. These event reports and triggers are what enable phone companies to price phone calls above or below their standard price per minute so that, for example, you can call free to reserve your airline ticket, or pay a small fortune to listen to a fortune teller or sex line (or a psychic slut... a pslut?).

ProQuent has applied this same idea to data services, but instead of recognizing phone numbers it has designed a network device that inspects packet flows and recognizes the specific application protocols encapsulated in those flows. Armed with such visibility into their users' traffic, mobile carriers are then able to price traffic above or below their standard data bearer rates, and restrict or permit access to certain services.

How It Works

ProQuent claims to detect specific events or content in user IP flows and then make this information available, via its API, to the operator's service control applications, without introducing any additional latency into the session. "We provide full Layer 7 packet inspection of multiple protocols on all traffic from all sources at full wire rate," claims Hamilton.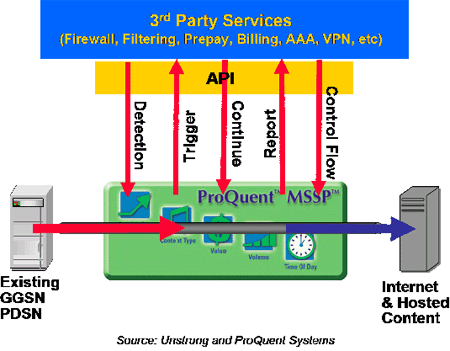 One application where this could be useful to the operator would be to enable free access to sponsored content such as mpeg video clips, where the sponsor (and not the user) is charged for access to a service -- the equivalent to a freephone number. Or the carrier could levy an extra charge for access to a specific URL -- equivalent to a premium number.

Carrier Bypass

Another application could be to prevent carrier bypass, where third-party MMS or SMS service providers are able to encapsulate outbound messages in an http or instant messaging session and then use a cheap SMS or MMS termination service to deliver messages at a fraction of the regular cost. Alternatively, independent providers can even set up their own messaging services to completely bypass the carriers' messaging infrastructures (see: Fastmobile: Move over SMS).

This kind of activity is a growing problem for wireless carriers, because SMS and MMS services typically command a huge premium on the operator's standard data prices -- a megabyte of SMS traffic is worth roughly $600, versus $5 a megabyte for GPRS data -- and they are a vital source of non-voice revenue. Hamilton claims that ProQuent's technology, gives carriers visibility into these encapsulated traffic streams to find out what's going on, and the control to decide at what price to allow this activity.

Competition

While many other vendors claim similar capabilities for their products, ProQuent believes that its approach is superior to competing products such as next-generation GGSNs (GRPS Gateway Support Nodes), PDSNs (Packet Data Serving Nodes), or IP Service nodes.

(For more information about GGSN and PDSN features, see the Unstrung Webinar, Wireless Routers: Linking the Radio Network With IP.)

Rod Randall, a general partner at St. Paul Venture Capital, says he was originally looking for a GGSN play when he invested in ProQuent but recognized that the GGSN standard did not include the firm's "conditional query intelligence," which he says "doesn't exist in the packet world."

"ProQuent fixes a problem that wasn't foreseen, or at least wasn't seen as important when the standards were being written, and we're now seeing a number of RFPs and RFIs specifically looking for this function," says Randall, who thinks that the GGSN and PDSN vendors that are attempting to develop their services capabilities won't succeed in the current market. "They're essentially still trying to develop routers, and we think they're going to fail miserably. The big vendors already have an adequate GGSN."

Hamilton extends this argument and says that "with routers and IP services boxes, all the services you can offer are built-in. But with us you can easily add new third-party apps via our API.

"Our main competitor is Cisco's Content Services Gateway, but that only supports FTP and HTTP protocols. We support many more protocols and can introduce new ones almost at will."

He won't, though, disclose quite how the ProQuent box is able to work at wire rate even when it's processing traffic from a fully-loaded, high-capacity GGSN such as the Juniper J20. "That's all part of our secret sauce." [ Ed. note: ewww!]

Finance

To date, the three-year old company has raised a total of $34 million, and, although it is yet to name a commercial customer, it has the backing of seemingly ever willing investors. "ProQuent is a lot more capital efficient than other companies in the packet core domain, but we can put more than twice that in there if needed," says St Paul's Randall.

However, in a big hint that they're about to start shipping for revenue and may not need another round of funding, the firm recently hired a VP of finance and will soon name a new chief operating officer. "We anticipate a customer announcement in the summer. It'll be a big name, someone you've heard of," says Hamilton.

— Gabriel Brown, Research Analyst, Unstrung