ONI's Secret Weapon

Comment (23)
SAN JOSE, Calif. -- During a week in which snow coated the tops of the surrounding mountains, there was no doubt that
ONI Systems Inc.
(Nasdaq: ONIS) was generating some heat down in Silicon Valley.
Last week, the company blew out earnings expectations and increased future revenue guidance (see
ONI Beats Estimates, Boosts Guidance
). This week, ONI extended its product line, buying interface technology from
Finisar Corp.
(Nasdaq: FNSR) and announcing software that will enable customers to provision their own optical circuits (see
ONI Systems Buys Finisar Folly
and
ONI Offers OPTX Portal Package
). In short, the recently public company is ascending, as some of its startup peers are slipping and sliding.
Light Reading
made a visit to ONI Systems this week to find out what's making this company tick.
For one, there's CEO Hugh Martin, an energetic talker and former
Kleiner Perkins Caufield & Byers
entrepreneur-in-residence who bounces around a glass-walled office framed with drawings of yachts. Martin's vision is a practical one targeted at extending the edge of optical networks to enterprise networks. He believes metropolitan optical technologies will open up new opportunities for corporations to use wavelengths for bandwidth-thirsty applications such as storage area networks. (Milking the SAN market is the trend
du jour
amongst optical networking vendors and VCs -- see
Shedding Darwin on Light
.)
"Joe Nacchio [the CEO of
Qwest Communications International Corp.
(NYSE: Q)] says the biggest opportunity is in delivering fiber to the enterprise," says Martin. "If all you're doing is fiber relief, it's not a big market."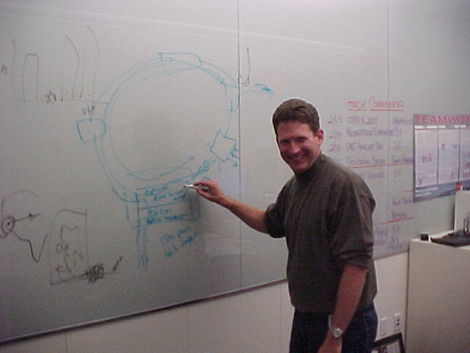 Then there's the box. Metro DWDM (dense wavelength-division multiplexing) is a hot market, but there's certainly no shortage of players. What is it about ONI's approach that can separate it from the crowd? It's clear that the protection and provisioning features make ONI's DWDM system more interesting. In addition to offering plain vanilla DWDM channels, the nodes can be strung together in rings and offer protected channels with 50 millisecond restoration -- essential for the mission-critical telecom market. In other words, ONI delivers DWDM efficiency with Sonet-like reliablity.
But after digging deeper into ONI, the key to driving its next stage of growth may be the company's state-of-the-art manufacturing and testing system. As it matures and gets tied to Wall Street's brutal quarterly demands, manufacturing and inventory control will become the most important element of success.
That's where a Canadian, Alain Leclerc, fits in. Leclerc formerly worked at
Nortel Networks Corp.
(NYSE/Toronto: NT), where he directed the manufacturing of the company's now-famous OC192 line.
The defection of Nortel employees such as Leclerc is part of the ongoing legal battles between Nortel and ONI (see
Nortel Sues ONI
and
ONI Strikes Back
). From the looks of it, Nortel has reason to be concerned.
Leclerc said he left Nortel because he was ready to do the startup thing. "I wanted to go somewhere and start from scratch," he said, "I could do some different things here that I couldn't do at Nortel. Virtual manufacturing is unique to ONI. There is also the climate, moving from snow to sand, and the potential to put some money in the bank."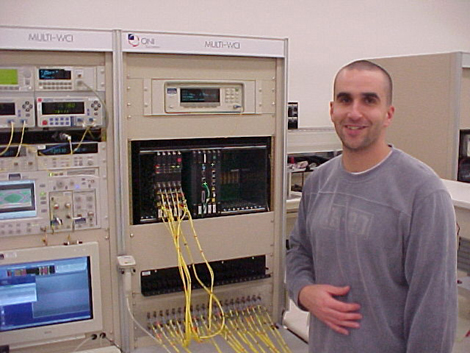 How unique is Leclerc's manufacturing system? Hard to pin down. But ONI's peers have definitely noticed.
"I think it's unique in the way they integrate everything together," says Bart Shigemura, CEO and president of
Alidian Networks Inc.
, who is familiar with ONI's technique. "The manufacturing, operations, and testing is all integrated, and when the product comes off the line the customer signs and they can declare revenue right way." ONI's manufacturing line was indeed humming along during the
Light Reading
visit, with dozens of cards plugged into computer-driven tests and a couple dozen entire systems stacked on trollies headed for the loading dock.
Leclerc's "virtual manufacturing" system ties the company electronically with its contract manufacturers and suppliers, which include
JDS Uniphase Inc.
(Nasdaq: JDSU; Toronto: JDU),
iPhotonics Inc.
, and
Pemstar Inc.
(Nasdaq: PMTR). Leclerc and others in ONI manufacturing are able to monitor, in real time, the manufacturing of their subsystems and components at their partners' facilities. This includes getting live updates of the yields on the production line. The companies are also connected by Webcam so they can engage in live videoconferencing to debug problems in the assembly process.
"I can monitor the yields and all their measurements," says Leclerc. "All of our data is going into the same database. So I can do all of the analysis as if it were happening at ONI."
This process is important because it has led to a close relationship with JDSU, which is just down the street. JDSU integrates a number of small switch assemblies for ONI, which are manufactured as subsystems. ONI can sync up the deliver of the subsystems with its own manufacturing process by monitoring JDSU's yields online.
It may be products and early customer success that drove a company such as ONI to IPO. But it's the manufacturing system that drives a company past the tweezer and microscope stage and wins Wall Street approval. In the last few quarters, at least, that appears to be central to the ONI story. Does this mean that ONI's got the metropolitan optical market locked up? Certainly not. Although Martin is quick to preach the benefits of DWDM versus Sonet, next-generation Sonet boxes -- such as those from
Cisco Systems Inc.
(Nasdaq: CSCO) and
Redback Networks Inc.
(Nasdaq: RBAK) -- are selling well. And large, well-funded companies addressing the core switching market, including
Ciena Corp.
(Nasdaq: CIEN) and
Sycamore Networks Inc.
(Nasdaq: SCMR), are aggressively pursuing the metro DWDM market.
There are also several startups working on more sophisticated DWDM systems with dynamic bandwidth provisioning. But in the meantime, with the door to the IPO market shut, ONI Systems has some time to enjoy its early lead. -- R. Scott Raynovich, executive editor,
Light Reading
http://www.lightreading.com
EDUCATIONAL RESOURCES

PARTNER PERSPECTIVES
- content from our sponsors
GUEST PERSPECTIVES
- curated contributions