Oldest. Telepresence. Ever

Comment (9)
3:10 PM -- Tired of telepresence yet? Too bad.
After viewing the telepresence offerings of two big names,
Cisco Systems Inc.
(Nasdaq: CSCO) and
Nortel Networks Ltd.
, we got the opportunity to see the original --
Teliris Ltd.
. (See
Nortel Trumps Cisco?
,
Cisco's Telepresence
, and
Teliris Trash-Talks TelePresence
.)
In addition to a demo at the Teliris offices, we saw a demo of its very first room it ever installed in the offices of
Lazard
. It also happened to be the oldest telepresence room in the world, period.
Teliris was different from what we'd seen so far in a few ways, some good and some bad. We'll start with some of the advantages first.
For starters, Teliris says it runs a multipoint conference better than anyone. For example, imagine if you're in New York and are conducting a telepresence meeting with San Francisco and London. You would have each city appearing on a separate plasma screen in front of you, and Teliris claims they're the only ones who can pull this off. Cisco for example, says can only show one city at a time on screen.
Another big difference is the flexibility of Teliris. While Cisco and Nortel, through its partnership with Polycom, sell customers predetermined packages of telepresence, Teliris can pretty much build a room customized to whatever you want. Cisco, on the other hand, has two versions of its telepresence -- one screen or three screens -- and you must have a room with the necessary dimensions for it.
Teliris has a few other minor positive differences such as the ability for the cameras in the room to be controlled remotely and the option of running the service over the customer's own network or Teliris's own InfiNET network.
As far as the negatives? The sound quality was not as good as other demos we've seen, and the smaller video screens made the meeting seem less realistic. Teliris however says that it does offer larger screens than those seen in our demo.
Other than that, Teliris is comparable to the other services we've seen. It had no latency, was very easy to use, and had similar bandwidth requirements -- about 4.5 Mbit/s per screen. And its price tag was a little bit cheaper than the rest at an average of $250,000 per room. See below for some pictures.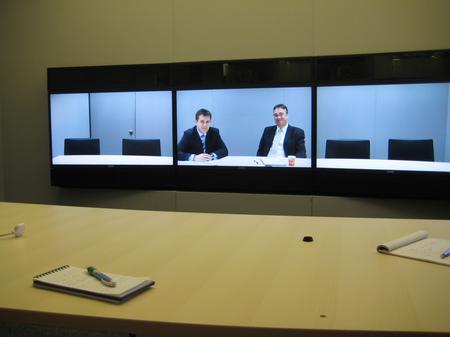 — Raymond McConville, Reporter,
Light Reading