Recently there has been a fair amount of wailing and gnashing of teeth after Nokia Corp. (NYSE: NOK) announced that its market share was likely to decline in the September quarter.

If you take a look at the following two graphs you can see quite readily that Nokia's stock price has taken a beating thus far in 2008 on an absolute and relative basis. But despite the recent surprise for many investors, the reality is such that the seeds of Nokia's problems were sown a while ago.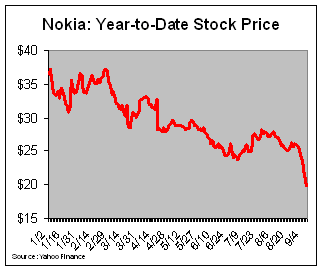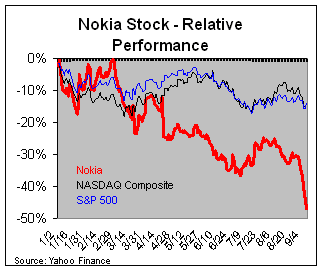 To begin with, Nokia doesn't provide anything that you could actually call "guidance" on its quarterly conference calls. Many companies will give their best estimates as to revenue and EPS, whereas some will even attempt to provide expectations on margins and tax rates. Hey, the more information the better, and – while we know that these are "forward looking statements" subject to change – it's helpful from an investment perspective to at least know what the management is thinking and what its based upon. Nokia only provides an estimate as to how much it thinks the handset industry will grow in the upcoming quarter combined with its estimate as to what will happen to its own market share.

Consequently, when Nokia said its market share would decline, rather than remain flat, the company was announcing that the rest of those numbers (little things like revenue and earnings) were below its internal plan.

The graph below displays two disparate but related data points. First and foremost, it shows that the handset revenue growth rate (red) has declined in the last two quarters. That's a year-to-year growth rate, so we're not looking at a seasonality factor.

The other line (blue) shows the percentage of unit growth (trailing twelve months) coming from the China and Asia/Pacific regions. I've said many times that the industry's growth is a function of emerging markets, and this shows quite well that these two emerging markets were consistently generating about 60 percent of the company's unit growth.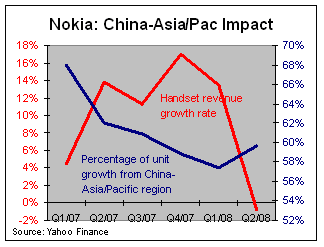 The problem is that the company's European markets used to fairly consistently represent 20 to 25 percent of Nokia's unit growth. That's been declining and in the most recent quarter was only 10 percent of the units. Handsets sold into the European markets are generally higher-end and carry higher ASPs.

To Page 2