Why buy when you can build?

That's a question Cox Communications Inc. asked itself as the cable operator noodled how it might weave together its broadband backbone of the future. And "build" was the answer that ended up winning out for the MSO, whose backbone-building project entered full-swing late last year and is expected to wrap up by the end of this year.

But "buy" was the victor in the early going. Cox has tapped a backbone connecting the majority of its systems since 2001, back when it kicked off a "self-reliance" project. But rather than snap up and light its own dark fiber, Cox opted to lease wavelengths from Level 3 Communications Inc. (NYSE: LVLT).

Level 3 is still in the picture under the new model, providing the majority of Cox's dark fiber.

"We're sort of changing out the car while we're still driving it," explains Randy Kinsey, Cox's executive director of network architecture. "It's very similar to what our backbone has traditionally looked like. In a lot of cases, where we already use Level 3 leased wavelengths, it's a fiber in the same sheath we've been in before."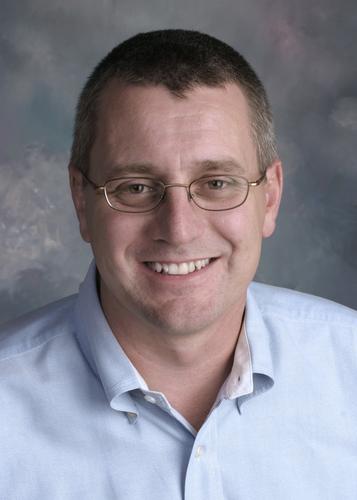 The big difference, of course, is that Cox will own and control the physical layer of the new backbone. "We [will have] the ability to turn up how much capacity we need, and do it at our pace, as well," Kinsey adds. Cox has transitioned about 75 percent of its backbone so far.

When completed, the 13,000-route-mile backbone will hook up most of Cox's major properties and tap into a few other cities along the path of the dark fiber. The backbone, lit by Infinera Corp. (Nasdaq: INFN)'s DTN platform, will give Cox about 800 Gbit/s of capacity (via 80 10-Gig wavelengths), according to Kinsey. (See Cox Picks Infinera and Cox Deploys Infinera.)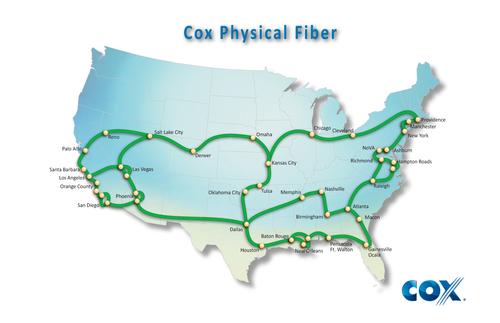 Cox's old backbone got the MSO into the OC192 generation, but capacity and traffic growth reached a level where it made financial sense for the MSO to change gears.

"The amount that we were spending on leased wavelengths reached a level where it's the same cost, fundamentally, as owning the fiber and lighting it ourselves and, thus, putting more of that control in our hands," Kinsey explains.

The model is similar in some ways to that of Comcast Corp. (Nasdaq: CMCSA, CMCSK), which owns and operates its backbone. Comcast's Converged Regional Area Network (CRAN), comprising about 125,000 fiber route miles, is running 10 Gbit/s and 40 Gbit/s wavelengths and even some 100 Gbit/s tests. Comcast's technology partners include Level 3, Juniper Networks Inc. (NYSE: JNPR), Cisco Systems Inc. (Nasdaq: CSCO), and Nortel Networks Ltd. . (See Comcast, Nortel Put 100G to the Test , Comcast, Cisco Test 100-Gig, Comcast Deploys Juniper, and Comcast Thinks Big.)

The build option has resulted in a "minimal" addition of headcount, Kinsey says. Cox already had a transport engineering group up and running, but "on the operations side, we staffed up with a new organization within our NOC [network operations center] to monitor it, manage it, and run it day-to-day."

IP-based voice and Internet applications will continue to ride on Cox's new backbone, but the new network will also be equipped to handle more bandwidth-heavy video content.

"Video obviously is driving it pretty hard. As more and more of our video goes IP-based, a stream of video brings quite a bit of data along with it," Kinsey says. And that's not just video-on-demand (VOD) and other content sourced from Cox. Kinsey says so-called over-the-top, Internet-based video services are traveling the backbone and driving up utilization as well. (See Is Cable the IP Network King? )

An interesting side point to chew on: The nature of the dark fiber will let Cox run its backbone through larger cities beyond its traditional cable footprint. That could open up opportunities to extend offerings like business-class services. But Cox isn't ready to pinpoint those possibilities yet.

"We believe it does open doors to those opportunities, but nothing has been decided around what we would or wouldn't do," Kinsey says.

— Jeff Baumgartner, Site Editor, Cable Digital News