Salesforce Brings Einstein AI to Field Service Lightning
Salesforce is adding a touch of artificial intelligence to its Field Service Lightning products, which are designed to bridge the gap between customers, call center support and technicians in the field.
On Wednesday, Salesforce is detailing how it plans to add its Einstein AI technology to Field Service Lightning in stages between now and 2018. Some of the company's customers are already using certain parts of the new offering in a pilot program.
Salesforce first rolled out its field service offering in 2016, to compete with similar cloud-based services from Microsoft, Oracle and ServiceMax. Field Service Lightning is built on top of the company's Service Cloud.
At the same time, Salesforce has moved aggressively to add its Einstein technology into several of its cloud offerings to help bolster these products with a sheen of machine learning and AI. (See Salesforce Gives Inside Sales an Einstein Injection.)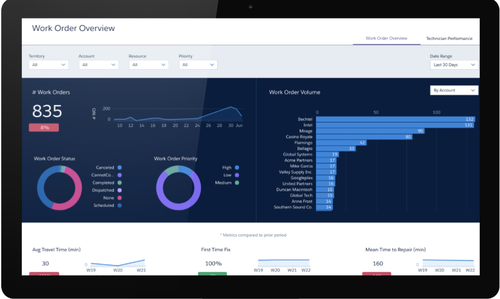 Over the course of a year, Salesforce has had customers in the healthcare and construction industry, as well as some financial service firms, invest in Field Service Lightning, which uses a combination of cloud, software and mobile applications and hardware to connect customers to customer representatives, and, in turn, connect the reps to technicians in the field.
The goal is get field technicians as much information as possible and route them quickly to the customer.
"We saw that a lot of customers who had hundreds or even thousands of resources in the field were managing these manually with whiteboards and Excel spreadsheets or printed out schedules in the beginning of the day that drove all the activity," Mark Bloom, the senior director, of strategy and operations for Salesforce Service Cloud, before the July 12 announcement.
"We launched Field Service to bring these services into the connected world. This allows contact center agents, field service technicians, dispatchers, managers and leadership in the organization to stay fully connected and have true visibility across the organization," Bloom added.
---
Keep up with the latest enterprise cloud news and insights. Sign up for the weekly Enterprise Cloud News newsletter.
---
In an interview, Bloom said that after rolling out the original version of Field Service, the company wanted to address the complexity of having all these different resources connected, as well as the ability to offer insights to managers charged with keep tracking of all these. This is where the machine learning part comes in.
The Einstein AI addition to Field Service Lightning will add three additional features:
The first is Einstein Vision, which using machine learning to allow a technician or another rep to take a picture of a piece of equipment -- and electrical switch for example -- with his or her smartphone, and the picture recognition software will match that part with the replacement needed to make the repair.
The second addition is the Equipment and Inventory Management feature, which ensures work crews are where they are supposed to be, and that their trucks are carrying the right equipment for the job at hand. It also allows a dispatcher to send the closest technician to a customer.
The final part is Field Service Analytics, which pools all the data collected from customers, reps and technicians into a dashboard that managers can use to make decisions about the day's workload.
"The Einstein edition is extremely important for more intelligent processing for smart scheduling based on inventory or skill set," Sheryl Kingstone, a research director at 451 Research, wrote in an email. "The image recognition intelligence is also very strong and based on an acquisition. It provides specialized pre-trained algorithms, which helps with complex repairs or even simple logging of information."
The analytics and equipment and inventory management parts of the rollout are available as of today. However, the picture recognition technology is still part of the pilot and won't hit the market until next year.
Related posts:
— Scott Ferguson, Editor, Enterprise Cloud News. Follow him on Twitter @sferguson_LR.