GE Digital is expanding the reach of its Predix Internet of Things (IoT) management platform thanks to a new cloud partnership with Microsoft Azure.
At its Minds + Machines conference in San Francisco on October 25, GE CEO John Flannery and Microsoft CEO Satya Nadella introduced the partnership, with Azure supporting Predix starting on November 30 within North America.
Worldwide support is expected in the first quarter of 2018.
Predix is GE's attempt to gain better control and management of the Industrial Internet of Things (IIoT). It's a platform-as-a-service (PaaS) offering that helps collect and analyze data from connected devices and sensors.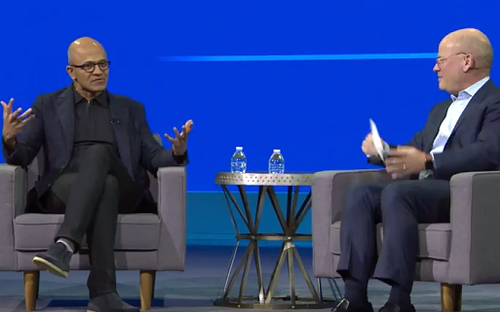 The platform includes the company's Asset Performance Management (APM) software, which uses the data that the sensors collect to make predictions about different pieces of industrial equipment. APM can then provide recommendations about maintenance and other actions that a company can take. It can also keep track of regulatory and compliance concerns.
While GE has been selling Predix to customers, it's also a large user of the platform itself, and recently installed it in a facility in Atlanta that oversees some 500 power plants. (See GE Keeps the Lights on With IoT.)
With the Microsoft and GE partnership, Azure will not only support the main Predix platform, but the company's APM software as well. In addition, Azure will support GE's Asset Answers, a diagnostics tool that provides additional insights and visibility into the data produced by industrial assets.
In a talk with Flannery at the Minds + Machines show, Nadella noted that digital transformation has changed the way companies look at their physical assets. The increased use of digital twins -- a virtual blueprint of a physical asset -- as well as the growing field of IIoT has made companies rethink their strategies.
"The age we are living in is about creating these digital feedback loops that help impact some type of outcome," Nadella said, adding: "The thing that is different is that it is not just a system of record that is tracking an asset or a system of engagement but these systems of intelligence."
---
Keep up with the latest enterprise cloud news and insights. Sign up for the weekly Enterprise Cloud News newsletter.
---
For its part, GE wants to stay as cloud agnostic as possible, and is working on a multi-cloud strategy not only for itself, but for its customers well. In addition to its partnership with Azure, the company recently announced it had signed a large deal to use Amazon Web Service for infrastructure-as-a-service (IaaS). (See AWS Delivering Cloud to GE.)
There is also a private cloud components to GE's strategy, with the company's healthcare division using OpenStack. (See GE Gets Healthy With OpenStack, Remote Managed Private Cloud.)
However, at a recent show in New York, GE CIO Jim Fowler noted that he supports public cloud and does not want to expand his company's use of private cloud since the costs savings are in the public model. (See ONUG Shifts Focus to Security, Analytics.)
Editor's Note: This article originally misidentified the CEO of GE. His name is John Flannery.
Related posts:
— Scott Ferguson, Editor, Enterprise Cloud News. Follow him on Twitter @sferguson_LR.