VMware and Amazon Web Services are expanding their hybrid cloud partnership to run VMware workloads at "very large scale" on AWS, a VMware executive says. VMware is launching new tools for migrating and scaling production applications to AWS, as well as business continuity and disaster recovery services.
The new VMware Cloud on AWS services build on a partnership the two companies kicked off in August at VMware Inc. (NYSE: VMW)'s big VMworld conference in Las Vegas. The new services are being announced Tuesday at the big Amazon Web Services Inc. re:Invent 2017 conference in the same town. (See VMware Launches Amazon Cloud Support and Following Amazon Partnership, VMware Is a Cloud Company Now.)
"We are enabling our customers to run their production applications, migrate their production applications and protect their production applications on AWS," Ivan Oprencak, director of product marketing for VMware Cloud on AWS, tells Enterprise Cloud News.
Since VMware Cloud on AWS launched in August, it's been available on AWS's West Coast region in Oregon, and now it's expanding to the AWS US East North Virginia region, making it available on both coasts of the US. The companies hope to have the service available on all major AWS geographical regions by the end of next year, Oprencak says.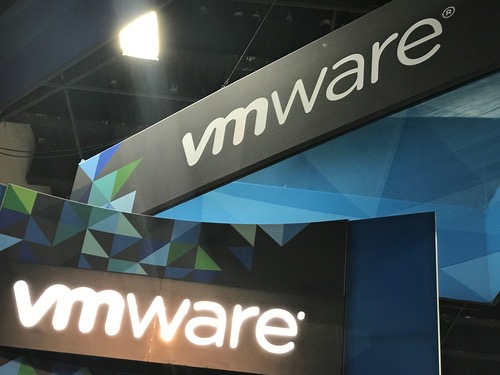 ---
Keep up with the latest enterprise cloud news and insights. Sign up for the weekly Enterprise Cloud News newsletter.
---
The service provides compute using vSphere, storage using VMware vSAN and networking using VMware NSX on AWS bare metal, supported by VMware, with unified vRealize management tools for on-premises and cloud workloads. It's based on vSphere, with the same services running on both vSphere on premises and on AWS, including container services; infrastructure solutions such as security, firewalls, and load balancers; and business applications such as Oracle and Microsoft.
Simplified Cloud Migration, launched Tuesday, supports VMware Hybrid Cloud Extension, for migrating applications at large scale and running hybrid applications simultaneously on premises and on AWS. The migration service supports vMotion, for moving running applications from one server to another without interruption, and "L2 stretched networking," extending Layer 2 networks from on premises to AWS with the same configuration, subnet, and IP addressing, Oprencak says.
Cloud migration also supports AWS Direct Connect, providing high-performance dedicated connections between on-premises infrastructure and the cloud using service provider partners.
The two companies are increasing the scale of their joint services, to support tens of thousands of virtual machines, Oprencak says.
As part of the Tuesday announcement, VMware is launching disaster recovery-as-a-service (DRaaS), with support for enterprise applications such as Oracle, Microsoft SQL Server, Apache Spark and Hadoop. VMware Site Recovery provides protection between private data centers and VMware Cloud on AWS, or between VMware Cloud on AWS environments running in separate AWS availability zones, without requiring application re-architecting. Enterprises can reduce costs by eliminating the need for secondary disaster recovery sites, and otherwise streamline operations, VMware says.
VMware and AWS are structuring total cost of ownership to be "significantly more attractive than traditional on-premises infrastructure and comparable to native cloud instances," Oprencak says. VMware on AWS is available on demand, and in one- and three-year subscriptions, with a Hybrid Loyalty Program for bulk discounts.
AWS and VMware are betting they can turn their separate weaknesses into combined strength. AWS is a public cloud provider without enterprise on-premises presence, and VMware is an on-premises infrastructure vendor that's been unsuccessful in trying to launch a public cloud. By teaming up, the two companies hope to offer enterprises a hybrid cloud platform spanning both on-premises and the public cloud.
AWS's and VMware's competitors are looking to meet similar challenges of bridging public cloud and on-premises infrastructure. Microsoft Corp. (Nasdaq: MSFT) already has a strong hybrid cloud line-up, with the Microsoft Azure public cloud and an enterprise product line going back a quarter century. Last year, Microsoft launched Azure Stack, which extends its Azure public cloud into an on-premises appliance. (See Microsoft Azure Stack, SQL Server 2017 Emphasize Hybrid Cloud and Microsoft's Azure Stack Is Useful but Not for Everyone.)
VMware says its AWS partnership is more attractive than what Microsoft is offering because VMware and AWS are offering a uniform environment. "Azure Stack is the cloud-based environment coming into on-premises and being disruptive," Oprencak says. "We're taking what the customer has on premises and making the infrastructure and operations consistent."
And VMware competitor Cisco Systems Inc. (Nasdaq: CSCO) is partnering with AWS competitor Google (Nasdaq: GOOG) to extend Cisco on-premises infrastructure software into the Google Cloud .
Related posts:
— Mitch Wagner




Editor, Enterprise Cloud News