The hybrid model of cloud computing is gaining more popularity in the enterprise, as businesses move more workloads and applications to public cloud infrastructures and away from private deployments.
Those are some of the findings from RightScale's annual "State of the Cloud" report, which the company released Wednesday. It's based on interviews with 1,000 IT professionals, with 48% of them working in companies with more than 1,000 employees. (RightScale is a cloud management company that works with a number of different IaaS providers.)
The report covers a wide range of topics, including the debate between public and private cloud deployments, the popularity of different DevOps tools, the struggle of companies to get IT pros with the right skills and the horserace between Amazon Web Services, Microsoft Azure, Google and others for market dominance.
The biggest takeaway from the report is that enterprises and their IT departments are splitting their cloud dollars between public and private deployments, and creating demands for a hybrid approach. (See Hybrid Cloud Will Be a Battlefield & Other Cloud Predictions.)
"The 2017 State of the Cloud Survey shows that while hybrid cloud remains the preferred enterprise strategy, public cloud adoption is growing while private cloud adoption flattened and fewer companies are prioritizing building a private cloud," according to a blog post accompanying the report. "This was a change from last year's survey, where we saw strong gains in private cloud use."
Specifically, 85% of respondents reported having a multi-cloud, hybrid strategy, and that's up from the 82% who reported a similar approach in 2016. At the same time, private cloud adoption dropped from 77% in 2016 to 72% in 2017.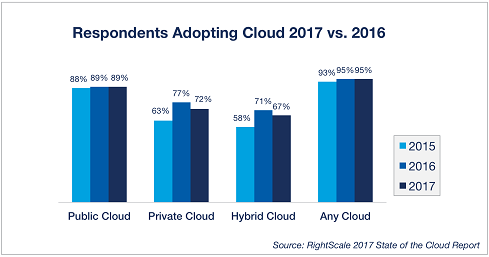 Although the move away from private cloud actually brought down the adoption numbers for hybrid cloud -- 71% in 2016 to 67% this year -- the move toward public cloud boosted the overall rate of adoption.
Additionally, IT is moving more applications -- and thus more data -- into the public cloud space. Overall, about 79% of workloads have moved to the public cloud, although that numbers drops slightly when looking at large enterprises -- about 75%.
In the survey, 41% of respondents reported running workloads in public clouds, while 38% said they run workloads in private clouds. In large enterprises, those numbers reverse, with 32% of respondents running workloads in public clouds, and 43% running workloads within private infrastructures.
"It's important to note that the workloads running in private cloud may include workloads running in existing virtualized environments or bare-metal environments that have been 'cloudified,' " according to the report.
When it comes to adopting cloud technologies and services, there are less barriers and concerns this year compared to 2016. The lack of resources and expertise to implement a cloud strategy was still the top concern, with 25% of respondents reporting that as their top issue.
Security, managing the cloud and governance and controlled were other concerns. (See Security Concerns Muddy Cloud Progress.)
For those companies that are going all in on cloud, businesses are looking for IT pros with specific DevOps skills. In 2017, the top skill to have is Docker, with containers becoming increasingly popular. Chef, Puppet and Ansible are also highly desirable. (See Data Scientist, DevOps Engineer Top IT Jobs.)
Finally, there's the public cloud market, where AWS still retains a healthy lead, with 57% of respondents reporting that they run some workloads with Amazon's cloud. However, that number stayed flat year-over-year.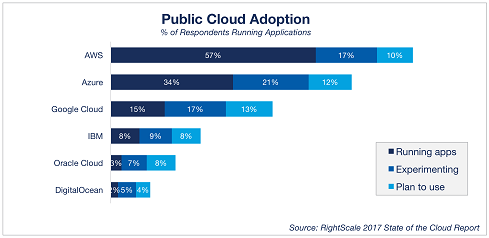 Instead, Microsoft's Azure and Google's cloud gained ground.
The survey found 34% of respondents are running workloads on Azure, an increase from 20% the year before, and 15% reported that they run workloads on Google, an increase from 10% in 2016. IBM, Oracle and Digital Ocean round out the top public cloud vendor list.
— Scott Ferguson, Editor, Enterprise Cloud. Follow him on Twitter @sferguson_LR.
---
CALLING ALL CLOUD, NFV AND SDN COMPANIES: Make sure your company and services are listed free of charge at Virtuapedia, the comprehensive set of searchable databases covering the companies, products, industry organizations and people that are directly involved in defining and shaping the virtualization industry.
---