SAN FRANCISCO -- Salesforce Dreamforce -- Salesforce CEO Marc Benioff displayed fine journalism chops, interviewing Google Cloud CEO Diane Greene about the enterprise cloud, her career and her life -- including an anecdote about how her father lost his business when a competitor falsely accused him of being a communist.
Also, in a passing comment, Greene said Google (Nasdaq: GOOG) Cloud Platform is the fastest growing part of Google's business.
Benioff and Greene talked for about 50 minutes Tuesday at an event billed as a "fireside chat" at Salesforce.com Inc. 's annual customer and partner conference here.
The conversation followed an announcement Monday that Google will work with Salesforce on integrating online and offline analytics. Google will also become a preferred infrastructure provider, and the two companies will partner on offering the G Suite application suite to enterprises. (See Google Joins With Salesforce to Mix Online, Offline Customer Analytics.)
"My father was accused of being a communist," Greene said, describing a family incident that she says is relevant today. He was an aeronautical engineer and ran an aircraft company, and a competitor turned him in on a false accusation. "He was just a good capitalist. He lost his security clearance and he couldn't be the CEO of this aircraft company."
He later became a draftsman and "reinvented himself" as a civil engineer, Greene said. He sued the US government twice, once to regain his security clearance and the second time for compensation.
She grew up in Annapolis -- although, she said, Wikipedia states incorrectly that it was Rochester, which she said she finds amusing.
As of Tuesday night, hours after the event, Greene's Wikipedia entry states she was born in Annapolis, though the footer lists her among "People From Rochester."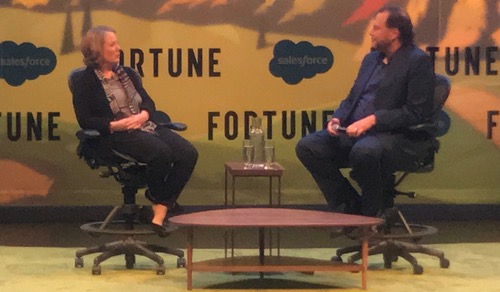 ---
Keep up with the latest enterprise cloud news and insights. Sign up for the weekly Enterprise Cloud News newsletter.
---
Greene initially went to MIT for grad school and studied naval architecture, and went to work in the oil industry. She wanted to go offshore, but women were not permitted to that. She learned FORTRAN and returned to school to study computer science at Berkeley.
That was the peak of women involvement in computer science, and female participation is only now returning to those levels, Greene said.
She recently discussed with Gloria Steinem the issue of why women involvement in computer science was high at first, and then declined. According to Greene, Steinem said, "Whenever a field is starting out there's no established ways of doing things and gender doesn't matter. And everyone is investing in this new field. But as soon as money comes in and status comes in, the men come in and take over."
Greene said she had the conversation with Steinem on a nine-hour flight they shared. "It really was one of my most wonderful experiences," Greene said.
Greene met her husband, Mendel Rosenblum, at Berkeley, and he gave her a ride on a motorcycle. She was a stay-at-home mother for a while, and then she and Rosenblum founded VMware Inc. (NYSE: VMW) based on research he'd done on virtualization. She had a second child.
VMware grew over 100% every year she was there as CEO, 1998-2004. They started looking into an IPO in 2003 but were instead acquired by EMC Corp. (NYSE: EMC) VMware was nearly $100 million, she said.
Greene continued working as CEO and was allowed to run things her way, she said.
Benioff said, "You were doing a phenomenal job and you were on the way to a billion revenue."
Greene remembers convincing then-EMC CEO Joe Tucci to give her a "huge tranche" of stock to give to employees when the company hit $1 billion. Tucci didn't believe it could happen, so he agreed to do it. She took the company public and left a year later, she said.
Benioff said, "It's probably one of the most successful stories in the software industry, and I don't think there's been a more successful female CEO."
Next page: Transition to Google