Cisco & Google's Kubernetes Partnership Could Deliver in October

Comment (0)
ORLANDO, Fla. -- Cisco Live -- Cisco and Google are penciling in October for delivery of joint Kubernetes capabilities to deploy applications spanning public and private clouds.
Cisco Systems Inc. (Nasdaq: CSCO) and Google Cloud are developing hybrid cloud technology to extend on-premises Cisco networks to Google Cloud Platform, or vice versa, with applications living in either location and jointly interoperating. The two companies announced the partnership in October 2017, and Cisco CEO Chuck Robbins said in his keynote at Cisco Live Monday that he hopes to see the service delivered this October. (See Google Teams With Cisco for Hybrid Cloud.)
The technology is now being used by enterprises in early access evaluation, Google Cloud Platform CEO Diane Greene said.
VMware Inc. (NYSE: VMW) has a similar relationship with Amazon Web Services Inc. and IBM Corp. (NYSE: IBM), and provides its vSphere virtualization server spanning on-premises and numerous public cloud providers. (See VMware Broadens Private Cloud, Amazon Support)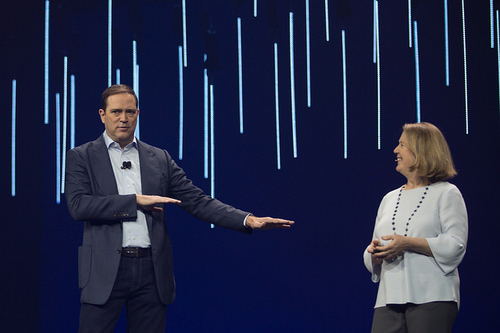 In the Cisco-Google deal, both companies are providing security and Cisco is adding Kubernetes support to its HyperFlex hyperconverged infrastructure. Also, the companies will use Istio, an open source project for managing traffic between microservices, to connect applications across the pubic and private cloud environments.
Greene took the stage Monday with Robbins at his keynote to deliver an update on the status of the collaboration.
Application portability features that the two companies are developing are needed to feed enterprise demand for disruptive technology, Greene said.
"You need to use these disruptive technologies but move them out in a non-disruptive ways," Greene said. "It's what allows the [enterprise] company to be innovative and do mindblowing things."
Kubernetes lets application developers concentrate on building applications for customers, while Kubernetes automates scaling and monitoring infrastructure, Greene said.
Google developed Kubernetes and has been using it internally for over a decade, releasing it to open source two and a half years ago, Greene said. "The reason it's taken the world by storm is because it had a decade of refinement on Google," she said. Kubernetes provides huge productivity gains. "It's fast becoming the best way to run your applications in a way that's consistent everywhere."
Google launches over 4 billion Kubernetes instances weekly, for its own use. With Google Cloud Platform, it offers the same infrastructure for enterprise customers.
Building blocks for the joint service are already in place:
Cisco joined the Istio initiative in July 2017 and introduced Cisco Container Platform in January, to allow teams to configure, deploy and manage container clusters uniformly both on-premises and in the public cloud. (See Now Cisco Is Getting Into the Kubernetes Racket)
Cisco provided Stealthwatch Cloud security support for Google CLoud in March.
Cisco provided Kubernetes support for AppDynamics and CloudCenter in May. Additionally, the Cisco Container Platform and Cisco CloudCenter for Kubernetes integrates with Google Kubernetes Engine. (See Cisco Pushes Kubernetes to Brownfield.)
Cisco has also been contributing to the Kubernetes and Istio open source projects.
Early testing for the Cisco/Google collaboration include Internet of Things, Dev/Test and distributed computing at the edge, Kip Compton, Cisco senior vice president, cloud platform & solutions, said in a post on the Cisco blog.
"Customers will be able to connect to GCP services such as Google Kubernetes Engine, BigQuery, BigTable, Cloud SQL, Spanner, Cloud Storage, and Pub/Sub through their on-premises Cisco environment," according to a post on the Google Cloud blog by Nan Boden, Google senior director, global technology partnerships. "Legacy workloads on-premises can be exposed to the cloud via Apigee's API services." Google partners including WWT, Accenture and IGNW are testing the software, Google says.
Related posts:
— Mitch Wagner




Executive Editor, Light Reading