Amazon Web Services CEO Andy Jassy has stepped up his long-running war of words with Larry Ellison, Oracle's bellicose founder and CTO. And this time Jassy also threw punches at Microsoft and brought in a telco, Globe Telecom, to talk about their transition from Oracle to AWS..
Speaking in a fireside chat Tuesday morning at the Amazon Web Services Inc. re:Invent 2018 partner conference, Jassy said companies are "looking to flee" Oracle Corp. (Nasdaq: ORCL) and Microsoft Corp. (Nasdaq: MSFT) SQL Server databases, and are moving to AWS Aurora. (See AWS Debuts Networking Services – Should Telcos Be Scared?)
And Globe Telecom Inc. CIO Pebbles Sy-Manalang came onto the AWS stage to discuss how the Philippine telco saved money and increased efficiency making the transition from Oracle to AWS.
Said Jassy, "People are sick of the older guard database providers that are expensive and proprietary and have high lock-in, where the interests of those database providers are paramount to the interest of customers." He called on AWS partners to provide help with data migration and converting to Aurora.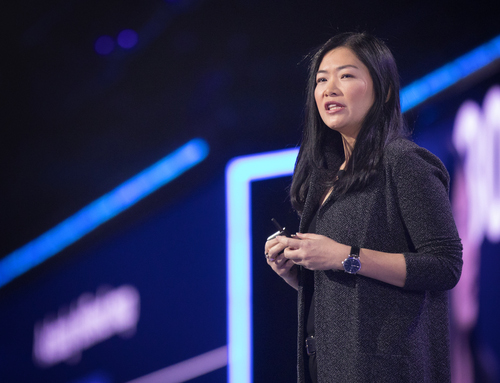 ---
Now entering its fifth year, the 2020 Vision Executive Summit is an exclusive meeting of global CSP executives focused on navigating the disruptive forces at work in telecom today. Join us in Lisbon on December 4-6 to meet with fellow experts as we define the future of next-gen communications and how to make it profitable.
---
Rebellion against SQL Server and Oracle is part of a larger transition against the universal dominance of relational databases, Jassy said. "The days of using relational databases for your workloads has come and gone. That ship has sailed."
Instead, users implement specialized databases for particular workload requirements. For millisecond latency, AWS provides DynamoDB For even faster, microsecond latency, AWS provides in-memory stores using ElastiCache. Graph databases provide support for very large data sets, Jassy said -- and AWS provides a graph database, Amazon Neptune.
Conversion away from relational databases was one of several trends that Jassy cited as driving the transition to cloud -- and AWS's strategy. Others include the move to containers and serverless, new developments in machine learning, edge computing, augmented reality and virtual reality and robotics. More on that soon.
Globe Telecom migrated from Oracle to AWS as part of multi-year transition to cloud infrastructure, Sy-Manalang said. "Today we are seeing better performance at 1/10 the cost."
The telco has 65 million mobile subscribers, 400,000 small and midsized enterprise customers, with 1.2 million retailers and distributors. It has a goal of connecting 2 million homes with high speed broadband at 50 Mbps speed, aiming to bring 90% of Filipino people online. That required IT transformation to become more agile, which drove Globe Telecom to the AWS cloud, said Sy-Manalang.
Globe Telecom now runs 2,142 EC2 instances on AWS cloud, with more than 6.7 petabytes of storage.
The telco went to a cloud-first strategy in 2014, migrating 50% of its infrastructure by 2015, reducing provisioning time from 80 days to five days, and then to two days by 2016, when 90% of new infrastructure went to the cloud. Last year, Globe Telecom expanded its hybrid cloud, and this year it's moving its legacy systems and rearchitecting applications to be cloud native.
The cloud migration has resulted in 30% total cost of ownership savings, 15x application performance increases, 99.99% uptimes and increased agility, reducing provisioning time from three months to hours, Sy-Manalang said.
As part of that migration, Globe Telecom went from Oracle to AWS PostgreSQL, reducing its Oracle footprint by 10% for a 4x performance improvement, and reducing license and support fees by $1 million, Sy-Manalang said.
Additionally, Globe Telecom streamlined its call center in partnership with Amdocs. Previously, more than 3,000 agents had to toggle across 31 screens, frustrating customers. Amdocs worked with AWS and Globe Telecom on a new call center infrastructure, which went live a few weeks ago, and is expected to result in significant handling time reduction, Sy-Manalang said.
Related posts:
— Mitch Wagner




Executive Editor, Light Reading