Google Cloud CEO Diane Greene will be replaced as the service's growth rate lags expectations, predicts The Information. The new boss: newly hired COO Diane Bryant, recently of Intel.
Greene, who co-founded VMware Inc. (NYSE: VMW), "is one of the most respected executives in enterprise technology," but "hasn't managed to move the needle on Google Cloud 's business since joining two years ago," writes Kevin McLaughlin on The Information Friday (paid registration required).
It's an exaggeration to say Greene "hasn't managed to move the needle." McLaughlin himself notes that Google Cloud sales rose 76% in the third quarter from a year earlier, which is hardly sluggish. But Microsoft Azure 's growth rate was 90% in the same period. Amazon Web Services Inc. grew 42% -- much slower than Google's growth, but coming from a much bigger base, as AWS leads the market by a huge amount. (See AWS, Azure Lead $35B+ Public Cloud Market.)
Google Cloud's market share is 6%, up two percentage points since the beginning of 2016, according to Synergy Research Group. AWS lifted its share to 34% from 33% and Azure grew from 8% to 12%, McLaughlin says.
McLaughlin says he's "reading the tea leaves" of Bryant's appointment to COO. Bryant's last job was running Intel's Data Center Group, a $17 billion revenue business. Google Cloud's estimated revenue last year was $1 billion -- a big step down for Bryant, unless the plan is for Bryant to move into the Google cloud top spot, the writer at The Information says.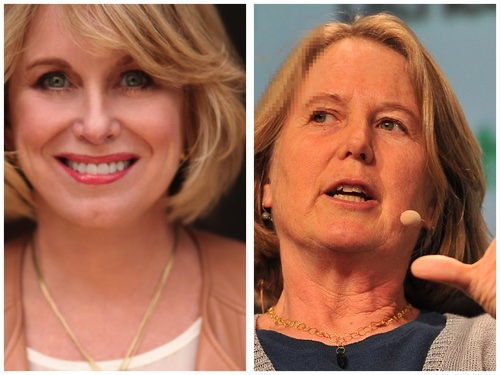 ---
Keep up with the latest enterprise cloud news and insights. Sign up for the weekly Enterprise Cloud News newsletter.
---
Bryant has a "deep enterprise background" including "long-standing relationships with Fortune 500 customers, which have also been a top sales target for Ms. Greene," McLaughlin says. (See Intel's Diane Bryant Jumps Over to Google Cloud.)
Google Cloud's marquee customers include Colgate-Palmolive, Verizon, Home Depot and HSBC, in addition to more bleeding-edge businesses: Walt Disney Co. and eBay Inc. (See Google: Still the New Kid in Enterprise Cloud.)
Greene will likely stay on at Google "in some capacity," perhaps focused on strategy, as she is a big draw for engineers and enterprise executives. But Bryant will "emerge as the public face for Google Cloud at conferences and industry events" next year, McLaughlin says. (See Google's Diane Greene Opens Up on Her Life & Career.)
Speculation of Greene's departure comes as ex-Google CEO Eric Schmidt steps aside as executive chairman of Google parent Alphabet. Alphabet and Schmidt announced the transition Thursday, saying Schmidt would continue as a director and also serve Alphabet in a technology advisory capacity. (See Ex-Google Boss Eric Schmidt Exits as Alphabet Executive Chairman.)
For more background about Google, see our March report: Is Google's Big Enterprise Bet Paying Off?
---
Update: Google responds: "The article by The Information is complete speculation and could not be further from the truth. Diane Greene has been building a stellar team of enterprise executives, the most recent additions being Paul-Henri Ferrand and Diane Bryant. This is possible because in the two short years that Diane has been leading Google Cloud, its products and go to market organization have become completely enterprise ready, resulting in phenomenal traction with customers and partners. According to a variety of analysts, Google Cloud is the fastest growing public cloud today."
Related:
— Mitch Wagner




Editor, Enterprise Cloud News