Unnecessary Photo of a Live Piglet Eating at a Restaurant Table
This is the most delightful -- and weirdest -- thing I've received at Enterprise Cloud News. Or any other tech publication I've ever worked at.
Checking email one recent morning, I found a 1947 photo in my Enterprise Cloud News inbox of a piglet being bottle-fed at a restaurant table.
There it was, right next to the press releases and emails from colleagues.
The sender, who was a stranger to me who signs herself as Beatrice, introduced the photo this way: "I just came across this OLD photo of my Mum feeding a Piglet in 1947 and thought you might like it for your archives."
I responded, "Hi, Beatrice! Love this, but why are you sending this to me?"
Beatrice replied: "I got your email address off Au Lutin qui bouffe site in Montreal but it looks like I shall have to work harder at finding the correct one. I am so sorry for the inconvenience."
Me: "No worries. I enjoyed the picture. May I post it to the public Internet?"
Beatrice: "Sure. I don't suppose anyone in the pic is still alive. I know my parents aren't and certainly not the pig."
Even weirder: I recognized the photo. I'm fascinated by mid-20th Century pop culture, old ads, TV commercials, old photos and videos of everyday life, and so on. If you follow me on Twitter, you already know that. I'd seen photos like Beatrice's before.
Time Magazine explains "the photographer was a man named Jean-Paul Cuerrier. Starting in 1938 and continuing for more than 35 years, Cuerrier photographed thousands of diners posing with pigs at the Au Lutin Qui Bouffe restaurant in Montreal. His pictures illustrate a wide range of emotional reactions: some diners feed the piglet and pull its tail, others simply appear amused at the idea that the living creature sitting on a checkered tablecloth in front of them might actually be tonight's dinner. Men in dinner jackets and women in formal dresses are literally playing with their food."
Time notes that attitudes have changed. "What appears as entertainment in these photos might be frowned upon today."
And now the photo: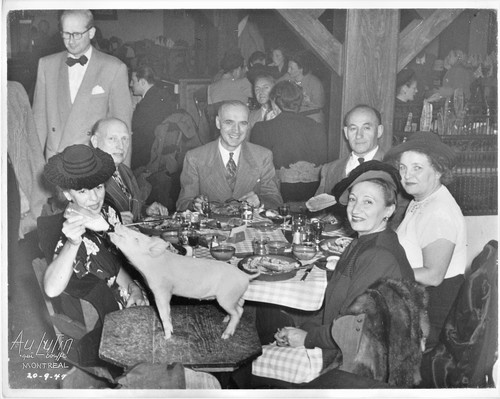 Thanks, Beatrice!
— Mitch Wagner
Editor, Enterprise Cloud News