Land Rover Jaguar: 'Driven by IT'
When Land Rover Jaguar CIO Simon Bolton started his IT career, the job was "removing people and paper" from business processes. But now IT is driving change throughout the automotive industry, he said.
"Being the CIO in an automotive company at the moment is the most fascinating place to be. There is so much change in the industry right now, and all of it is driven by IT," Bolton said in a talk hosted by Dell Technologies to press and analysts at the Dell EMC World conference in Las Vegas last week.
For example: As part of its design effort, Land Rover Jaguar hired game designers to render cars in virtual reality. "Our ability to create virtual models of the product, to present the products to the executive team, to make decisions on which we will develop and which we won't develop, is becoming increasingly important," Bolton said. VR allowed the executive team to make decisions faster. And the company found game designers had the best skills at making car movements and images realistic.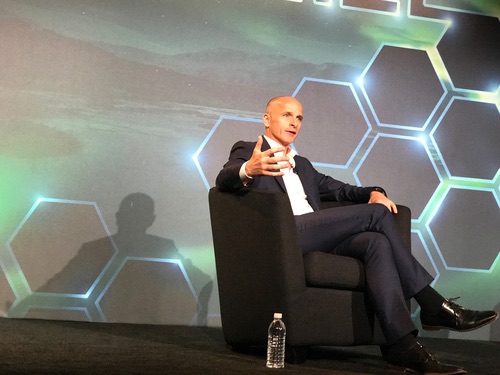 But that's just part of the change driving Land Rover Jaguar. The industry is moving away from the internal combustion engine, and toward autonomous cars and connected cars, Bolton said.
"Jaguar Land Rover is traditionally a mechanical engineering company. We make parts. A physical product. But it's becoming a software company," Bolton said.
A Range Rover has 20 million lines of code in it. "It's a complex software product. That's a competency we have had to create in the company," Bolton said.
"You're going to expect your cars to be more like your iPhones, so your cars get software updates over the air," he said. "We don't know how to do that."
And cars are loaded with sensors, generating great volumes of data, which the company needs to manage.
When Bolton took over as CIO in July, he inherited data centers containing equipment that was 20-25 years old. "If we're simply running all the applications we were running 20 years ago, we won't be able to compete."
Updating that equipment is Bolton's biggest problem. "The legacy estate that we have is old, but it's incredibly complex and it's evolved over many, many years," he said. Simplifying the operating model is core to the company's success.
"If we're unable to do that, I struggle to see how we can be the agile technology company we need to be," Bolton said.
Additional priorities include updating manufacturing and engineering, and modernizing infrastructure to move more quickly and reduce costs. The company needs to enable users in China, the UK and US to collaborate, co-create, and innovate in ways they simply can't do today, Bolton said.
And Jaguar Land Rover needs to update its skills, training existing staff, recruiting young people from universities, and prioritizing diversity.
---
What are the hottest jobs in the cloud? Get our special report to find out: 
Cloud Skills: What's Hot?
---
"There are too many people in my organization who look pretty much like me -- white middle-aged male," Bolton said.
Land Rover Jaguar is making use of public cloud, and wants to do more with it. Business units are using public cloud without IT's knowledge, for software-as-a-service or infrastructure-as-a-service. In the past, that's been frowned on as "shadow IT." "Somehow, we need to embrace that and allow it," Bolton said.
IT uses public cloud as well. It was an early adopter of Google G Suite for for collaboration.
Related posts:
— Mitch Wagner
Editor, Enterprise Cloud News
PARTNER PERSPECTIVES
- content from our sponsors