Apple Shines in Cloud & Enterprise
Strength in the cloud and enterprise helped Apple turn in strong results in the third quarter.
Cloud services, including the App Store, Apple Music, iCloud Storage and Apple Pay, grew 22% year-over-year, to an all-time quarterly record of $7.3 billion, CEO Tim Cook said on an earnings call Tuesday for the financial quarter ending July 1.
"Over the past 12 months, our [cloud] services business has become the size of a Fortune 100 company, a milestone we reached even sooner than we expected," Cook said.
Overall revenue for Apple was $45.4 billion, up 7% year-over-year, with quarterly earnings per diluted share of $1.67, up from $42.4 billion and $1.42 per diluted share in the year-ago quarter. It was Apple's third-consecutive quarter of accelerating growth, Apple said in a statement.
For the fiscal fourth quarter, when Apple will likely ship its next-generation iPhone, Apple expects revenue of $49-$52 billion.
Apple stock traded at $159.05 up 9% after hours.
The App Store was a major driver for services performance. App Annie reported that the App Store generated nearly twice the revenue of Google Play, said CFO Luca Maestri. Revenue from Apple Music and iCloud Storage grew strongly in the quarter. All told, Apple has 185 million paid subscription across all cloud services, an increase of almost 20 million in the last 90 days alone, he said. (See Apple Tunes Up Siri & Cloud Services.)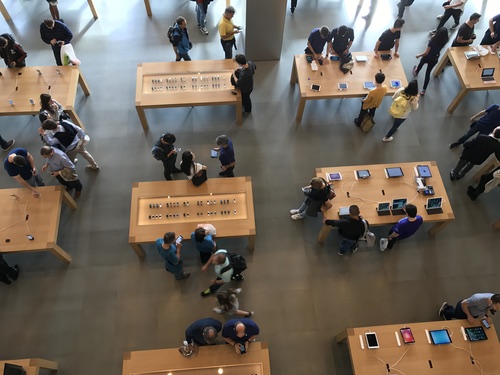 Apple has sold 1.2 billion iPhones in the decade since the device launched, with the current generation, the iPhone 7 and 7 Plus, up double-digits year-over year.
Apple reversed its 13-quarter streak of declining iPad sales, with "broad-based" growth in units, revenue and market share, Cook said. Sales were up 15% year-over-year, to 11.4 million units, with the highest global market share in four years, based on IDC tablet market results for the fourth quarter, Cook said. (See Apple's Cloud Strategy Will Save the iPad.)
NPD says the iPad has 55% market share in June in the US, including eight of the top ten bestselling tablets, up from 46% year-over-year, Maestri said. Among tablets priced over $200, the iPad share was 89%.
The iPad helped drive Apple into the enterprise. Walmart plans to deploy 19,000 iPads for employee training across 50 states, with over 225,000 associates training on the iPad by the end of the year. Bank of America, Medtronic and Panera all plan to deploy the new 10.5" iPad Pro, Maestri said.
Maestri touted partnerships with Cisco on security, and SAP, which plans to deploy a native iOS app for human resources, with support for 47 million iPhone and iPad users worldwide. (See Apple Hugs Cisco in Big Enterprise Push and SAP Floats Apple Partnership, New Cloud Services.)
Cook said he expects advances in iOS 11, including ARkit for augmented reality and Core ML machine learning, to drive future sales, when those technologies are available in the autumn. (See Apple Quietly Acquires Machine Learning Specialist Lattice Dark.)
Augmented reality is a particularly exciting area, Cook said. "I think AR is big and profound and this is one of those huge things that we will look back on and marvel at the start of," Cook said, reiterating past, enthusiastic comments. With hundreds of millions of iOS devices running iOS 11 in the autumn, Cook said he expects the iPhone and iPad to be the leading AR platforms.
---
Keep up with the latest enterprise cloud news and insights. Sign up for the weekly Enterprise Cloud News newsletter.
---
Cook expressed enthusiasm about autonomy, including autonomous cars. "We have a large project going, making a big investment," Cook said. "Autonomy is the mother of all AI projects. Autonomy can be used in a variety of ways -- a vehicle is only one." (See Is Apple's Car 'The Mother of All AI Projects'?)
Also in the earnings call, Cook responded to claims by President Donald Trump last week that Cook had told Trump that Apple would build three new factories in the US. (See Apple Responds to Trump, Touts 2M US Jobs.)
— Mitch Wagner
Editor, Enterprise Cloud News