Tech Pipeline & Where the Women Aren't
Tech Pipeline & Where the Women Aren't
Panel discusses what to do about the pipeline problem for women in emerging technology fields. There's some good news for women in tech.
The invasion of enterprise technology into the telecom sector will likely bring with it greater gender diversity. There are more women in enterprise IT than in the telecom industry, and as the two worlds collide, there's hope that workers of the female persuasion will also start filtering into telecom. (See Intel GM: 5G Opens Up New Era for Women.)
Unfortunately, there's also bad news.
According to Liz Centoni, GM of Cisco Systems Inc. (Nasdaq: CSCO)'s Computing Systems Product Group, who spoke on a Women in Comms (WiC) panel recently at Light Reading's Big Communications Event, women aren't well-represented in some of the tech areas with the biggest potential for job growth in the coming years; areas like artificial intelligence, machine learning and automation.
"There's more women in jobs that are outside of these areas than in these areas," said Centoni.
Figure 1: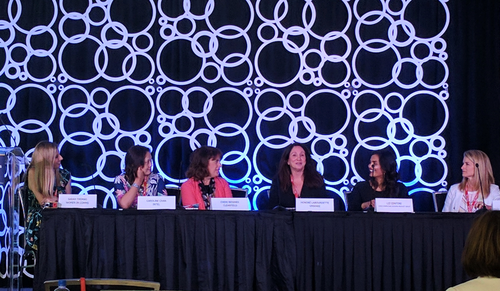 Women in Comms' Sarah Thomas moderates a panel with Caroline Chan, GM at Intel; Cheri Beranek, CEO of Clearfield; Honore Labourdette, vice president at VMWare; Liz Centoni, SVP at Cisco; and Melissa Arnoldi, president of technology development at AT&T.
When it comes to AI, the problem is particularly troubling because if men are the ones programming computer intelligence, then future AI machines may only reflect a male perspective. Unconscious prejudice leads to episodes like the sexist Microsoft chatbot that took over social media last year, and findings like the 2014 report out of Carnegie Mellon that concluded that women were less likely to be targeted on Google with ads for highly paid jobs than their male counterparts. (See Why We Need Diversity Before AI Takes Over.)
"I think we have a responsibility to have more women in technology because I think we need more women developing the artificial intelligence, otherwise we're going to have machines that have an unconscious bias," noted Honore Labourdette, a vice president in the Telco Business Group at VMware Inc. (NYSE: VMW), who spoke on the same WiC panel with Centoni. But how to get women involved is another issue entirely.
Participants on the WiC panel generally agreed that education is the best answer to greater female inclusion in technology. Education can mean taking individual initiative to read up on the latest technology breakthroughs. It can mean revamping early education systems to include a greater focus on tech across all student populations, male and female.
"My concern is the teachers there today, they didn't grow up [around] technology. They're not sure how to keep those kids interested," said Melissa Arnoldi, president of technology development at AT&T Inc. (NYSE: T).
Perhaps most importantly, education can and should mean new initiatives pioneered within companies to redirect more women into fields that are growing, rather than ones that are contracting.
At AT&T, Arnoldi notes that with 270,000 employees, her company can't afford to hire its way into emerging tech sectors. It has to give its workforce ways to learn about and train in new areas. AT&T is partnering with Georgia Tech to provide online Master's degree opportunities and encouraging its female employees to take advantage. The company also works with Udacity to create nanodegree programs around specific skillset areas.
The commitment is a big one for AT&T, but it's also critically important, particularly in light of Chief Strategy Officer John Donovan's comments recently that women adapt to disruption more effectively than men. As long as women have the right skills -- something ongoing education can help enable -- Donovan believes they'll be able to play a big role in future growth. (See AT&T's Donovan: Women Adapt Faster Than Men.)
"Our company has said we're not going to leave anybody behind," noted Arnoldi on the WiC panel. And that mentality may be the best sign for women in tech so far.
— Mari Silbey, Senior Editor, Cable/Video, Light Reading
Subscribe and receive the latest news from the industry.
Join 62,000+ members. Yes it's completely free.
You May Also Like
---