Pics: Women in Telecom Take London
Pics: Women in Telecom Take London
TM Forum's Annie Turner, Nokia's Jane Rygaard and Heavy Reading's Caroline Chappell join Light Reading to discuss how to move beyond technology for technology's sake. LONDON -- Light Reading's Women in Telecom Breakfast -- The focus on technology for technology's sake has held back the telecom industry from evolving and understanding the viewpoint of younger generations, and it's one area in which women have an advantage and unique skill set.
Those are just some of the key takeaways from Light Reading's second Women in Telecom breakfast, which took place ahead of the OSS in the Era of SDN & NFV: Evolution vs Revolution conference in London on Thursday. Click on the image below to launch a short slide show of pictures from the morning. (See Pics: LR's Women in Telecom Breakfast, Light Reading's Women in Telecom Recap and New Skills Needed as Telecom, IT Collide.)
Figure 1: British Women in Telecom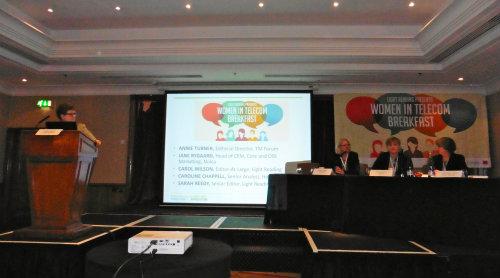 Well, actually, two Brits, a Dane and a Chicagoan tackle issues ranging from women's unique skill sets, the rate of change in the industry and customer experience management (CEM).
The telecom industry is being pulled by the digital world and younger users into new directions rather than dictating what services its customers use like it used to do. Jane Rygaard, Nokia Networks 's head of CEM, Core and OSS Marketing, explained that telecom operators need to think more about the reasons behind the technology rather than just doing things because the tech enables them to.
"We need to stop talking about technology for the sake of technology, but talk about what we can do with the technology to make sure that everyone around us is living the way they should be, whether we're talking about the Internet of Things or customer experience management," Rygaard said on the panel.
While noting the importance of "everyone around us," the panelists admitted that it's the younger generation driving the network forward. They are perhaps the biggest users of technology and the ways they use it may not be the same as their parents. "We are all making the future, but we need to understand it from a younger perspective," said Heavy Reading Senior Analyst Caroline Chappell.
The Women in Telecom breakfast took place ahead of Light Reading's OSS in the Era of SDN & NFV: Evolution vs Revolution conference. Check out all the day's news on our show site here on Light Reading.
And, TM Forum Editorial Director Annie Turner added, the telecom industry needs to understand user needs from the perspective of rural users or those in developing countries who may not have the same level of access as those in the developed world.
The panelists agreed that CEM is an opportunity that's particularly well suited to women, who tend to understand the outcome of technologies and the impact they are having rather than just the KPIs. They also cut the telecom industry some slack, noting that other industries are facing similar challenges -- and similarly struggle to keep up.
"This is a time of massive change for other industries, too, not just telecom," Chappell said. "A lot of companies are being disintermediated by companies like Google or others; even banks. Every company now competes with a startup. It doesn't matter who you are, because the Internet has lowered the barrier to entry so far, and software is king."
— Sarah Reedy, Senior Editor, Light Reading
Subscribe and receive the latest news from the industry.
Join 62,000+ members. Yes it's completely free.
You May Also Like
---