5:15 PM -- If there's one company that represents the fabless semiconductor movement, it's Broadcom Corp. (Nasdaq: BRCM).


Broadcom was a radical when it started in 1987, a company that refused to own a fab -- meaning, it outsourced manufacturing. Today, it's got revenues in the billions, and the fabless model has become the norm -- to the point where the Fabless Semiconductor Association changed its name to the Global Semiconductor Alliance (GSA) and changed its mission to cover all chip companies.

No wonder, then, that a Broadcom founder, Henry Samueli, got recognized last week with the GSA's Morris Chang Exemplary Leadership Award. The presentation ended the GSA's annual awards ceremony, a fancy dinner event that occupies a ballroom of the Santa Clara Convention Center.

Fablessness has had its side effects, though. The art of manufacturing chips is mostly gone from North America. Yes, there's Intel Corp. (Nasdaq: INTC), and there's Friday's scoop from Reuters that iPhone processors are being made in Texas by Samsung Electronics Co. Ltd. (Korea: SEC) But just about all other complementary metal-oxide semiconductor (CMOS; a.k.a. normal silicon) manufacturing is handled overseas.

This isn't Broadcom's fault. Going fabless made sense for them in 1987, and it was the only way to go for most chip startups in the 1990s. (For CMOS, that is; it was a different story for the indium phosphide startups in the optical sector.)

Still, there's a sense that something has been lost. As Intel's own Andy Grove argued in Businessweek last year, the dwindling of manufacturing in the United States -- not just in chips, but everywhere -- has put the country at a disadvantage.

The topic came up at my table during dinner, where an executive with decades of chip-designing experience was lamenting how his industry had become beholden to Asia. I found myself wondering if some part of the foundry industry -- which was kicked off by Morris Chang's Taiwan Semiconductor Manufacturing Co. (TSMC) (NYSE: TSM) -- couldn't have found its way to North America. I'll have to comb through my old EE Times coverage and see if the topic ever got covered in that light.

On a more positive (and unrelated) note, I wanted to point out something in Samueli's thank-you speech. He thanked his wife -- which I guess most executives do, but he's the first one I've ever heard explain the obvious: that his wife had to raise their children by herself. He was at Broadcom all day and all evening, getting the startup to run. He wouldn't have a family today unless someone was willing to be, essentially, a single parent raising his kids.

I'm not saying that's wrong. It's a tradeoff, and like any tradeoff, it has a negative side, one that I think a lot of people in business forget or even ignore. Samueli didn't.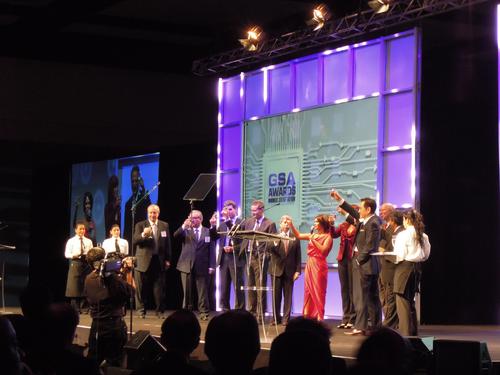 — Craig Matsumoto, West Coast Editor, Light Reading