WAKEY WAKEY!!

That was the disturbing call for those nodding off at an Institute of Electrical and Electronics Engineers Inc. (IEEE) standards meeting in Florida last week, as five influential ultrawideband (UWB) developers formed a coalition to inject some vim into the technology's development.

Intel Corp. (Nasdaq: INTC) is the highest profile member of the collaboration that also includes UWB specialists Discrete Time Communications, General Atomics, Time Domain Corp., and Wisair Ltd. Essentially, these companies are pressing for a UWB standard based around their multiband technology; but with many other developers already comitted to the singleband approach, such a move could divide the nascent UWB market, which is the focus of the latest Wireless Oracle report.

The wakeup call was made at an invite-only meeting on the fringes of the IEEE Task Group 802.15.3a meeting, which is charged with developing a new physical layer (PHY) standard for high data-rate wireless personal area networks (PANs). Officially speaking, the Task Group will consider any kind of wireless technology, but everyone who's anyone in this sector (there were around 100 people at the meeting) already knows the focus will be on ultrawideband radio, which will offer data speeds up to, and even greater than, 100 Mbit/s.

Current UWB technology, which has its roots in secret military applications and radar, is implemented differently by each developer, with one influential CEO of a UWB startup lamenting that there are "so many PHYs out there, that we're just going to end up confusing the market." Hence the need for a standard.

So to help speed things up, the quintet jointly presented their shared vision for a "multiband" approach to UWB implementation to a select group of big-hitters in the consumer electronics industry, such as Sony Corp., Samsung Electronics Co. Ltd. (Korea: SEC), Panasonic, Philips Electronics NV, and Eastman Kodak Co. The consumer electronics sector is set to be the major deployer of UWB chipsets, according to the Wireless Oracle report, "UWB – Commercializing Free Spectrum," which is available now.

Also in attendance at the presentation were a number of major semiconductor players, such as Texas Instruments Inc. (NYSE: TXN), Infineon Technologies AG (NYSE/Frankfurt: IFX), Motorola Inc. (NYSE: MOT), and STMicroelectronics NV (NYSE: STM).

The alliance initially developed after technical personnel from the five vendors realized they had independently started down similar development paths. "The idea was to find some common principles and move towards a common concept, but it is definitely not about sharing implementation," says a source.

The aim is to smooth the introduction of a single global standard and to seek the "technically best" solution. In practice, this means the group will have to attract support for its multiband approach that differs from the singleband approach implemented in most working prototypes today.

The proposed multiband system would see the 7.5 GHz of spectrum in which the Federal Communications Commission (FCC) permits the use of UWB radios split into 500 MHz bands that can be dynamically allocated and dropped as required. It is suggested that each of these 500 MHz bands could potentially offer speeds up to, and even greater than, 100 Mbit/s. This would help avoid any potential interference from other systems using bands within UWB's 7.5 GHz range, such as 802.11a, which works at 5 GHz (see diagram below).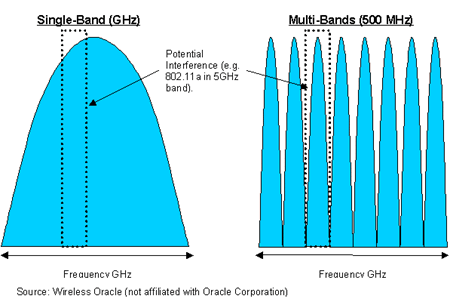 The capability to add and drop bands depending on surrounding interference is a particularly compelling argument for the multiband approach. Another advantage is that a single UWB solution could be developed for global use without falling afoul of local spectrum regulations and usage.

However, as with all technology choices, there are inevitable tradeoffs, and the aggregate power of all the different pulse streams would have to fall within strict FCC regulations, meaning the range and/or data rate could suffer. In addition, a multiband approach would add technical complexity, require more power, and increase costs.

Nevertheless, supporters argue that these problems are surmountable and that it would be better to start with multiband and then optimize. On the other hand, supporters of the singleband system say their technology is cheaper, simpler, and more power efficient, claiming they have ample techniques to deal with interference issues.

According to an industry source not connected with the five firms, but familiar with UWB technology and the IEEE process, the lead in the multiband approach is being set by General Atomics: "It's a novel idea with a lot of validity, and I take my hat off to GA. It has the right brains to do this, but I still have concerns that such an architecture would be too complex and therefore expensive."

However, the source is surprised to learn of Time Domain's involvement. "I'd have thought its investors would have wanted to start seeing a return on what has already been developed, unless they've been quietly developing a multiband system that could be relatively easily adapted to what's being proposed here."

Others say there is growing momentum behind multiband, which was well received by attendees at the presentation, and the recent deal between General Atomics and Philips is seen as a vote of confidence in the multiband approach (see Philips Partners for UWB Chips).

The Philips angle also links Wisair to the multiband camp, since those two have been working together on the European Union-funded Ultrawaves Project and have made joint presentations to the IEEE. Similarly, it is no surprise to see Discrete Time associated with the collaboration. Discrete was formed recently by Roberto Aiello and Larry Taylor, two UWB veterans who have been consulting for General Atomics for the past year or so. And, while Intel looks to be taking a wait-and-see approach to UWB, multiband would definitely suit its wireless desktop vision of UWB replacing USB (Universal Serial Bus) interfaces.

However, the multiband approach could also suppress some developments. While sources contacted by Unstrung suggest that about 10 firms are likely to make proposals at the IEEE Task Group 802.15.3a meeting in March, we are also aware that some firms may decide against submitting their intellectual property to the process if they believe the IEEE group will be "railroaded" down the multiband path.

Regardless of which approach wins, any standard is likely to take two or more years to complete, and this could be too long a timeframe for those firms surviving on their initial venture funding and looking to get products shipped as soon as possible. This should result in plenty of pre-standard action and jockeying for position.

— Gabriel Brown, Research Analyst, Unstrung Editor's note: Neither Light Reading nor Unstrung is affiliated with Oracle Corporation

The market prospects for UWB are analyzed in-depth by the latest report from the Wireless Oracle, "UWB – Commercializing Free Spectrum," which is available now for $400. An annual subscription to the Wireless Oracle is ordinarily $1,250, but is currently available at the special introductory price of $899. For more information, including subscription information and research examples, visit www.wireless-oracle.com.