Oracle's Ellison Trashes IBM & SAP, Struts Cloud Stuff
Oracle's Ellison Trashes IBM & SAP, Struts Cloud Stuff
The celebrity yachtsman claims Oracle never sees its two historic arch-competitors on customer sales in the cloud. SAN FRANCISCO -- Oracle OpenWorld 2015 -- Oracle Chairman and CTO Larry Ellison kicked off the company's week-long customer conference by dishing dirt at longtime rivals IBM and SAP.
Ellison took the stage to a rock star's applause from thousands of conference attendees [Editor's note: He's almost as old as Keith Richards], after a large-screen video of highlights of the America's Cup yacht race that's one of Ellison's passions.
The Oracle Corp. (Nasdaq: ORCL) founder laid out the company's 15-year transition to a cloud platform, starting with applications in the cloud (software-as-a-service), then adding database, middleware, analytics and integration to make the apps run better (infrastructure-as-a-service), then storage, compute and network in the cloud (platform-as-a-service) to support SaaS and IaaS.
When making customer calls, Oracle sees Salesforce.com Inc. and Workday as cloud competitors, but never SAP AG (NYSE/Frankfurt: SAP). "The largest application company in the world, but we never see them in the cloud," Ellison said.
He added, "Microsoft is the only one of our traditional competitors that has crossed the chasm and is competing with us in the cloud on all three levels," he said. Microsoft offers Office365 SaaS as well as IaaS and PaaS on its Azure platform.
On the lower levels of the cloud stack, Oracle competes with Amazon Web Services Inc. and sometimes Google (Nasdaq: GOOG). "But we never, ever see IBM," Ellison said.
Figure 1: On Dry Land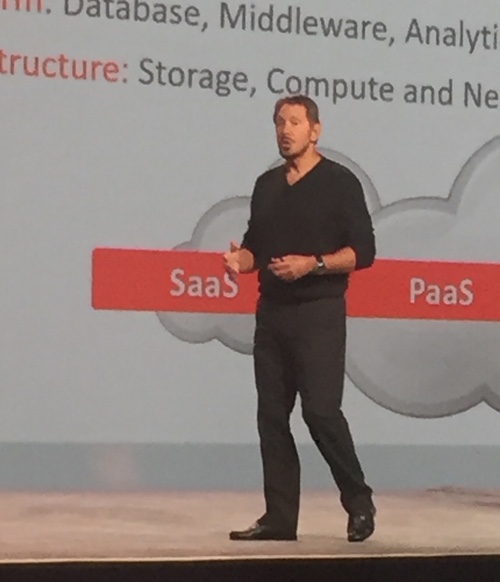 Oracle Chairman, Founder, CTO, and Chief Yachtsman Larry Ellison
"This is how much our world has changed. Our two biggest competitors, the two companies we watched most closely over the last two decades, have been IBM and SAP, and we no longer pay attention to either one of them," Ellison said. "It is quite a shock."
Only Microsoft and Oracle have a full breadth of SaaS, IaaS and PaaS, Ellison said. "We are in every layer of the cloud. Most cloud companies are not. Microsoft and Oracle are the only two companies we know of that have large suites of applications." But Oracle has the largest suite of applications. "No one else comes close," Ellison said.
Oracle and other cloud providers matter to traditional comms, because service providers are connecting enterprise customers to multiple clouds, and Oracle's offerings will affect demand. Moreover, managed service providers run enterprise apps, and those apps are often Oracle's. These changes are part of the comms transition to the New IP
Oracle sees its specialty as hybrid clouds (although Ellison didn't use the phrase) -- building tools that allow enterprises to run applications in their own data centers on the premises, in the public cloud -- whether Oracle's own, Microsoft's, Amazon's, other cloud providers' or a combination. "Because our cloud is compatible with what you have on premise, it's easy to lift and shift," Ellison said.
For all that Ellison claimed Oracle never thinks about IBM anymore, the company set aside a good chunk of time to talk about the three-letter company.
Before Ellison, Intel Corp. (Nasdaq: INTC) executives took the keynote stage [Editor's note: Like when Jimi Hendrix opened for the Monkees], and described Project Apollo, a joint Oracle-Intel partnership to tune Oracle software on standard Intel servers to out-perform IBM systems. "Intel-based Oracle systems can outperform and outrun, at lower cost of ownership, proprietary systems today," Intel CEO Brian Krzanich said. "We believe it is so compelling we can easily overcome the energy it takes to make the switch."
Want to know more about the cloud? Visit Light Reading's cloud services content channel.
Oracle and Intel jointly introduced Exa Your Power, to migrate Oracle Database from IBM Power systems to Intel servers, which Oracle CEO Mark Hurd claimed can improve Siebel performance tenfold, improve supply chain performance by tenfold and run supply chain software five times faster.
Oracle named more than a dozen customers for Exa Your Power, including Telefónica SA (NYSE: TEF), Deutsche Bank and the Allegro Group.
As part of Ellison's keynote, Oracle introduced a half-dozen new products and services, including:
A suite of cloud manufacturing services, including order management, procurement, inventory and supply chain.

E-Commerce in the CX Cloud, to allow business-to-consumer customers to use Oracle's cloud to connect with and sell to their customers.

Application Builder, a drag and drop development tool for extending SaaS applications, with a modern user interface and support for smartphones and tablets.

A cloud-based just-in-time training program that integrates with all Oracle apps, and stores employee history in HCM, with access to a company's internal training materials as well as YouTube, Coursera and Udacity.

Version 1.2 of the Oracle multi-tenant database, supporting thousands of tenants in a single database, with the ability to support moving apps from on-premises to the cloud while still running, Ellison said.

Real Application Clusters RAC in the Cloud, to provide fault-tolerance.

And Big Data Preparation Cloud Service, for analyzing, deduping and anonymizing big data.
— Mitch Wagner,

, West Coast Bureau Chief, Light Reading. Got a tip about SDN or NFV? Send it to [email protected].
Subscribe and receive the latest news from the industry.
Join 62,000+ members. Yes it's completely free.
You May Also Like
---