Arista makes big, powerful switches for big, demanding networks. Service providers have big, demanding networks. So you'd think service providers would be a top market for Arista, right?
Think again.
On an earnings call with analysts Thursday, Arista CEO Jayshree Ullal said service providers are far from being the top vertical for Arista -- it isn't even the company's second or third biggest revenue driver. The service provider vertical is number five of five.
"In terms of verticals, the cloud titan segment remained our largest vertical," Ullal said. No surprise there. Second place is "the modern enterprise high-tech segment" -- in other words, big tech vendors, which are also large enterprises with their own networks to run. Financial services are third. Fourth is tier 2, speciality cloud providers. And service providers are in fifth place.
Service providers have ranked higher than fifth for Arista in previous quarters, when Tier 1 service providers have spent a lot of money, a company spokesperson said in an email following the earnings call. However, it's "logical" that service providers would rank fifth place over time, given that the total addressable market is the smallest of all the verticals Arista ranks. The spokesperson pointed to a slide in the company's investor deck for more detail: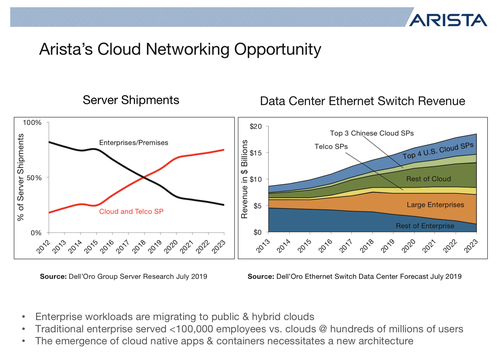 In terms of geographical mix, the Americas comprise nearly three quarters of Arista's business, 73%, with international contribution at 27%, Ullal said.
Arista reported revenue of $608.3 million for the second quarter, ending June 30, up 17% year-over year. Non-GAAP net income was $198.6 million, or $2.44 per diluted share, compared to non-GAAP net income of $155.7 million, or $1.93 per diluted share in the second quarter of 2018.
For the third quarter, Arista expects revenue of $647 million-$657 million.
Double-digit growth came despite slowing demand from cloud customers. Arista saw "some softness of demand from our cloud customers in the second quarter," Arista CFO Ita Brennan said on the analyst call. Arista expects demand to improve in the September quarter, but "we believe that second-half growth in this business will remain somewhat muted as compared to prior years," she said. "We expect our enterprise and financial verticals to continue to perform well, offset by some declines in the service provider business."
A "specific cloud titan… put orders on pause," Ullal said, "and those have resumed. And they've resumed at levels that are improved over the first half, but nowhere close to the second half of 2018." She did not name the individual cloud titan, although in the past Arista has named Microsoft as its largest customer, accounting for double-digit revenue.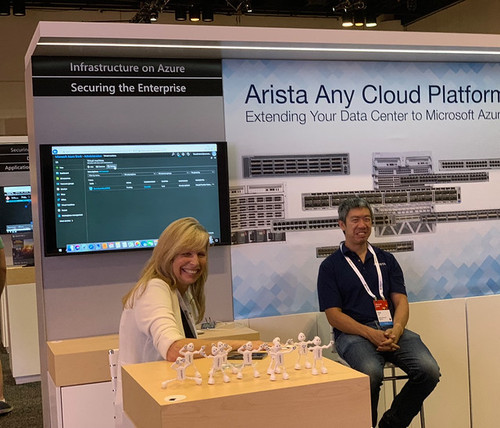 Arista says it should not expect cost-cutting from cloud providers -- an issue that's noteworthy for service providers that have their own relationships with cloud providers. Arista COO Anshul Sadana noted that cloud providers are optimizing costs, but doing so for computer virtualization. Switches and routers comprise 6% to 7% of cloud provider total capex. "So they're not going to try and squeeze that and create a bottleneck, which impacts the remaining 93%," Sadana says. "So the network has to run error free and no one is trying to try and optimize beyond what we have managed to do by providing a very competitive offering."
That's a lesson for telcos and other service providers as well: As long as telcos are doing their job and providing high quality connectivity at reasonable cost, cloud providers aren't likely to try to squeeze telcos' business. The cloud providers will be busy doing other things.
Highlights for the second quarter include introducing 400 Gbit/s switching and routing products.
However, demand for 400 Gbit/s will likely ramp gradually, and not become material until the second half of 2020, noted Andy Bechtolsheim, Arista founder, chief development officer and chairman. Optics vendors supplying components essential to 400 Gbit/s are still ramping up, equipment needs to be tested and verified -- and network upgrades just take time.
"It's just not possible" today for a cloud provider to deploy 400 Gbit/s equipment on a large scale, because the optics are too expensive and "arguably not available in volume," he said.
How long will it take? Historically, the migration to 10 Gbit/s equipment played out over eight years, because 1 Gbit/s connectivity was good enough for the compute and storage of the time, and the cloud had not yet emerged, Ullal said. 100 Gbit/s equipment ramped up much faster, over two or three years, beginning in 2016. 400 Gbit/s will likely roll out on a timescale between 10 Gbit/s and 100 Gbit/s, over about three or four years, first in the cloud, and then high-tech enterprise and specialty cloud providers, she said.
Related posts:
— Mitch Wagner




Executive Editor, Light Reading