Service provider business was a dark cloud on Cisco's quarterly earnings report, delivered Wednesday. And CEO Chuck Robbins warned that the company is not expecting an uptick soon, as service providers aren't going to see big profits from 5G for a while.
Cisco's service provider business was down a whopping 21% year-over-year for its fiscal fourth quarter of 2019, ending July 27. Overall revenue was up annually for the quarter and calendar 2019. But the forecast for the next quarter failed to meet analyst expectations, leading to a stock price decline.
Explaining the service provider weakness, CEO Chuck Robbins said on an earnings call with analysts that Americas sales were generally the same for the last quarter, Europe was positive, but Asia continued weakening, particularly in China. And two "massive build-outs" in India last year were not replicated this year.
"That's the net of our provider situation. It's not more complicated than that," Robbins said.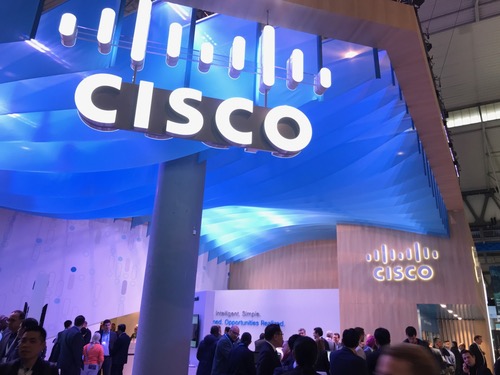 ---
Deep dive into real-world issues and virtualization deployment challenges with industry leaders. Join Light Reading at the annual Network Virtualization & SDN Americas event in Dallas, September 17-19. Register now for this exclusive opportunity to learn from and network with industry experts. Communications service providers get in free!
---
Cisco doesn't anticipate short-term improvement in its service provider business, Robbins said. Telcos are now focused on consumer 5G trials and getting consumer 5G networks built out. They're not anticipating a "huge profit" from that transition. Profits will come later when telcos build a "more robust and broader infrastructure" for enterprise services, which will be after the consumer side, Robbins said.
"We're not modeling and don't anticipate any significant improvement in [the service provider] business in the very near term," Robbins said. "It's been a tough business for us for years and it obviously represents a much smaller percentage of our business than it did five years ago, but it clearly was a major point of weakness for us in the last quarter."
Enterprise sales were also down for the quarter, by 2%. Public sector sales were up 13% and commercial sales up 7%.
By region, sales in the Americas were up 1%, Europe, Middle East and Africa up 4% and Asia Pacific down 8%.
Cisco is seeing damage from strained US-China relations. Overall, the Chinese market isn't "a major place for us," but it has "just dropped precipitously" due to trade tensions with the US. Cisco had sold to large carriers in China for years, but that business is slowly declining, more rapidly in the last quarter. And Cisco was "uninvited" to bid on enterprise sales, Robbins said. "It was a much faster decline than we, candidly, expected."
Software subscriptions are at 70% of revenue, up 12 points year-over-year. That's been a long-term strategic goal for Cisco -- switching from one-time product sales to subscription based software sales.
But still, the mainstay of Cisco's revenues come from data center networking products, including routers and switches, as it has for decades. Cisco breaks those product sales out as part of its Infrastructure Platforms category, which generated $7.9 billion revenue, up 6% year-over-year
Overall, Cisco reported $13.4 billion fourth-quarter revenue, up 6% year-over-year. Revenue for fiscal 2019 was $51.8 billion, up 7% annually. Non-GAAP earnings per share for the quarter were $0.83, up 19% year-over-year.
The outlook for the first quarter of fiscal 2020 is 0% to 2% revenue growth year-over-year, and $0.80 to $0.82 non-GAAP earnings per share. Analysts anticipated $13.4 billion revenue, up 2.5%, and $0.83 earnings per share, according to CNBC
Cisco stock traded at $46.56, down 8%, in after hours Wednesday.
Related posts:
— Mitch Wagner




Executive Editor, Light Reading