It's Groundhog Day! Explaining AT&T's Microsoft & IBM Deals
It looked like Groundhog Day in the telecom industry last week, as AT&T made what seemed to be the same deal over and over.
Tuesday morning, I was jolted awake in California by the news that AT&T had made a "multi-year strategic alliance" with IBM, covering cloud and networking technology.
Wednesday, I was jolted awake by the news that AT&T and Microsoft were "embarking on an extensive, multiyear alliance, covering cloud and netw– "
Wait, didn't we just do this? Or were we stuck in a timeloop, like Bill Murray in the classic 1993 movie about living the same day over and over.
In the case of AT&T's cloud deals, there was no timeloop (although I did just lose a half-hour reading the Wikipedia page for Groundhog Day). These were two different deals, with AT&T partnering with, obviously, two different companies.
There are other differences as well. And plenty of unanswered questions.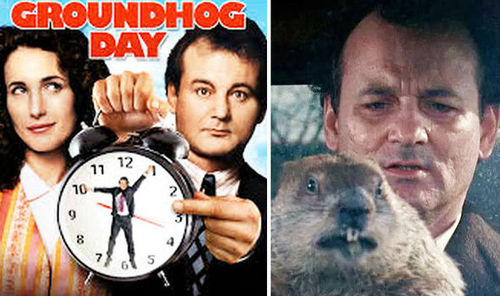 The deals involve different AT&T business units
The Microsoft deal is the bigger of the two, encompassing AT&T Communications, AT&T's biggest business unit, which includes AT&T Business, Mobility & Entertainment, and Technology & Operations.
The IBM deal involves AT&T Business, the arm of AT&T Communications that provides services to enterprises and small and midsized businesses.
The financial values of the deals are – probably – different
None of the companies involved would disclose the terms of the deals. Reuters and CNBC put the value of the Microsoft deal at $2 billion. The IBM deal is worth "billions," said CNBC.
The scope of the deals are different
AT&T Communications named Microsoft as the "preferred cloud provider for non-network applications." Microsoft will support AT&T consolidation of data center infrastructure and operations. AT&T plans to migrate most non-network infrastructure applications to the Microsoft Azure cloud platform by 2024, becoming a "public cloud first" company. That gives AT&T space to focus on "core network capabilities."
AT&T Communications has more than 250,000 employees; as part of the Microsoft deal, many or all will move to Microsoft 365 cloud services, which include Office 365, mobile device management and security.
As for AT&T Business and IBM: AT&T will use Red Hat Enterprise Linux and OpenShift to manage Kubernetes containerized workloads for AT&T Business applications serving enterprise customers. The deal focuses on operational applications and IT infrastructure, "on- and off-premises and across different clouds -- private and public," the companies said in a statement. "IBM will be the primary developer and cloud provider," the companies said.
And AT&T Business will help transform IBM's networking, using 5G, edge computing, Internet of Things and multicloud.
There are possible conflicts
Both Microsoft and IBM will be working on moving AT&T internal applications to the cloud -- Microsoft for all of AT&T Communications, while IBM works with the AT&T Business part of AT&T Communications.
And both Microsoft and IBM will be working on network applications for joint customers. AT&T and Microsoft will collaborate in 5G and edge computing applications, leveraging 5G low latency and high bandwidth to enable devices to process data closer to the edge, where decisions are made. Applications include voice-based collaboration and conferencing; intelligent edge and networking; IoT; public safety; and cybersecurity.
AT&T and IBM, meanwhile, will collaborate on edge applications for enterprise customers.
But wait there's more!
At least two more companies have cloud deals with AT&T.
AT&T signed an "eight-figure" Kubernetes and OpenStack deal with Mirantis, for AT&T's 5G network. Mirantis announced the deal in February. For that deal, AT&T is deploying Kubernetes and OpenStack on-premises, rather than in a public cloud, for thousands of nodes.
And Oracle and AT&T entered into a "strategic agreement" in May 2017 to move "thousands of [AT&T's] large scale internal databases" to Oracle's Cloud infrastructure and platform. Those databases already run on Oracle on-premises at AT&T, and would move to the Oracle Cloud. AT&T also agreed to implement Oracle Field Service Cloud to optimize scheduling and dispatching for more than 70,000 field technicians. And a post on the Oracle blog last year described how AT&T moved its IT infrastructure to Oracle Cloud at Customer, hardware servers that run Oracle cloud software on-premises.
Big questions!
The deals leave big questions about AT&T's cloud partnerships. Both Microsoft and IBM are picking up AT&T's non-network applications, and collaborating with AT&T -- separately or together -- on next-generation network apps.
It does seem that there's plenty of room on AT&T's network and IT infrastructure for both Microsoft and IBM to play, especially as IBM is working on just part of the business while Microsoft has a much bigger part. But who's going to do what here? And how will potential conflicts be resolved?
And what's happening with the Mirantis and Oracle deals?
These questions are as yet unanswered, and there's a reason for that, says Steve Stine, AT&T senior vice president, business transformation, in an interview. The details of the Microsoft partnership have yet to be worked out; it's still a broad-stroke agreement in principle. An AT&T spokesman confirmed that the same applies to what AT&T is doing with IBM.
"They're both aimed at innovation and the opportunity to drive velocity and utilize the capabilities that others [Microsoft and IBM] have invested in and delivered to the marketplace," Stine says.
As a first step, AT&T is migrating its internal applications from Microsoft Exchange to Office 365. AT&T will also evaluate other applications, such as ordering, billing and provisioning, to determine if they're good candidates for migration, either by rehosting, refactoring, or finding new, cloud-native alternatives.
"This is an opportunity to evaluate doing anything from a lift and shift to a completely new application," Stine says.
And AT&T will consider where it makes sense to close data centers entirely, moving their workloads to Azure.
Additionally, AT&T is looking to partner with Microsoft on finding applications for 5G. "Greater speeds, low latency, and those general things are cool, but it's not really cool until you start looking at what benefit will derive to those that are using the services," Stine says. While previous generations of wireless networking were consumer-led, business applications are likely to be the first winners for 5G.
5G will require compute at the network edge, and partnering with Microsoft will help AT&T deliver those edge capabilities matched with 5G, Stine says.
But what about IBM?
We haven't been able to get either AT&T or IBM to go on the record with interviews about the details of their partnership. Motley Fool suggests a reason; they're skeptical that it's a big deal.
"IBM's announcement is confusing for three reasons," writes Leo Sun at the Fool. "First, AT&T isn't granting any exclusivity (or even a 'preferred' status) to IBM for its migration of apps into its hybrid cloud. Second, AT&T already used Red Hat software prior to IBM's buyout, so it's just a continuation of a pre-existing relationship. Lastly, IBM already holds a strategic networking deal with AT&T, which covers many of the same bases." Indeed, a search of Light Reading's archives turned up multiple AT&T and IBM partnerships: on microservices and IoT analytics in 2017, and private cloud connectivity, cloud-to-cloud networking and Internet of Things (aka "M2M") in 2014.
Sun adds: "Simply put, IBM spiced up some old news with a few new developments, then repackaged the bundle as a fresh 'strategic partnership.' IBM claims that the deal will be worth 'billions of dollars' over an unspecified number of years, which makes it impossible to quantify against the value of its cloud business, which grew 5% annually to $19.6 billion (25% of its top line) over the past 12 months."
He concludes that "IBM wanted to show that it was making progress in the private and hybrid cloud space and that its Red Hat takeover was paying off. However, Big Blue's opaque announcement about AT&T felt desperate, oddly timed, and unnecessary, and didn't provide investors with enough fresh news about either company."
— Mitch Wagner




Executive Editor, Light Reading