Juniper is integrating security into its MX line of high-performance routers and cSRX containerized firewalls, to fit 5G and edge performance needs and complex network requirements.
Juniper is embedding its SecIntel security intelligence feed, which provides threat information from Juniper's own SkyATP and Threat Labs services, as well as public sources, into its high-performance MX routers for both service providers and enterprises. The SecIntel feed enables creating and enforcing security policies. Building the capability into the MX means network operators can now have security built into the edge, as well as in the firewall, endpoint devices and network ports, for "defense in depth" -- defense located in multiple parts of the network, for added performance and security. The upgrades provide deep network visibility, at multiple points around the network, says Oliver Schuermann, Juniper Networks senior director for product marketing with a focus on security.
SecIntel support complements the MX's existing distributed denial of service (DDOS) protection, available in collaboration with partner Corero.
Juniper is also beefing up its cSRX containerized virtual firewall, adding a dual Container Network Interface (CNI) for faster throughput. Previously, the cSRX had one interface. The additional interface means data can get in and out of the firewall faster. Examples of use cases for cSRX include micro data centers at the base of cell towers, which is useful in 5G applications, and cSRX is also useful for Internet of Things applications.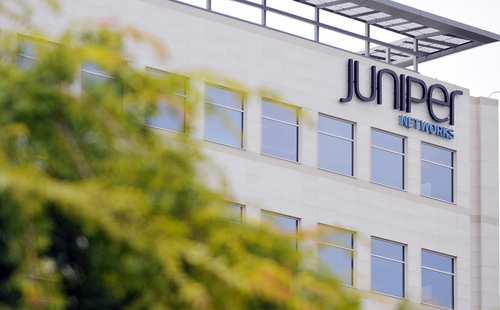 Juniper's security additions come as the company works to reverse its long revenue decline; on an earnings call last week executives reiterated statements that they expect a return to year-over-year revenue growth at the end of next quarter. New high-speed router products and software are strategic to Juniper's future. Overall, revenue was $1.1 billion, down 8%, for the quarter ending June 20.
The routing product line, which is strategic to Juniper, was hard hit. Routing decreased 15% year-over-year, to $416 million, and while security product revenue grew, it's only a modest part of the company's overall business -- $81 million, up 2% year-over-year.
Software revenue is growing, and it's now more than 10% of overall revenue for the company.
Related posts:
— Mitch Wagner




Executive Editor, Light Reading