Leading Lights 2018 Finalists: Most Innovative Telecoms Product
Optical, Ethernet and IP are the technologies that formed he bedrock of Light Reading's early years and which are still very important to us today. So the Most Innovative Telecoms Product (Optical/IP/Carrier Ethernet/FTTH) category is of particular importance to the annual Leading Lights program.
This prize is awarded to the company that has "developed a potentially market-leading optical/IP/Ethernet/FTTH product that, through engineering and technical excellence, enables the deployment of profitable next-generation telecom services."
And, of course, these days that includes software as well as hardware products.
This year's shortlisted companies in this category are:
3-GIS -- 3-GIS|Prospector
Calix Inc. (NYSE: CALX) -- Calix AXOS E3-48F Gfast Remote Node
Ciena Corp. (NYSE: CIEN) -- Liquid Spectrum
CommScope Inc. -- NG4
Infinera Corp. (Nasdaq: INFN) -- ICE5
Inphi Corp. -- Porrima 16nm 400G PAM4 Platform
Juniper Networks Inc. (NYSE: JNPR) -- TCX1000 Programmable ROADM
Menara Networks -- Tunable OTN SFP+
Microsemi Corp. -- DIGI-G5
Nokia Corp. (NYSE: NOK) -- Photonic Service Engine 3 (PSE-3)
Oscilloquartz -- OSA 5430 synchronization solution
Sedona Systems -- NetFusion

The winners of all 24 Leading Lights awards and the three Women in Comms awards, as well as the identities of this year's Light Reading Hall of Fame inductees, will be announced at the fantabulous Leading Lights dinner/party, which will be held during the evening of Monday, May 14, at the Brazos Hall in Austin, Texas, following a day of pre-BCE workshops. Then, the morning after the awards party, the doors open to this year's Big Communications Event (BCE) at the Austin Convention Center.

To find out which companies were shortlisted across all of this year's Leading Lights categories, please check out Leading Lights 2018: The Finalists and Congrats to 2018's WiC Leading Lights Finalists.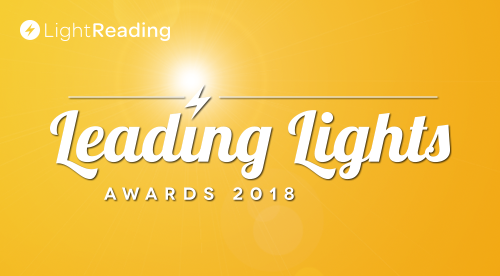 So, let's take a quick look at why these 12 companies made the shortlist.
3-GIS -- 3-GIS|Prospector
As more fiber is laid in access networks to support broadband services and, ultimately, 5G stratagies, so it becomes ever more important to make that rollout process as efficient as possible.
So 3-GIS has developed a browser-based network planning tool, the 3-GIS|Prospector, that can help to cut the planning and design phase of a fiber access project by up to 80% and which can "generate machine-prescribed routes and cost estimates that expedite the time needed to submit permits." And using the vendor's patented method of signal trace, the tool also provides a complete view of the connectivity of the network, giving insight into asset utilization and the network diversity needed to optimize revenue potential and tackle risks.
3-GIS has already been used to design more than 4 million FTTx points and has more than 43 million miles of fiber network under management globally.
Calix -- Calix AXOS E3-48F Gfast Remote Node
Fiber-to-the-premises is, at last, all the rage, but there are still plenty of rollouts where using a copper or coax tail or makes sense, especially in multi-dwelling units (MDUs), which is why Gfast has become a significant option in the broadband access technology mix.
Recognizing that MDUs are notoriously hard to serve, and even harder to serve profitably, Calix developed and launched the AXOS E3-48F Gfast Remote Node to "leverage existing MDU infrastructure to deliver a gigabit experience to subscribers." (See Calix Intros First 48-Port Gfast Nodes.)
The product provides 48 subscriber ports of 212 MHz Amendment 3 Gfast and capabilities such as cDTA (doubles duplex bandwidth delivery), Gfast bonding (doubles broadband rate or reach), and mesh vectoring to help deliver gigabit services using existing copper or coax wiring.
Calix is particularly proud of the E3-48F's serviceability: It consists of two modular components that allow the unit to be installed at different times and the design separates the Gfast electronics from the outside plant elements, helping to significantly reduce servicing times.
Ciena -- Liquid Spectrum
Ciena's Liquid Spectrum helps to change the way optical networks are engineered, operated and monetized, helping network operators to move on from the legacy days of static, slow operational processes.
By taking advantage of the scalability and programmable nature of modern optical transport systems, Liquid Spectrum allows operators to tune, control and dynamically extract the optimum value from their existing network investments. (See Ciena Adds Apps for Optical Network Flexibility.)
It includes applications such as: Performance Meter, to provide real-time visibility into network performance and allow for proactive system optimization by reporting which optics can be run at higher capacity; Bandwidth Optimizer, to simplify and accelerate wavelength provisioning using customer-defined service policies to recommend the ideal capacity and spectral placement for any channel, across any network path; Liquid Restoration, to increase service availability with flexible adjustment of deployed coherent optical capacity as needed; and Wave-Line Synchronizer, to accelerate service provisioning in multi-vendor networks by reducing manual provisioning steps and eliminating associated human errors.
CommScope -- NG4
An optical distribution frame might not sound amazingly interesting or innovative, but when you see how it could help deliver the promise of distributed cloud and 5G services, then things get a bit more compelling.
The CommScope NG4 Optical Distribution Frame is designed to be deployed quickly, easily and to support cloud RAN (C-RAN) and edge data center deployments. It supports multimode and single mode cabling infrastructure and its open module design supports splitters, C/DWDM and connectivity migration. A wide range of modules supports data center high speed migration requirements of 10 to 40 to 400 Gbit/s circuits, while pre-terminated cable module (CMOD) assemblies simplify the installation process of terminating high-count fiber cables into a chassis and eliminates splicing of cables inside a central office, data center or C-RAN hub, a process that can be inefficient and cause significant operational issues down the line.
CommScope notes that the NG4 is "ideal for C-RAN hubs and edge data centers because each chassis occupies just 4RU and provides 576 LC fiber terminations… [just] three chassis equates to 1,728 fiber ports in only 12RU." In addition, "optional CPRI monitoring modules mesh seamlessly with BBU outputs to fronthaul fibers supporting small cells. Integrating CPRI monitor modules into the NG4 frees up BBU rack space for additional BBUs." This is a distribution frame designed for a dense access network, 5G world.
Infinera -- ICE5
Unveiled at the recent OFC event, the ICE5 is a 2.4 Tbit/s optical engine and Infinera's latest addition to its growing family of Infinite Capacity Engines. ICE5 addresses the accelerating demand for optical network capacity, whether in data center interconnect (DCI) scenarios or to support fiber-deep architectures (including distributed access architecture and 5G backhaul). (See Infinera Shifts Up a Gear With Its Latest Optical Engine.)
ICE5 integrates the company's fifth-generation PIC with a FlexCoherent DSP (digital signal processor) and software-defined management to enable between 100 Gbit/s and 600 Gbit/s per wavelength, using 64QAM modulation and 66Gbaud speed, and more than 40 Tbit/s on a single fiber. The vendor claims significant gains compared with ICE4 of 65% more capacity and 60% less power consumption. It also works with Infinera's Instant Network solution for software-defined capacity on demand, allowing customers to deploy ICE5-based products with only a fraction of the capacity enabled initially, with additional capacity activated when needed, "matching capacity to demand and costs to revenues," notes the vendor.
Inphi -- Porrima 16nm 400G PAM4 Platform
Network and data center operators need improved performance matched with power efficiency to meet their goals and the demands of their customers and that's what Inphi delivers with its Porrima 400G PAM4 Platform, the first complete 56GBaud platform solution for wired infrastructures, including hyperscale data centers, telco infrastructures and enterprise networks.
The product includes field-proven PAM4 DSP technology, linear transimpedance amplifier (TIA) and drivers that enable 10W 400 GigE and 3.5W 100 GigE data center optical modules.
Using its experience from having developed five generations of its DSP, Inphi has designed an API-based software suite that will "achieve quick time to market with the right trade-offs in power and performance for data center optical interconnects." The Porrima platform also supports a wide range of 25/50/100/400 Gbit/s optical interconnects for all types of wired networks.
The upcoming latest generation of 12.8 Tbit/s Ethernet switch silicon, which will support 32 ports of 400GigE, will require 400GbE DR4/FR4 optical modules built from reliable, low-power PAM4 silicon and Inphi is ready for that market to emerge. The Porrima platform will "boost the 400GigE market and allow optical components vendors and their customers to successfully transition to 400G speeds," the company boasts.
Juniper Networks -- TCX1000 Programmable ROADM
Commodity hardware is finding its way into the optical network and Juniper is one of the company's helping by offering a "fundamental shift in the way operators build networks, that eliminates vendor lock-in, closed systems and complex, single-layer operations."
Its TCX1000 Programmable ROADM, launched in November 2017, is part of its Programmable Photonic Layer. It is a colorless, directionless, flex grid-ready reconfigurable optical add/drop multiplexer (ROADM) that scales up to 25.6 Tbit/s per line to support a wide range of use cases. (See Juniper Tries Its Hand at Optical Disaggregation.)
Designed from the ground up as an open platform solution, the TCX1000 disaggregates line systems from the optical transponder layer, freeing network operators to select and deploy Juniper or third-party transponders that best align with network and budget requirements. This allows operators to modify the control plane with "simplicity, flexibility and service continuity," the vendor states. It is managed by proNX Optical Director, Juniper's open, microservices-based optical management and control platform.
Menara Networks -- Tunable OTN SFP+
Designed for IP-over-DWDM and packet-optical applications, Menara's Atlas OTN SFP+ DWDM module is a 'system-in-a-module' that incorporates ITU-T compliant G.709 OTN and G.975 General and Enhanced Forward Error-Correction (FEC) capabilities in a fully compliant SFP+ form factor and is "designed to offer complete DWDM transponder replacement in a SFP form factor."
It interfaces directly with any IP/MPLS/Ethernet switch, offering a zero-footprint option and, claims Menara, a "more than 70% cost and power consumption saving over a chassis-based transponder alternative." It provides real time BER monitoring and rich carrier-grade G.709 OAM support via a SFF 8636 I2C interface.
the module is tunable over the C band, supporting up to 102 channels on the ITU-T 50 GHz grid and transparently maps 10G, SONET/SDH OC-192/STM64 and 10G fiber channel client signals into a DWDM G.709-compliant Optical Transport Network (OTN).
In addition to FEC, the module also incorporates SBS suppression, high quality M-Z external modulator and a high-gain APD that enables "error-free transmission of up to 2,000 km of standard single mode fiber."
Microsemi -- DIGI-G5
With network operators seeking to add capacity to their transport networks at the lowers possible cost per bit, Microsemi has worked with major operators to come up with the DIGI-G5, an OTN processor that, the company claims, can triple the port density of optical transport equipment at half the power per port, "allowing service providers to scale network bandwidth by more than 2x without requiring new fiber-optic cables in the ground and while consuming the same amount or less of power."
To enable such capabilities, Microsemi had to invent new design techniques and push the limits of design tools in order integrate two times more transistors (more than 12 billion transistors) while managing to deliver 50% power reduction per port compared with the previous generation. More than 1 million lines of code was written for the software stack.
The DIGI-G5 is differentiated by: Enabling OTN 3.0 with beyond-100G optical transport; enabling total interface bandwidth of up to 1.2 Tbit/s; supporting a broad range of Ethernet flavors, including 400 GigE and Flexible Ethernet; enabling optical transmission up to 600 Gbit/s; providing an integrated security engine that enables end-to-end AES-256 encryption and authentication; and integrating bandwidth-on-demand processing. The vendor expects the DIGI-G5 to be deployed in networks run by Verizon and other Tier 1 operators in 2019 and beyond.
Nokia -- Photonic Service Engine 3 (PSE-3)
Nokia has designed and developed what it claims is "the most advanced coherent DSP in the industry" -- the Photonic Service Engine 3 (PSE-3) for deployment in its optical transponders and DCI platforms. (See Nokia Pushes Optical to the Limit.)
Incorporating advanced probabilistic constellation shaping (PCS), multiple baud rates, advanced SD-FEC and dual carriers, the PSE-3 "sets new industry benchmarks for spectral efficiency, capacity and optical reach," the vendor boasts. It increases capacity per wavelength by 2.4x, requires 25-35% fewer interfaces for a given traffic demand, and reduces power per bit by up to 60%.
The PSE-3 is the first DSP to implement PCS, a digital signal processing technique pioneered by Nokia Bell Labs. The PCS performance gain "pushes optical fiber transmission capacity up against the Shannon Limit -- the maximum theoretical capacity of a communications channel." It also features "simple programmability" and adjustable wavelength capacity from 100G to 600G with a single, uniform modulation format and channel size, simplifying network operations and planning.
Oscilloquartz -- OSA 5430 synchronization solution
Oscilloquartz, a unit of ADVA Optical Networking , tackles what it calls "the most overlooked issue in telecommunications" – synchronization.
Due to technological progress "as well as an influx of ever more stringent regulations, synchronization requirements are becoming increasingly tight and legacy equipment can no longer fulfill the mission-critical demand… failure to meet timing requirements can have a significant impact on critical infrastructures such as mobile networks, utilities and finance, among many others," notes the company.
Existing synchronization techniques are not accurate enough, are not properly supported or are subject to vulnerabilities: "To achieve high availability and excellent sync precision, timing delivery technologies need to be combined in a highly synergetic way. Only by backing up network-based synchronization delivery with long-holdover oscillators and leveraging space-based delivery of highly accurate time can precision, availability and reliability be maximized," claims the Oscilloquartz team.
So it has launched the OSA 5430, extending its edge/core grandmaster portfolio with a next-generation synchronization product combining precise timing delivery with a robust design. It is engineered to meet the recently-published ITU G.8272.1 standard for enhanced primary reference time clocks (ePRTCs). "With 1- and 10-Gbit/s interfaces, the OSA 5430 can easily be applied in metro and core networks. Its unique, multi-technology GNSS receiver provides unprecedented availability even under environmentally challenging conditions," notes Oscilloquartz, so it's not surprising that several service providers are already evaluating the solution, which was launched in March this year.
Sedona Systems – NetFusion
Real-time network visibility and multi-vendor, multi-layer automated network management have never been more in need in the communications networking space, and Sedona Systems has worked to deliver such capabilities with its NetFusion solution.
NetFusion is a network controller designed to "identify exactly the current network state, where services lie, and how layers of the network are overlaid and dependent on each other. This is across multiple domains and layers, supporting all major IP and optical vendors over both SDN and non-SDN technologies," notes the company, which released the latest version, the Hierarchical Network Controller, in March this year. (See Sedona Unveils New NetFusion Hierarchical SDN Controller .)
At the heart of NetFusion's discovery process is innovative behavioral analysis of the network that doesn't rely on manually-entered information. This helps the system determine how to route services across domains and layers to best meet SLAs, while minimizing use of network resources, orchestrating processes across all the vendor domains and enabling migration from legacy environments, "automatically re-instantiating legacy services on the new network." It incorporates analytics and automation applications, allowing operators to migrate towards an SDN environment.
NetFusion is in multiple trials and has also been deployed by several major operators, most notably Verizon. (See Verizon Turns to Sedona for Transport SDN Management & Automation Smarts.)
— Ray Le Maistre, Editor-in-Chief, Light Reading
PARTNER PERSPECTIVES
- content from our sponsors