MEF Touts Multivendor SD-WAN & More
The MEF today is touting progress on enabling automated orchestration of a range of services, including multivendor SD-WAN, across different service provider networks for faster implementation of end-to-end services. (See MEF Announces Progress on Multi-Vendor SD-WAN and MEF Advances Multi-Carrier Service Orchestration.)
In a broad update of its MEF 3.0 effort, MEF and its member companies say there's significant progress on the SD-WAN front, including an implementation project involving four vendors, as well as on Carrier Ethernet, IP services and optical services. All of this is part of MEF's standardization efforts to make services "orchestration-ready" or rapidly deployable, using its Lifecycle Services Orchestration initiative and both existing and newly developed application programming interfaces.
In some cases -- as with IP services and Layer 1 optical services -- what MEF is doing is bringing new levels of specificity to services that have existed for some time, says MEF CTO Pascal Menezes. With IP services, for example, "we are actually defining the language of IP so you can get to APIs for orchestrating IP and we can all agree on what those IP services look like -- all those things have never been specified. So now they are specified in a 200-page document that you can now build services around."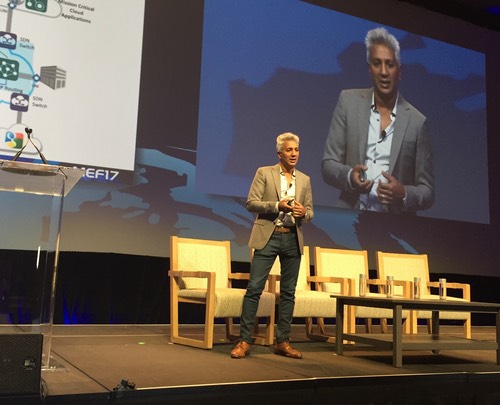 Announcing progress at this point is intended to show this MEF 3.0 standardization work, announced last November at MEF 17, "is real, it's not pie-in-the-sky, it has teeth and traction, and, in some cases, is coming to fruition," he told Light Reading.
The SD-WAN implementation project's first phase, which involves three SD-WAN vendors -- Nokia Corp. (NYSE: NOK)/Nuage, VeloCloud Networks Inc. (now part of VMware Inc. (NYSE: VMW)) and Riverbed Technology Inc. (Nasdaq: RVBD) -- as well as software development and integration specialist Amartus , is one of the more tangible efforts. Each vendor is implementing an SD-WAN on its own gear and then connecting through a central gateway to the other vendors. All three SD-WANs are then orchestrated using an LSO-based orchestrator which makes use of the LSO Presto Network Resource Provisioning API to enable a single service to be created spanning multiple vendor gear.
The effort is in direct response to MEF service provider requests, says Joe Ruffles, co-leader of the MEF 3.0 Multi-Vendor SD-WAN Implementation project and global standards architect for Riverbed.
"It is a very pragmatic approach where the early use cases have been submitted have various things to do with being multivendor," he says. "Either because of acquisition or the need to partner for geographic reach, service providers are finding themselves needing to make SD-WANs work using the technology for multiple vendors and they posed some uses cases there that we have started to implement."
MEFnet and Agile
The vendors are using the MEFnet facility launched last year to work through what it takes to get connectivity across the multiple-vendor gear, he adds, and they're feeding that information back into the MEF standardization process. Ruffles admits the early stages "might be done by hand" but adds that using an Agile process, the work pushes toward automation.
As the efforts begin to pay off, Ruffles says, more vendors are willing to become engaged and service providers are bringing more use cases forward to be addressed.
"Success breeds success," he comments. "Now we can think about other scenarios, we can think about other vendors, we can think about service chaining and security-as-a-service, and because we are using an Agile process, as people come up with other ideas of things they want to see, those go into the list of candidate scenarios to be done next."
The SD-WAN implementation work is also being fed into MEF's other SD-WAN initiative, which is defining a specification for that service that spells out application-centric Quality of Service and business priority policy requirements, among other things. Riverbed and Velocloud are leading that effort, along with Fujitsu, and building on the work MEF has done for Ethernet, Layer 1 and IP services, says Ralph Santitoro, head of SDN/NFV/SD-WAN Solutions at Fujitsu.
"In order to automate and orchestrate all networks, you need to look at all three layers," he says. MEF has done and is still doing work in the Ethernet space, he notes, and with the expansion into Layer 3 IP services and Layer 1 optical, is progressing there as well. A spec for layer 1 high-bandwidth services for data center interconnection and storage network interconnection is going into final ballot, he says.
---
Deep dive into real-world issues and virtualization deployment challenges with industry leaders. Join Light Reading at the NFV & Carrier SDN event in Denver, September 24-26. Register now for this exclusive opportunity to learn from and network with industry experts – communications service providers get in free!
---
Creating standard service definitions at every layer is what enables automation and orchestration through the LSO and its defined APIs, Santitoro adds.
"The way everyone deploys them today is custom to how their deployment," he says. "We have worked hard to get those standardized."
One of the most recent efforts defines managed access E-line services that will let a wholesale access network provider also manage the network interface device (NID) for their carrier customer, which will speed deployment of Ethernet services, particularly in regions where the retail carriers don't have boots on the ground, he notes.
Going forward, MEF will take the attributes it has defined at each layer and use them to define specific use cases, such as IP access services or IP VPNs, so these can be done in a standard way and then automated and orchestrated across carrier networks, he says.
All of this is building to the live demonstration of the latest work at next November's MEF 18 event in Los Angeles.
— Carol Wilson, Editor-at-Large, Light Reading
UPCOMING LIVE EVENTS
June 6-8, 2023, Digital Symposium
June 21, 2023, Digital Symposium
December 6-7, 2023, New York City
All Upcoming Live Events
PARTNER PERSPECTIVES
- content from our sponsors