CableLabs has quietly issued a new set of specifications (PDF) that define how voice calls and related applications such as call waiting can shift seamlessly between cellular and PacketCable networks using an emerging breed of dual-mode handsets.

CableLabs released those fixed/mobile convergence (FMC) specs, titled "PacketCable Cellular Integration," on June 28. Among the primary elements, it defines Voice Call Continuity (VCC) requirements between PacketCable and circuit cellular networks as largely defined by both 3rd Generation Partnership Project (3GPP) and 3rd Generation Partnership Project 2 (3GPP2) , but with some special cable hooks.

"We bring cable considerations to that architecture," says Bernie McKibben, senior architect for cellular systems at CableLabs.

As the theory goes, advanced dual-mode handsets will be able to maintain a call when roaming between traditional cellular networks and WiFi links in the customer's home that feed into the cable operator's managed IP-based PacketCable network.

The new specs do not cover how a customer would "roam" between cable networks, a capability that CableLabs is said to be working on though nothing formal has been issued.

The newly issued specs, part of the larger batch of PacketCable 2.0 documents, cover two major functions -- network domain selection and call continuity. While call continuity handles the seamless handover of active voice calls from the IP to cellular network or vice versa, a VCC application server would determine how a call is routed and have enough smarts to know which type of available network provides better coverage at the time of the call.

The resulting platform and its "hybrid service execution" component would also allow MSOs to retain control of the customer and how applications, such as call waiting and call forwarding, are delivered over either the cell infrastructure or the operator's managed IP network, according to Jay Bestermann, senior manager of FMC product development at Arris Group Inc. (Nasdaq: ARRS).

"You don't want to invoke call waiting in two different ways," he says.

Such an architecture would raise the bar on how most cable MSOs are offering wireless services today. For example, Pivot -– the cellular joint venture of Sprint Corp. (NYSE: S), Comcast Corp. (Nasdaq: CMCSA, CMCSK), Time Warner Cable Inc. (NYSE: TWC), Cox Communications Inc. , and Advance/Newhouse –- looks and smells more like a marketing and reselling arrangement than it does a service that is truly integrated with the other cable offerings.

But having Sprint in cable's corner could help those MSOs hurdle an important barrier: To make cellular integration happen, cable operators likely will need to carve out business relationships with wireless carriers. According to Bestermann, those deals will need to be in place so operators can map a link from their VCC server to the cellular operator's home location register (HLR), where cellular credentials are stored.

MSOs could avoid some of that if they owned their own cellular network, a situation that favors Canadian operator Rogers Communications Inc. (NYSE: RG; Toronto: RCI), which owns both cable and cellular infrastructure. The cable/Sprint SpectrumCo LLC JV, meanwhile, has yet to say what it will do with the advanced wireless spectrum licenses it captured last fall. (See Sprint-Cable Group Weighs New Wireless Options.)

It's too early to say when CableLabs might begin official testing against the new specs, as they represent just a stepping stone toward helping the cable industry build a platform for integrated wireless technologies and services, according to Eric Rosenfeld, director of PacketCable architecture at CableLabs. In addition, more product development still needs to be ironed out, he says.

"Our members thought it was important to get this [spec] out as a starting point," Rosenfeld adds.

Still, some suppliers are already giving the new specs some serious thought and adding supporting products to their portfolios.

Arris, a leading supplier of embedded multimedia terminals for traditional PacketCable voice services, already has introduced a family of wireless residential gateway devices. The Touchstone WTM552 (see Figure 1) supports two analog voice lines, a four-port router, as well as PacketCable and SIP. Down the road, the device will also incorporate 802.11e QOS.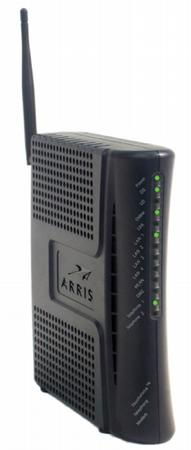 Arris has also introduced the FMC-focused Mobility Application Server (MAS). Earlier this week, the company notched an integration deal with the SAFARI C3 Multimedia Switching System, the flagship of VOIP specialist Cedar Point Communications Inc. . (See Arris, Cedar Point Connect.)

Motorola Inc. (NYSE: MOT), another key cable supplier, expanded its FMC portfolio this week after striking a deal to acquire Leapstone Systems Inc. . (See Motorola Jumps on Leapstone.)

The cellular integration capability as defined by CableLabs would reside on top of an operator's IP Multimedia Subsystem (IMS) core, as defined by PacketCable 2.0, but there's little evidence at this point to indicate much trial or deployment traction yet for this advanced architecture.

CableLabs issued a request for information (RFI) for PacketCable 2.0 in June, but a recent Cable Industry Insider report on the subject by Heavy Reading Senior Analyst Alan Breznick found that while operators are focused on adding SIP capabilities to their networks, they probably won't make a move to the full IMS-laden 2.0 platform for at least another 18 months. (See CableLabs Sets PacketCable Deadline and The Slow Road to PacketCable 2.0.)

Given that, some vendors are being cautious about how they apply resources toward IMS or PacketCable 2.0.

"We think IMS will happen eventually," says Geoff Devine, chief architect, Cedar Point Communications. "But we think timeframes are different than what everyone's PowerPoint decks say."

Besides, there are other less expensive and less complex options available today for handling some of the functions covered by the new cellular integration specs.

Among them is UMA (Unlicensed Mobile Access), a non-SIP solution that tunnels legacy 2.5G protocols over IP.

"From the phone's perspective, the media's different but the protocols and media all work the same," Devine says. "It's the least disruptive to your already-deployed infrastructure. It's cheap and cheerful and does the job."

Another possible option is a femtocell, an inexpensive, low-power technology that acts as a mini cellular base station within a customer's home. One big advantage of femtocells is that they work with standard mobile handsets rather than still-coming-of-age dual-mode phones, though service providers, while interested in the technology, don't believe the technology is mature enough for mass deployment just yet. (See 3G Base Stations Hit Home and FT Preps Femtocell RFP.)

Femtocells are also attractive due to their low power consumption, whereas WiFi "will chew your battery to bits in practically no time," Devine explains.

Although WiFi was not built with power conservation in mind, 802.11e aims to change that with the WiFi Multimedia (WMM) Power Save feature.

Among cable operators, Rogers is testing UMA and femtocell technology, but has not made any deployment commitments to either.

— Jeff Baumgartner, Site Editor, Cable Digital News