DENVER -- SCTE/ISBE Cable-Tec Expo -- Cable's not done with DOCSIS yet. Beyond mainstream work on DOCSIS 3.1 and Full Duplex DOCSIS, Cisco and CableLabs have now teamed up to see what can be achieved by optimizing DOCSIS-based hybrid fiber-coaxial (HFC) networks for wireless services. The goal is to improve latency in order to use HFC infrastructure as backhaul support for 4G and eventually 5G cellular traffic. And while wireless carriers typically look to fiber for backhaul capacity, Cisco and CableLabs believe cable's RF plant can not only serve the same purpose, but potentially bring with it some major financial advantages as well.
But first, why should wireless carriers even consider turning to cable for mobile backhaul? The answer is, they already do rely on cable operators to support macro cell deployments with fiber, and as carriers look ahead to 5G and the rapid expansion of new small cells, cable companies have the last-mile footprint necessary for further backhaul capacity that telecom companies largely lack.
In some cases, cable operators even have fiber deep enough to support small cell backhaul needs. However, as Cisco Systems Inc. (Nasdaq: CSCO) Fellow and CTO of the Cable Access Business John Chapman explains, the termination point for that fiber -- the cable optical node -- is rarely ideal for hosting small cell equipment. Most nodes don't have the necessary power or real estate, according to Chapman, and it doesn't help that many aren't well placed for transmitting cellular signals.
On the other hand, cable operators have other assets beyond their fiber connectivity and optical node hardware. They also have the coaxial portion of their networks, which is naturally suited to power small cells, and they have modems and gateways that can more readily serve the location and real estate requirements of that wireless equipment.
The main technical challenge with coax networks is latency, and that's where the new work by Cisco and CableLabs comes into play.
Chapman describes how a small cell connected to a DOCSIS network via a cable modem would look today. Any bandwidth request from a cellular device would have to deal with the compounded latency of transmission to a small cell that is then connected to both a cable modem and a cable modem termination system. But what if there was a way to circumvent some of that travel time?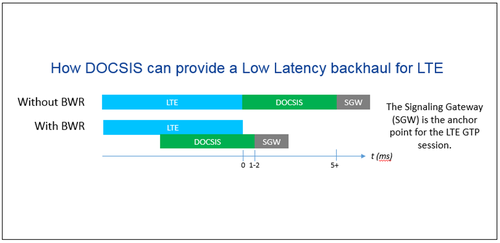 Chapman posits that it would be possible to "pipeline" a request from the LTE device to the CMTS using a new type of message called a "bandwidth report" (BWR). The BWR message would request bandwidth before it's actually needed, and therefore reduce the time necessary to grant bandwidth to the requesting device.
The approach goes beyond the theoretical stage. Cisco and CableLabs have co-authored a technical paper on the topic, which they're presenting at Cable-Tec Expo this week, and Cisco is also showing a demo of the technology at its booth during the show. There are still plenty of challenges to contend with, including the issue of mapping quality-of-service measurements between DOCSIS and cellular systems. However, none of them appear insurmountable, and Cisco and CableLabs are projecting their confidence that DOCSIS networks can ultimately meet even increasingly stringent cellular backhaul requirements.
---
For more cable market coverage and insights, check out our dedicated cable content channel here on Light Reading.
---
From a cable perspective, the potential ability to use DOCSIS networks for cellular backhaul is a tremendous opportunity. Comcast Corp. (Nasdaq: CMCSA, CMCSK) and Charter Communications Inc. , for example, are relying on Verizon Communications Inc. (NYSE: VZ)'s network to offer mobile services, but if they could use more of their own HFC infrastructure for backhaul capacity in the future, it would mitigate the costs of that mobile arrangement. Further, if they decided to rent backhaul capacity back to Verizon and other carriers, it's possible Comcast and Charter could effectively make their own wireless services cost-neutral. That would make it easier to bundle broadband at cheaper prices and expand revenue through the continued addition of new mobile offerings.
If the latency improvements work as advertised, it's also easy to see how small cells could be cost effectively embedded with cable modem equipment, much the same way that Comcast is working on integrating Lora technology into its gateways now. (See Comcast Aims to Layer LoRa Into XB6 Gateway.)
In fact, a new Heavy Reading report on Cable's 5G Backhaul & Small Cell Prospects and Challenges predicts that very thing. Author Craig Leddy concludes that with gateways supporting everything from video to WiFi today, "the future likely will see similar converged devices with 5G small cell capability as well." (See Cable 5G Backhaul Forecast: Clear as Mud.)
Those devices may not exist today, but it's very possible they could grace the Cable-Tec Expo floor as 5G technology advances in 2018, 2019 and beyond.
— Mari Silbey, Senior Editor, Cable/Video, Light Reading