The in-home WiFi network is about to become a major battleground for service providers and equipment manufacturers alike. And the coming fight could shake up the traditional CPE vendor landscape.
For many years, Internet traffic bottlenecks took place primarily in the ISP network, not in the home. But as last-mile speeds increase and devices proliferate, the situation has shifted. That's the context for today's news from AirTies , a WiFi company headquartered in Istanbul. AirTies has announced that it's entering the North American market, and that Midcontinent Communications (Midco) has signed on to be its first named US customer.
In and of itself, the Midcontinent news is significant, but not overly so. The company is a mid-tier operator with upwards of 300,000 subscribers, but the AirTies deal for now only includes one test market.
However, the AirTies announcement comes at the same time that other, bigger names have started to push resources into the home networking space; bigger names like Google (Nasdaq: GOOG), Comcast Corp. (Nasdaq: CMCSA, CMCSK), Arris Group Inc. (Nasdaq: ARRS) and Cisco Systems Inc. (Nasdaq: CSCO), all with the understanding that the home network needs a serious upgrade.
For broadband providers, it's not enough to deliver high-speed Internet up to the house and no further. "The demarcation point is not the side of the house anymore. It's in the home," explains Jeff Heynen, consulting director at SNL Financial and long-time industry analyst.
That's because consumers expect to be able to stream video and surf the web from multiple devices on their home WiFi networks, and if the connection quality is poor, they blame their ISP for the bad experience. The problem has to be solved or customers will flee to any competitor that can promise higher performance.
"The high-level takeaway is the in-home experience is just so critical now," says Heynen.
Bulent Celebi, executive chairman and co-founder of AirTies, agrees that the market is at an inflection point. "Literally a year ago, I was trying to convince operators that there's a problem… and today everybody's saying yeah, it's a serious problem," says Celebi.
---
For more on wireless networking trends, visit the cable WiFi channel here at Light Reading.
---
AirTies may not be the biggest company making a grab for home networking business, but it's no slouch either. The company's customers include Sky , Vodafone Group plc (NYSE: VOD), Singapore Telecommunications Ltd. (SingTel) (OTC: SGTJY), Swisscom AG (NYSE: SCM) and others. And Celebi says at least two or three more US customers will be announced in 2016.
The AirTies solution combines a set of wireless access points with software that dynamically steers connected devices to the best access point at any given time and the best frequency band, which is often 5GHz rather than 2.4GHz even though the signal strength for 2.4GHz might be higher. As Celebi notes, even one device that is attached to the Internet via a less-than-optimal wireless connection can drag down the performance for everyone on the WiFi network. AirTies claims that its system typically increases capacity by 3x over conventional WiFi, and that it can boost the speed delivered over a given WiFi link by up to 10x.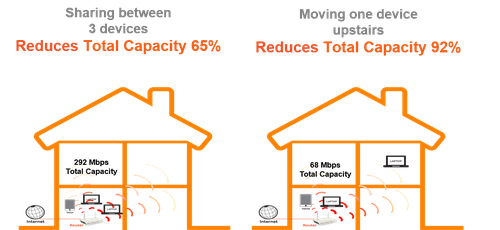 On the competitive front, AirTies does face some daunting rivals. In 2014, Comcast acquired WiFi company PowerCloud with software that enables dynamic allocation of bandwidth to different devices as needed. That software plays a role in the Gigabit Home Gateway Comcast plans to launch in 2016. (See Cablecos Going Gaga Over Gigabit.)
Meanwhile, Arris and Cisco are long-entrenched as providers of customer premises equipment (CPE) for the service provider industry, and both are contributing code to the new open-source RDK-B software stack for broadband CPE. Home networking is a major part of the RDK-B effort. (See RDK-B Could Revolutionize Home Network.)
Chipmaker Celeno Communications has also been active in the home networking market. The company unveiled its WiFi Experience Manager solution in 2014, and recently Liberty Global Inc. (Nasdaq: LBTY) revealed that its new gigabit gateway is powered by Celeno software. (See Liberty Global Bows Gigabit Gateway.)
In the retail channel, Eero has emerged as a VC darling this year. The WiFi router company has raised $40 million and promises to ship its widely anticipated smart WiFi router early in 2016.
And then there's Google. Google surprised many when it came out of the gate with its new OnHub WiFi router over the summer. The OnHub boasts a sophisticated hardware design and WiFi optimization features. (See Google Debuts Smart WiFi Router OnHub.)
And while Google is selling its router through the retail channel today, Heynen believes that's not the end game. "Embedding themselves more with operators, I think, is part of the long-term goal," he says.
Heynen also points out that the team that developed the OnHub router comes from the service provider industry. "If you're bringing on those guys, you're obviously not just doing this [for retail]," he says.
It's very early days for next-generation home WiFi technology. But there are big changes coming, and these big changes won't only transform the consumer experience, but also the vendor playing field.
— Mari Silbey, Senior Editor, Cable/Video, Light Reading