In the first two articles in this four-part series, we reviewed cable operators' need to move up market into the mid-market and enterprise segments and the unique profiles, sub-segments and high-level needs of these customers. Now, in this part, we'll dive deeper into mid-market and enterprise customer needs from a product perspective.
Understanding the distinct differences in customer needs of larger enterprises and smaller firms is critically important for operators. Unique mid-market and enterprise needs provide a blueprint for the development of MSO capabilities across the dimensions, ranging from organization to product solutions to marketing and sales approaches.
As the illustration below shows, mid-market and enterprise customers have needs and requirements that are significantly different from smaller firms. The following chart is a further breakdown of the product and solution dimensions and their impact on cable's evolution to serving large customers.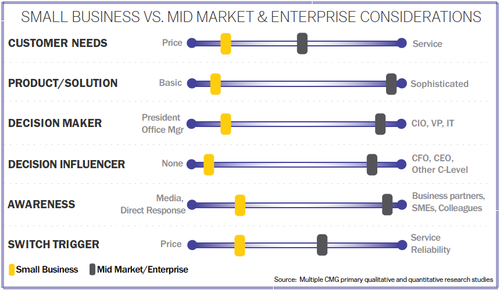 While small businesses typically require reliable data connectivity and business voice services, large customers have much more sophisticated needs. They have more employees and locations to connect, as well as the need to secure data and information across geographic and mobile boundaries. It's also likely that they are dealing with more government regulation in their businesses.
As a result, mid-market and enterprise products and solutions extend well beyond basic network connectivity and voice services. Data and networking are likely to require more advanced solutions, including fiber-borne services like Ethernet to connect multiple locations securely and provide fail-over capability. Data and networking requirements have encouraged MSOs to extend their fiber networks both opportunistically and prospectively to office buildings so they can compete for share in the large-business market. Security solutions become paramount and must cover a range of services from email and mobile to remote employee capabilities and DDOS mitigation.
While price and cost control is still important to larger businesses, the service and delivery aspects of telecommunications become much more important as customer size increases. Large businesses require on-demand delivery and deployment capabilities, and many demand-dedicated or specialized services, self-service portals and national operations center (NOC) support.
For many large enterprises, the cost of potential outages may outweigh the cost of a moderate price premium. If a service goes down, the ability to offer redundant architecture and quickly diagnose and repair is critical. The implication for cable operators? They must respond with higher levels of "white glove" services, including dedicated technical and on-demand service. All this requires investment in technology and people.
The chart below, from a Vertical Systems Group survey of Ethernet port share, shows the progress that the biggest US MSOs (Comcast Corp. and TWC in particular) have made in gaining Ethernet market share.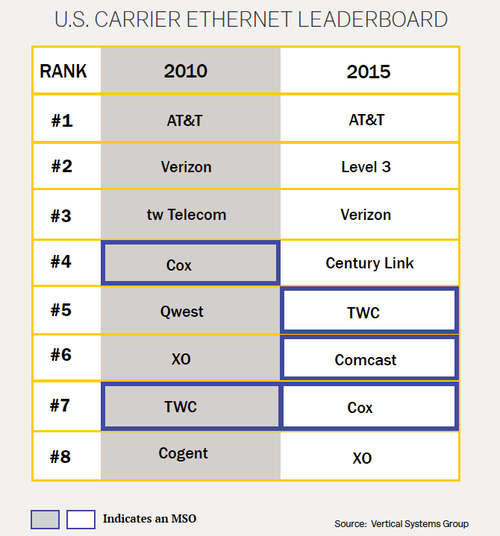 From a voice services perspective, support for unified communications and hosted voice, as well as more traditional products like PRI and SIP trunking, are table stakes for up-market business segments. In addition to these core products, cable operators are developing "wrap-around" features like employee mobility to address the needs of an increasingly mobile and distributed workforce.
Because video is particularly relevant to certain vertical markets like hospitality, bars, and restaurants, it becomes an important differentiator as a core cable product capability. Therefore, video in these verticals can serve a product anchor to open up other opportunities with developing capabilities, such as Internet and WiFi.
Finally, as more organizations make the transition to hybrid and public cloud environments, service providers must increasingly deliver solutions that encompass partnerships with data centers and cloud service providers like Amazon Web Services Inc. , Microsoft Corp. (Nasdaq: MSFT) and Google (Nasdaq: GOOG). Providers must keep current in the fast-moving dynamics of the cloud so they can understand and meet their customers' future needs.
The demands that set apart mid-market and enterprise customers from small businesses are significant, but the investments are likely to pay off. By delivering the specialized services and products that larger companies require, cable operators can capitalize on a market sector offering sizable revenue potential.
The final article in the series tomorrow will cover the decision makers and influencers along the buying journey for mid-market and enterprise customers.
— Mark Chinn, Partner, CMG Partners