CHICAGO -- Big Telecom Event -- Will cable companies ultimately join forces to offer business services to national accounts? That's the end game, according to Cox Senior Vice President for Business Services Stephen Rowley.
Speaking in a keynote session at the Big Telecom Event, Rowley addressed one of the challenges that regional cable operators have long had in the business services market, which is how to compete against telcos with national footprints. Rowley suggested that eventually cable operators will band together to service out-of-market customers. However, he also cautioned that it won't be easy.
"That requires a single offering, a single level of QoS, a single national contact person and a local contact person, and then I think it needs a national call center," said Rowley. That's not an easy task when multiple providers have to work together to make it happen.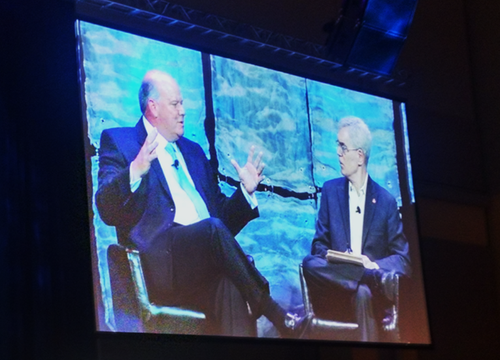 Cox Communications Inc. knows better than many cable companies about the specific challenges of business services. The company was one of the earliest in the cable sector with a commercial services offering. Growth was relatively slow early on, with revenue just crossing the $100 million mark in 2000. But it's sped up considerably. After generating $1 billion in revenue in 2010, Cox is on track to double that number in 2016. (See Cox Business Plots Path to $2B in Revenues.)
Much of Cox's commercial customer base is still made up of small to midsized businesses, but it's moving up market to target large local companies with a vertical focus on the financial, healthcare, government and education industries. Rowley also touched on commercial WiFi and his company's success in that area, referencing specifically Cox's WiFi deployment at the Las Vegas convention center, which gets flooded with WiFi users every year during the annual International CES show.
"WiFi's a big part of what we do... and really the MSO community altogether," said Rowley.
---
Check out all the news and views from the 2015 Big Telecom Event at Light Reading's dedicated BTE show news channel.
---
In a related note, Rowley predicted that small cell solutions are poised for take-off. Cox has several small cell trials going on today, and Rowley believes the time is right for rapid growth.
Asked about where else cable companies might target their efforts in the commercial market near term, Rowley said that security will continue to be extremely important, and that managed services will become a bigger focus going forward. Today Cox has managed router services. In the future it will expand into greater managed WiFi and voice offerings.
Rowley didn't want to comment on recent consolidation activity in the cable industry beyond acknowledging that if Charter Communications Inc. succeeds in buying Time Warner Cable Inc. (NYSE: TWC), it will become a significant business services player. (See Charter Plans Business Services, Wireless Push .)
He did reiterate the company line, which is that Cox's owners don't want to sell their company to become part of a larger cable operator. No one has said definitely that such a move could never happen, but it's not what the owners want.
Even the appeal of gaining scale to compete more aggressively in the business services space isn't enough right now to compel Cox into an M&A deal.
— Mari Silbey, Senior Editor, Cable/Video, Light Reading