U-verse Adds Mosaics, Media Sharing
AT&T Inc.
(NYSE: T) is keeping MSOs on their toes with U-verse upgrades that serve up mosaic video navigation applications and PC-to-TV music- and photo-sharing capabilities. (See
AT&T Adds More U-Verse Perks
.)
The Multiview mosaic application lets customers watch four video thumbnails at once, with audio coming from one main video window. AT&T is offering Multiview in the sports, news, and kids genres, but giving customers some flexibility on which channels are part of those themes.
Any of 20 sports channels, 14 news channels, and 13 family-friendly channels can be added to Multiview so long as they are already in the customer's particular subscription programming package. AT&T also offers an ESPN
GamePlan
Multiview to customers who take the network's college football offering.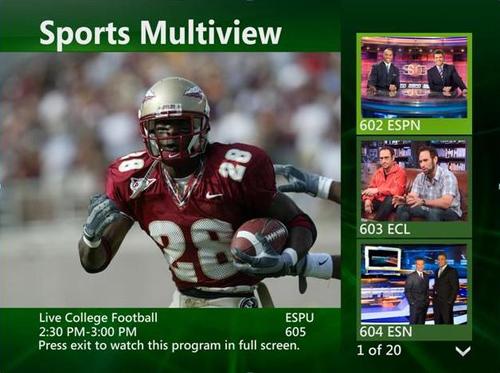 AT&T is already working on an update that will let customers create their own Multiview theme, a spokeswoman notes.
Comcast Corp.
(Nasdaq: CMCSA, CMCSK) and the
GuideWorks LLC
joint venture offer something similar with Video Rich Navigation (VRN), available on about 10 million digital boxes in markets such as Chicago and Independence, Mo. Comcast also uses pre-set themes for up to six video mosaics from a fixed batch of networks, though the application does cost some bandwidth.
DirecTV Group Inc.
(NYSE: DTV) and
Dish Network LLC
(Nasdaq: DISH) have enhanced their navigation systems with mosaics for several years. (See
Comcast Ramps Up 'Video Rich Navigation'
.)
AT&T's new Media Share, meanwhile, lets U-verse subs stream photos and music to TVs from any compatible PC on the home network. The caveat, we're told, is that the PC needs to be hooked into the U-verse residential gateway, and must run Windows XP or Vista as well as Windows Media Player 11. (Sorry,
Mac dude
.)
Among other additions, AT&T has added an awards app (on channel 95) that lists details about all programs nominated for a Primetime Emmy, Teen Choice, or Television Critics Association award, and lets customers vote on their favorites.
AT&T's last round of U-verse perks came in June and included enhancements to AT&T's Total Home DVR, a posting of top 10 video-on-demand (VoD) titles, and a VoD recommendation engine that works off of past rental history. The telco also boosted the downstream speed of its "Max" DSL tier to 12 Mbit/s from 10 Mbit/s. (See
AT&T Jabs at Cable With More Perks
.)
AT&T ended the second quarter with 1.6 million U-verse TV subscribers, adding 248,000 in the period.
— Jeff Baumgartner, Site Editor,
Cable Digital News
---
Interested in learning more on this topic? Then come to
TelcoTV 2009
, the telecom industry's premier event for the exploration of a comprehensive entertainment convergence strategy, to be staged in
Orlando, Fla.
,
November 10-12
. For more information, or to register, click
here
.
---
PARTNER PERSPECTIVES
- content from our sponsors