It's not completely U-Verse-esque, but a video service that Time Warner Cable Inc. (NYSE: TWC) is tailoring for New York City-area hotels dabbles in IPTV technology.

Time Warner Cable Business Class, in tandem with iBahn , is using IP to pump a new set of "enhanced" video services to hotels, starting off with the swanky 316-room Dream Downtown. The service features 60 channels (48 in hi-def), plus a range of over-the-top content features that are fed by the Internet. iBahn pitches in a video-on-demand service that offers about 40 new movie releases per month, plus access to some Starz Entertainment LLC titles.

Now, regarding that that IP part... TWC is delivering the video lineup over fiber to the hotel using the MSO's traditional QAM-based technology, but iBahn is converting those signals to IP before shuttling them along to i-Plus Technologies IPTV boxes that run iBahn's middleware.

Most of those channels are arriving to the hotel "in-the-clear" (without encryption) from TWC's business headend, but iBahn's core server is layering in Verimatrix Inc. security before those multicast IP streams make it to hotel rooms. The exception are the HBO and Showtime feeds -- those are coming in encrypted from TW Cable's residential service; however, iBahn is still re-encoding them with Verimatrix security so they can be decrypted by authorized IPTV set-top boxes, says Jeff Clement, iBahn's head sales engineer.

iBahn's ETVi platform also bakes in a browser and some specialized apps that let hotel occupants stream content from Netflix Inc. (Nasdaq: NFLX), Amazon.com Inc. (Nasdaq: AMZN) and even HBO Go (the programmer's authenticated TV Everywhere service) on wide-screen TVs.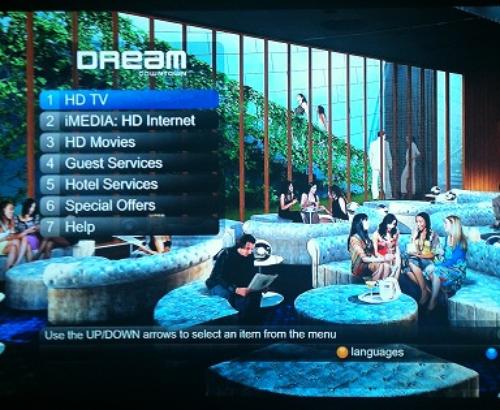 Why this matters
Business services are one of the cable industry's key growth engines, but most of that activity has been largely relegated to voice and data offerings. Those two categories helped TWC's commercial service division breach $1 billion in annual revenues for the first time in 2010 and put it on pace to rake in more than $1.4 billion in 2012.

Hybrid QAM/IP transport options, such as the one put together by TWC and iBahn, are starting to give cable operators a seat at the table when hotels go looking for video service providers, particularly in cases where a hotel location does not have a good line of site to a satellite-based source such as DirecTV Group Inc. (NYSE: DTV). Cox Communications Inc. is taking a similar approach with the CityCenter in Las Vegas. (See Cox Bets on IPTV in Vegas .)

iBahn, known more for its high-speed Internet service for hotels, launched its video component earlier this year. TW Cable marks iBahn's first announced cable TV deal, but it's already got an unidentified Canadian MSO signed up and is in discussions with several Tier 1/2 U.S. cable operators, says Cynthia Carpenter, iBahn's VP of marketing, Americas.

For more
Read more about cable's business service ambitions.



— Jeff Baumgartner, Site Editor, Light Reading Cable