The battle lines on TV Everywhere content rights are still being drawn by MSOs and programmers, but the authentication systems that will make those services easier for consumers to access and help the category achieve some scale before industry-wide standards are adopted are finally starting to take shape. (See TW Cable, Programmers Brace for iPad App Battle.)

The big news on that front was Adobe Systems Inc. (Nasdaq: ADBE)'s formal introduction last week of Adobe Pass, a system that helps pay-TV providers authenticate their customers so they can play online videos hosted by programmers. The login remains in play as they visit other sites that support Adobe Pass. (See 'Adobe Pass' Targets TV Everywhere.)

"From the user side, they don't have to log in every time. It [the TV Everywhere service] just comes alive," says Todd Greenbaum, senior product manager for Adobe Pass.

Adobe Pass is shaping up to be an important piece in the puzzle as service providers decide how they will support TV Everywhere services. Some MSOs, such as Rogers Communications Inc. (Toronto: RCI), have gone with centralized Web hubs that aggregate all the content, while others, such as Time Warner Cable Inc. (NYSE: TWC), lean towards having customers log in at individual sites hosted by the programmers. Comcast Corp. (Nasdaq: CMCSA, CMCSK) has been going in both directions -- it operates the Xfinity Online site but is also integrating with programmer-run sites that use Adobe Pass.

The emergence of Adobe Pass does intensify competition somewhat in the TVE authentication arena, which includes companies like Ping Identity Corp. and Comcast-owned thePlatform Inc. , among others. But there's also room for some cooperation between them as well.

"We see [Adobe Pass] overall as pretty complementary," says Marty Roberts, VP of sales and marketing for thePlatform, whose authentication service uses adapters developed for each MSO, since they all still tend to use slightly different authentication systems. (See Adobe, thePlatform Hook Up on Flash .)

While thePlatform is playing a big role with the aggregation sites operated by Comcast and Canadian MSO Rogers Communications, Adobe Pass has kicked off with support from Turner Broadcasting System, MTV Networks , Comcast and Synacor Inc. , which counts Dish Network LLC (Nasdaq: DISH) and Charter Communications Inc. among its service provider partners. Adobe is also in talks or in the integration process with other programmers and the "top 12 pay-TV providers," Greenbaum says.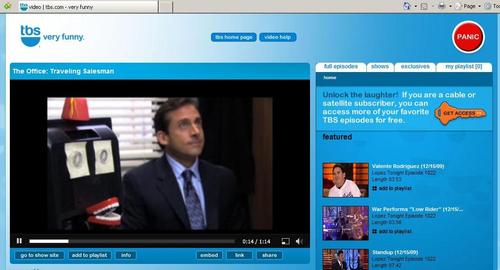 To prevent spoofing, Adobe's Flash Player 10.1 (needed for Adobe Pass) uses a secure token in a small Flash file that gives each access device a unique ID. For devices that use HTML5, such as the Apple Inc. (Nasdaq: AAPL) iPad and some connected TVs, Adobe Pass uses browser cookies and unique identifiers triggered by a Javascript file. Adobe is also working on a version of Pass for native applications that run on devices such as gaming consoles. (See The iPad: a Threat to Flash's Video Dominance? )

Plugging the pre-standard gap
These efforts by Adobe and thePlatform are helping while TV Everywhere is "caught in a window where the big pay-TV operators jumped out ahead of the standard," Roberts says. CableLabs issued its Online Content Access (OLCA) specs late last year, but they're not in use yet. (See CableLabs Issues TV Everywhere Specs .)

Roberts expects the next wave of TV Everywhere efforts from MSOs to adopt the OCLA specs. Much of that work was based on the efforts of TW Cable and Comcast, so for some, the standard won't be all that far removed.

"Since we've integrated with Comcast, and it was a main author of the CableLabs specs, we're … almost compliant, anyway," Greenbaum says.

Just about everyone is using the Security Assertion Markup Language (SAML) 2.0 for identifying customers between trusted domains (between MSOs and programmers, for instance) but there are still some variations on how content is being authorized for playback -- a piece that thePlatform has already built into its product.

— Jeff Baumgartner, Site Editor, Light Reading Cable