Dish Network LLC (Nasdaq: DISH), which has struggled to retain subscribers this year, says it hopes a new TV Everywhere portal it's launching Tuesday will help drive subscribers that it recruits through the Web to its satellite TV programming packages. (See Street Pounds Dish for Sub Losses.)

"The main goal is customer acquisition and retention," Dish vice president of online content development Bruce Eisen says regarding the launch of DishOnline.com. While all Web surfers will be able to access the site, only paying Dish Network subscribers will have online access to shows from some of the networks they subscribe to. Non-subscribers that click on shows available via the site will be prompted to order Dish service.

Eisen says Dish will also use the site to motivate subscribers to upgrade to more expensive programming packages, including movies from new premium network EPIX. (See EPIX Gains Traction With 'TV Everywhere' Model.)

One of Dish's biggest challenges in using the site to drive new subscribers is a lack of premium content. While rival Comcast Corp. (Nasdaq: CMCSA, CMCSK) offers content from more than 70 cable networks and program suppliers through its Fancast Xfnity TV site, DishOnlineTV will offer authenticated content from only about 20 cable networks, including Discovery Channel, E!, Food Network, Hallmark Channel, HGTV, MTV, Starz Entertainment, The Weather Channel, and EPIX.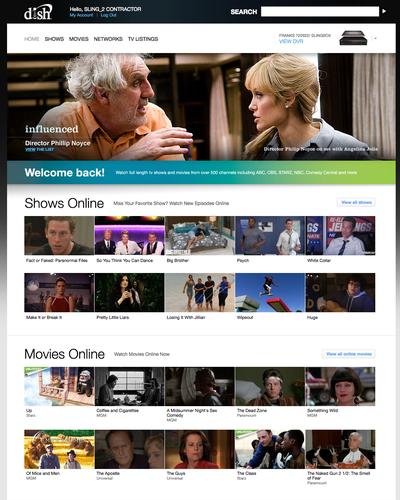 DishOnline.com will also offer access to free, ad-supported content from dozens of broadcast and cable networks that distribute free content on their own sites, including ABC, NBC, USA Network, and Fox.

Eisen says Dish is looking to negotiate deals with other programmers that would allow it to offer authenticated content from their networks on DishOnline, including HBO, which has already cut TVE deals with Comcast and Verizon Communications Inc. (NYSE: VZ). (See Verizon Gets First Taste of 'HBO GO' Portal .)

"I think it's a bit of a challenge in that it is so new," Eisen says, regarding the challenge of striking TVE distribution deals with programmers, noting that other multichannel providers are grappling with the same challenges.

Dish Network subscribers will also be able to use DishOnline.com to program their DVRs. Subscribers with a Slingbox or a "SlingLoaded" ViP922 receiver will be able to watch content stored on their DVRs through the site. And subscribers with a broadband-connected DVR will be able to use the site to order 7,000 on-demand movies and TV shows and have them downloaded to the receivers, according to Eisen. On an aggregate basis, Dish claims, the site will offer 150,000 movies, TV shows, clips, and trailers. (See Dish Starts Selling 'Sling-Loaded' HD-DVR .)

Dish developed its own authentication system for DishOnline.com. The company uses digital rights management technology from Widevine Technologies Inc. to deliver programming to customers with SlingLoaded DVRs. (See Widevine Protects Sling's Streams .)

— Steve Donohue, Special to Light Reading Cable