ZON Multimédia of Portugal began pushing the limits of Docsis 3.0 technology this month with the launch of Fibra 360, a new cable modem tier that supports downstream bursts of 360Mbit/s.

The tier, which comes with a 24Mbit/s upstream, is believed to be the fastest deployed D3 downstream service in the world, far surpassing the 160Mbit/s cable modem offerings marketed some MSOs in parts of Asia. (See J:COM Does Docsis 3.0 All Over and Wideband: Priced to Move .)

ZON is hitting the (shared) 360Mbit/s mark by bonding eight EuroDocsis channels using gear from Cisco Systems Inc. (Nasdaq: CSCO). EuroDocsis channels use 8MHz-wide spacing, with each channel producing roughly 55 Mbit/s. North American Docsis, by comparison, uses 6MHz-wide channels, with each pumping out about 40 Mbit/s.

According to the MSO's Website, ZON is making the new tier available only through a video and phone bundle that carries a 12-month promotional price of €99.99 (US$131), before rising to €104.99 ($137.73). Its next-largest service bundle comes with a 120Mbit/s cable modem service.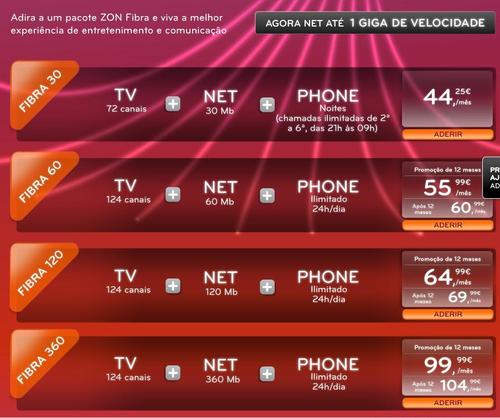 ZON, which has more than 1.5 million subs and operates networks passing 2.8 million homes, also offers a purely fiber-based tier that pumps out 1 Gbit/s.

But the new tier sets a new deployment benchmark for Docsis, and represents the latest attempt by a European operator to push the limits of the wideband technology.

Kabel Deutschland GmbH of Germany made waves earlier this month when it disclosed a D3 trial that achieved download speeds of 1.17 Gbit/s. That test, which also used Cisco equipment, aggregated the capacities of 24 downstream EuroDocsis channels. Cisco confirmed that KDG used its flagship cable modem termination system (CMTS), the uBR10012, for the trial, but has yet to explain the cable modem setup. It's been speculated, however, that the test "duct-taped" three D3-certified Cisco modems, with each outfitted with eight bonded downstream channels. (See KDG, Cisco Hit 1Gig Cable Modem Speeds .)

Before that, Virgin Media Inc. (Nasdaq: VMED) set Docsis land speed records via a pilot that's testing throughputs of 200 Mbit/s. (See Virgin Bonds With 200 Mbit/s Trial .)

— Jeff Baumgartner, Site Editor, Light Reading Cable