Speed, Agility, Virtualization – Is This Cable?
Speed, Agility, Virtualization – Is This Cable?
SCTE Cable-Tec Expo showed a new side of cable this year. When the cable industry first started talking about online video, no one knew how the economics would work. Streaming video wasn't practical. The weight of the traffic alone, not to mention the complexity of delivering video securely to any number of devices, made online television a seemingly unsolvable financial problem. It wasn't technically imaginable. It was just going to cost a lot of money.
But things change. The same industry that looked with skepticism at streaming video a decade ago has now re-architected its networks and is praising the efficiency and agility of IP video delivery. This isn't just because of the commonality of IP across every sector from entertainment to the enterprise, but because of the software-driven innovation that is now possible in an increasingly virtualized service and networking world. It took a while for cable to join the New IP revolution, but now that it has, it's waving the flag with the best of its online and telecom rivals.
Figure 1: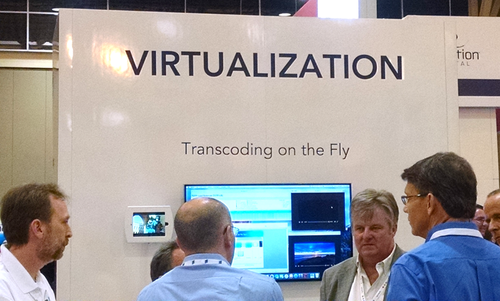 Virtualization at SCTE Cable-Tec Expo, shown here on the Harmonic booth.
At SCTE Cable-Tec Expo in New Orelans last week, virtualization was one of the most oft-repeated buzzwords of the show. Companies talked about virtualizing CPE, virtualizing headend functions and virtualizing service delivery platforms. Comcast Corp. (Nasdaq: CMCSA, CMCSK) is leading the way, particularly with its X1 video service. When Comcast CTO Tony Werner spoke about X1 as part of a keynote panel, he emphasized the importance of being able to move quickly with new feature releases. That wouldn't be possible if Comcast hadn't moved its primary video engine into the cloud and virtualized its video services.
"The world is moving exponentially... and the idea that the next five years are going to look like the last five is nonsense," said Werner.
Virtualization doesn't apply just to Comcast's IP video services, however. Comcast has undergone a radical transformation from the cable company it once was. As Kevin McElearney, Comcast SVP of network engineering explains it, the operator -- in its business as a network service provider -- went from being a cable company to a networking company and now to a software company. After building out a massive foundation of connectivity, Comcast now wants to dynamically control everything that that connectivity enables -- from consumer applications to the network infrastructure itself.
"We don't want to configure it," says McElearney, referring to Comcast's network, "we want to program it."
For more on cable technology trends, visit the cable channel here at Light Reading.
CableLabs is on the same bandwagon. The non-profit research and development consortium has active network virtualization projects underway covering both business and residential services.
For example, CableLabs has tested the use of SDN to enable network devices to provide Carrier Ethernet service. In an early experiment, CableLabs used an open source OpenDaylight SDN controller in a demonstration of point-to-point Ethernet Private Line (EPL) technology. According to Kevin Luehrs, CableLabs director of cloud architecture, the early conclusions from that experiment suggest that SDN and network functions virtualization have the potential to improve business services; that OpenDaylight has a capable SDN controller; and that APIs do provide a window into OpenDaylight functionality with the potential to expose that functionality to any other device.
Each Cable-Tec Expo has its theme of the year, and for 2015, that theme was virtualization. In keynote panels, workshop sessions and vendor booths, nearly everyone had a virtualization story to tell. Some of those stories are playing out now in the field, but many are just a starting point for what's to come in 2016 and beyond.
— Mari Silbey, Senior Editor, Cable/Video, Light Reading
Subscribe and receive the latest news from the industry.
Join 62,000+ members. Yes it's completely free.
You May Also Like
---