Kompella vs Kompella
Kompella vs Kompella
Meet Kireeti and Vach Kompella, two amiable brothers on opposite sides of the battle over VPLS standards Controversy and debate within standards groups is expected, but add in some sibling rivalry and you've got the makings of a great new reality TV show.

Vendors in the Provider Provisioned VPN Working Group of the Internet Engineering Task Force (IETF) have narrowed their choices for a VPLS standard to just two main drafts. One is co-authored by Vach Kompella, an engineer at startup Timetra Networks. The other is co-authored by his older brother Kireeti Kompella, an engineer at Juniper Networks Inc. (Nasdaq: JNPR).

So, you'd think they were at each others throats, huh? Actually, they're not. They're just nice guys.

Unlike some siblings, these brainy brothers say they've never harbored feelings of jealousy or rivalry. Even when they were growing up, there was no torturing and tormenting, no taunting or tattle-telling.

"As far back as I can remember, we always got along," says Kireeti. "We never beat each other up or anything."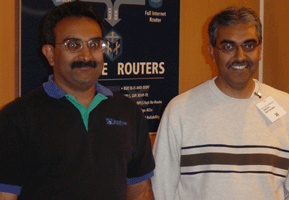 Of course, the politically-charged standards process is another story. As became evident in a recent Light Reading Webinar -- which was sponsored by Juniper and Timetra -- VPLS is turning into a tense, high-stakes battle for control of the next hot technology. This event can still be accessed via our Webinar archive.

The main difference between the two drafts is that Vach advocates using the LDP protocol for VPLS signaling setup, while Kireeti says BGP can do that and discover other VPLS nodes (see VPLS Standard Debated).
Subscribe and receive the latest news from the industry.
Join 62,000+ members. Yes it's completely free.
You May Also Like
---