Deutsche Telekom Turns On Pan-European IP
Deutsche Telekom Turns On Pan-European IP
Germany's incumbent carrier has burnished its reputation as an IP leader with the simultaneous launch of cloud-based services in three European countries. BARCELONA -- Mobile World Congress 2015 -- If IP is the "lingua franca" of the digital age -- as Deutsche Telekom CEO Timotheus Höttges likes to describe it -- then Germany's telecom incumbent can make a strong case for being its most fluent speaker.
During a press conference here Monday, the German incumbent took the radical step of launching IP-based TV and VPN services in the markets of Croatia, Hungary and Slovakia at exactly the same time.
Although only a pilot, the multi-territory launch appears to be a first in Europe's telecom sector and will burnish Deutsche Telekom AG (NYSE: DT)'s reputation as a pioneer in the fields of IP, software-defined networking (SDN) and network functions virtualization (NFV).
The operator has been overhauling the old-fashioned approach of developing and managing services on a per-country basis. By operating what it calls a "pan-European" network covering its Central and Eastern European markets, Deutsche Telekom will be able to centralize production at specialist sites serving the entire region, instead of maintaining separate production sites for each market.
Figure 1: Flicking the Switch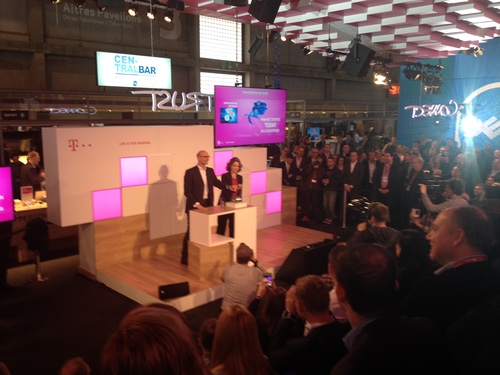 Deutsche Telekom CEO Timotheus Höttges and European boss Claudia Nemat get a handle on IP services. The ultimate aim is to become a much sleeker and more efficient outfit, capable of launching all new services across multiple geographies in just a fraction of the time possible with legacy networks. "Today it takes one or two years to introduce new products and services and that's because every country develops them in a different way," said Claudia Nemat, Deutsche Telekom's head of Europe and technology. "Imagine how weird it would seem if [carmaker] BMW had created different production mechanisms for each country." Deutsche Telekom aims to complete its transition to an all-IP network by 2018. It has already switched off its PSTN systems in Macedonia and Slovakia and expects to have made the all-IP jump in Croatia by the end of this year, while in its large domestic market a quarter of customers are now using all-IP services. The new architecture is highly virtualized and will allow Deutsche Telekom to develop new products and services in the cloud before rolling them out to specific markets, where they can then be configured to suit local needs. Unsurprisingly, it is based heavily on the TeraStream technology that Deutsche Telekom has been rolling out in Croatia in partnership with Alcatel-Lucent (NYSE: ALU) and Cisco Systems Inc. (Nasdaq: CSCO). But the pan-European deployment is expected to create opportunities for less established players, with Deutsche Telekom keen to reduce its dependency on a small number of big vendors through the all-IP move. Want to know more about the emerging SDN market? Check out our dedicated SDN content channel here on Light Reading. The progress that Croatia and Slovakia have already made in this area explains why they were chosen for the service launch. Hungary fits into the plan because Magyar Telekom plc -- Deutsche Telekom's local subsidiary -- offers what Nemat regards as the most sophisticated TV offering in the group. That provides a glimpse of what to expect in the future, with local subsidiaries pioneering the development of specific services that can subsequently be deployed across the European region. The TV service that Deutsche Telekom today launched in Croatia, Hungary and Slovakia includes a gaming service as well as a data analytics feature, allowing DT to make recommendations to customers based on their usage profiles. Meanwhile, the VPN service is designed to improve security and reduce time to market for business customers. "In Croatia, it currently takes two weeks to set up a VPN and four if it's especially complicated," said Nemat. "With the cloud product, it takes just 15 minutes to set up a VPN of medium complexity." Deutsche Telekom has already been able to realize such benefits in Macedonia, the first country to complete the all-IP transition. Customers there can take a broadband service on tap -- for a limited period, if need be -- without requiring technicians to visit their premises. The "superior production model," as Deutsche Telekom likes to call it, should also lead to major cost savings. Responding to questioning from Light Reading, Nemat indicated that Deutsche Telekom aims to slash €1.2 billion (US$1.35 billion) in costs by 2020 through the use of cloud-based technologies. The operator expects to realize around €500 million (US$561 million) of those savings outside Germany, including €200 million to $250 million (US$225 million to $281 million) from harmonization of platforms and reduced spending on vendors, €200 million (US$225 million) from simplification of technical services and about €50 million (US$56 million) from PSTN shutdown. Even so, Nemat emphasized that "agility" remains the prime objective of the all-IP transition. "Instead of reinventing the wheel 13 times, we need a production model that lets us scale up," she said. — Iain Morris,

, News Editor, Light Reading
Subscribe and receive the latest news from the industry.
Join 62,000+ members. Yes it's completely free.
You May Also Like
---