Cable Closes In on 5-Gig Upstream With FDX
Cable Closes In on 5-Gig Upstream With FDX
New milestone gives CableLabs room to begin interoperability test of Full Duplex DOCSIS technology in February. In a sign that the cable industry is serious about protecting its investment in hybrid fiber-coaxial networks, R&D organization CableLabs has announced an addition to the DOCSIS 3.1 specification that includes support for Full Duplex DOCSIS (FDX) technology at the MAC layer. FDX promises to bring real-world upstream speeds of up to 5 gigabits per second to existing cable HFC networks. CableLabs now suggests that early chipset designs will arrive over the next year, and the nonprofit group says it will begin interoperability testing events with technology vendors next month.
Upstream speeds have long been the Achilles heel of cable networks, and a marketing pain point for operators competing against fiber-to-the-home providers. Even where cable companies offer gigabit speeds in the downstream today, a typical upstream offering is still only 35 megabits per second. This is because of the way spectrum is divided up in today's cable networks; a challenge that FDX looks to overcome.
Figure 1: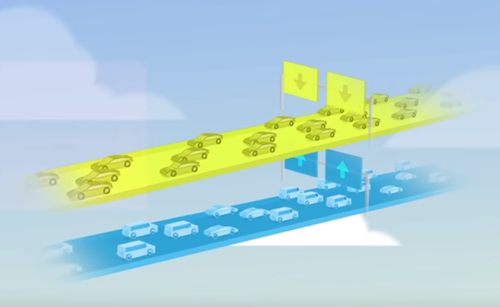 CableLabs illustrates Full Duplex DOCSIS with an analogy showing cars traveling at the same time in opposite directions.
At the heart of Full Duplex DOCSIS is echo cancellation technology, which allows cable networks to make use of the same spectrum at the same time for both upstream and downstream transmissions. An echo canceler filters out transmission signals so that a device can receive traffic at the same time it's sending out its own data. The latest additions to the DOCSIS 3.1 spec involve standardizing how that communication takes place between cable modem termination systems (CMTSs) and the cable modems in subscriber homes.
"It is focused on MAC management messaging and operation needed to enable FDX between the CMTS (Cable Modem Termination System) and CM (Cable Modem)," says CableLabs Principal Architect Karthik Sundaresan in a blog post. "This includes FDX channel acquisition/initialization process by a CM, and new processes such as Sounding, Echo Cancellation training, and Resource block assignment."
Sundaresan goes on to talk about the use of interference groups and transmission groups among cable modems in order to ensure that signals from one set of modems don't interfere with transmissions from another set. This is an approach to echo cancelation that's been touted by Cisco Systems Inc. (Nasdaq: CSCO), and indeed there are some notable Cisco names on the list of contributors to the latest D3.1 spec, including Fellow and CTO of Cable Access John Chapman. The full list shows representation far beyond Cisco, however, in what amounts to a "who's who" of technology giants in the cable industry including engineers from Arris Group Inc. (Nasdaq: ARRS), Broadcom Corp. (Nasdaq: BRCM), Casa Systems Inc. , Comcast Corp. (Nasdaq: CMCSA, CMCSK) and more.
Get your strategic roadmap to the technology trends and business cases shaping the cable industry! Join us for the Cable Next-Gen Technologies & Strategies event in Denver on March 20-22. Don't miss this exclusive opportunity to network with and learn from industry experts -- communications service providers get in free! Importantly, while the latest milestone within CableLabs is a strongly positive sign for the future of FDX, it doesn't mean that implementation of the technology will be easy even when it is commercially available. Full Duplex DOCSIS is designed for a node-plus-zero architecture, which requires that cable companies undertake the difficult task of pulling fiber all the way down to the last active node in the network. Still, the cable industry as a whole is actively working to push fiber deeper, and Comcast and Cox Communications Inc. in particular have adopted aggressive strategies for moving more of their territories to an N+0 blueprint. In the meantime, as operators add more fiber to their infrastructure, CableLabs will continue to add to and refine the D3.1 spec for FDX. The organization is still working on defining OSS support for FDX and on standardizing the use of FDX in a Remote PHY environment. For more the development of Full Duplex DOCSIS, see: How Cable Plans Symmetrical Gigabit via FDX Cisco Demos Full Duplex Full Duplex, Coherent Optics Specs Advance Cisco Makes the Case for FDX Over FTTH CableLabs Pushes Full Duplex Forward — Mari Silbey, Senior Editor, Cable/Video, Light Reading
Subscribe and receive the latest news from the industry.
Join 62,000+ members. Yes it's completely free.
You May Also Like
---