Arris Gets a Fix on WiFi 6
Arris Gets a Fix on WiFi 6
New DOCSIS 3.1 router for cable ops builds in 802.11ax, 'EasyMesh' for whole-home WiFi. Atlanta -- SCTE Cable-Tec Expo -- With WiFi serving as the in-home broadband connection for most consumers, Arris is moving forward with a new DOCSIS 3.1-based cable modem router for service providers; the device will include WiFi 6, the new name for the next-gen standard that many still know as 802.11ax.
Here at the show, Arris Group Inc. (Nasdaq: ARRS) had its first WiFi 6 product, the Touchstone mAX, hiding out in the open, but gave us a few more details on its capabilities and rollout plans. (See 802.11ax Rebranded as 'Wi-Fi 6' .)
The device builds in a 2.5 Gbit/s port, along with 2 GigE ports, one USB 3.0 port, and two voice ports. On the WiFi side, it's got 5 GHz radios (4x4 802.11ax Wave 2) and 2.4GHz radios (4x4 802.11ax). It also bakes in HomeAssure, Arris's own WiFi management system. Playing up the increasing importance of in-home wireless, the model shown here was not equipped with Multimedia over Coax Alliance (MoCA) for networking via in-home coax lines.
Bringing WiFi 6 to the mix will bring substantial improvement to data support and the utilization of air time in the 2.4GHz band, bringing it up to snuff with the capabilities of the 5GHz band, explained German Iaryczower, Arris's SVP and GM of DOCSIS products.
Figure 1: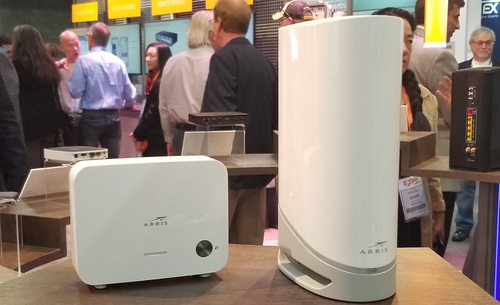 Arris said its new WiFi 6-capable DOCSIS 3.1 gateway (pictured at right) can work with "EasyMesh"-certified WiFi extenders from Arris (pictured at left) or from third parties.
He said Arris expects to start sampling the product in Q2 2019 and follow with a commercial launch in Q3 2019.
Arris isn't discussing pricing and which MSOs will be on board first, but Iaryczower said the new WiFi 6-capable gateway does have a cost delta over 802.11ac products, given the 2.5-Gig port and the new radios.
The new gateway has whole-home WiFi in mind as it will support "EasyMesh," a new program from the Wi-Fi Alliance that enables gateways to interoperate with WiFi extenders. Arris said its new gateway would work with its own EasyMesh-certified extenders or those from third-party suppliers that have also been stamped by the Wi-Fi Alliance. (See Arris WiFi Extender First to Get 'EasyMesh' Stamp .)
Arris also expects the product to take hold as MSOs increasingly make whole-home WiFi, with gateways and extenders teamed with software that can steer devices to a different band when congestion is present, a key part of their home broadband offering. Several cable operators have set this up as a premium part of their product line either with monthly fees or additional products that can be purchased outright. (See Why ISPs Are High on Whole-Home WiFi.)
Iaryczower said whole-home WiFi had become part of every meeting with cable operators. "It's table stakes to have a solution," he said.
— Jeff Baumgartner, Senior Editor, Light Reading
Subscribe and receive the latest news from the industry.
Join 62,000+ members. Yes it's completely free.
You May Also Like
---