Cable's record wireless gains create more trouble for mobile's Big Three
US cable's big wireless gains in 2023 and expected continued momentum this year paired with a broader deceleration across the wireless industry will make it difficult for mobile's "Big Three" – AT&T, T-Mobile and Verizon – to beat and raise their subscriber targets.
That's the summation of SBV MoffettNathanson, which just posted a fresh report (registration required) sizing up the US wireless industry.
Big Three face 'twin headwinds'
"The twin headwinds of decelerating industry growth and share loss to Cable are not sufficiently reflected in industry and company expectations, in our view," MoffettNathanson analyst Craig Moffett explained in the report.
Led by Charter Communications and Comcast, US cable accelerated mobile line gains in 2022, and that momentum is expected to continue into 2023.
With an estimate for Altice USA included (they haven't posted Q4 results yet), US cable captured about 1 million subscribers in the quarter alone, up over 40% year-over-year, MoffettNathanson said.
US cable also raked in more than 40% of wireless industry net adds in the period. When adjusting for 3G disconnects, cable's share jumped to 54.3%, some 25 percentage points higher than a year ago, according to MoffettNathanson.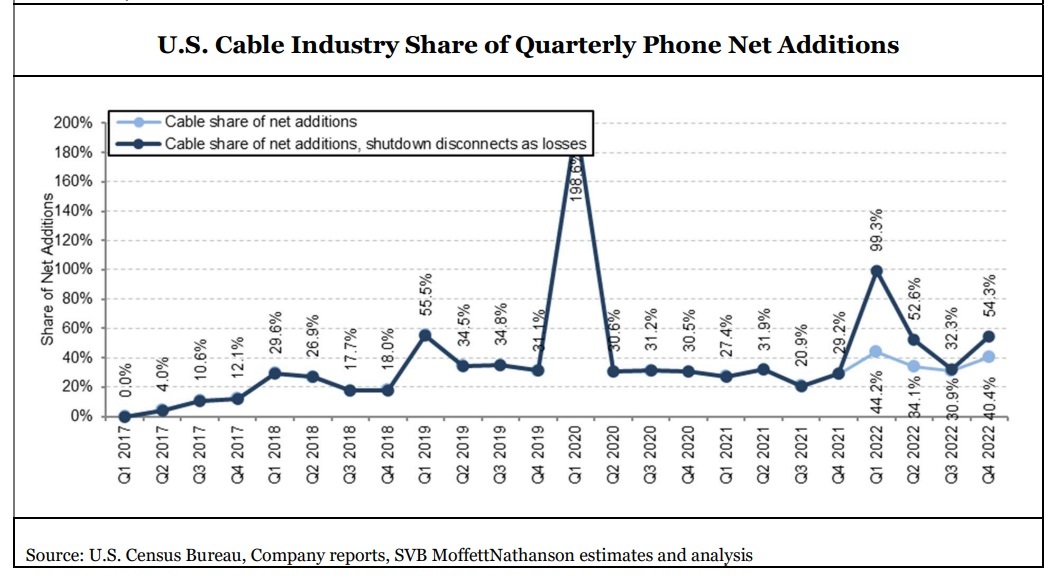 Additionally, the investment research firm estimates that cable's share of industry gross addition has climbed to a new high of 13.8%. That compares to 31% for T-Mobile, 28.6% for Verizon and 25.5% for AT&T.
Looking ahead, analysts already expect Comcast and Charter to add 3.36 million mobile lines in 2023 (1.88 million for Charter; and 1.43 million for Comcast) – 259,000 more than they added in 2022.
Meanwhile, Cox Communications is just starting to ramp up its new mobile product, and the National Content & Technology Cooperative is working on MVNO deals that will enable hundreds of small and midsized cable operators to enter the mobile mix.
Also on the near-term horizon is Dish Network, which is set to launch its Boost Infinite postpaid service later this year. Moffett doesn't have big near-term expectations for Dish's new postpaid offering, but "it can't lose subscribers – it doesn't have any to lose – so it can only make matters worse for the incumbents," Moffett explained.
Moffett believes that cable's surging growth in mobile combined with a broader industry deceleration will challenge T-Mobile, AT&T and Verizon to hit and exceed their subscriber forecasts. Notably, Verizon gets some benefit from its MVNO relationships with Charter, Comcast and Cox Communications, and T-Mobile gets the same from its pact with Altice USA.
No room for industry slowdown and cable mobile aggression
But the analyst notes that growth for the Big Three mobile carriers slowed in 2022, ending with a 2.1% year-over-year growth rate. When accounting for 3G displacements, growth dipped to just 1.3%.
Moffett's report emphasized his downgrade to "market perform" for T-Mobile. T-Mobile's 2023 postpaid net addition outlook for 2023 is in the range of 5 million to 5.5 million. But, the analyst argues, that guidance doesn't leave room for further industry deceleration this year or for continued wireless gains by the cable players.
Moffett expects T-Mobile to take more share, but believes it will become more difficult for targets to be met and exceeded if industry growth continues to decelerate and if US cable "maintains its aggressive stance."
"It is important to emphasize here that we are not forecasting a T-Mobile miss," Moffett wrote. "Our own forecasts ... are roughly in line with T-Mobile's guidance. But we believe the expectation for T-Mobile isn't just to meet guidance; it's to beat and raise every quarter, as they have in the past."
Related posts:

— Jeff Baumgartner, Senior Editor, Light Reading
Like what we have to say? Click here to sign up to our daily newsletter
Cable Next-Gen Technologies & Strategies – Making cable faster, broader, deeper, better
If you want to know where the cable tech space is heading, we've got you covered. Join the biggest names in the industry in Denver, CO on March 14 & 15 for the latest edition of Light Reading's Cable Next-Gen Technologies & Strategies conference.
Back for a record 16th consecutive year, Cable Next-Gen is the premier independent conference covering the broadband technology market. This year's edition will tackle all the top tech topics, including 10G, DOCSIS 4.0, Distributed Access Architecture, next-gen PON, fixed wireless access, network virtualization, the Digital Divide and more
Get your free operator pass here.
PARTNER PERSPECTIVES
- content from our sponsors