Royal Bank of Scotland Banks On Cloud
Royal Bank of Scotland Banks On Cloud
After a tough few years of financial crises and service outages, RBS is looking to IT and cloud to help drive transformation. LAS VEGAS -- Dell EMCworld -- The Royal Bank of Scotland had a tough few years. Hammered by the financial crisis, the bank also suffered service outages. It's looking to IT and cloud to transform the business.
It was a difficult period, says Ted Newman, RBS head of cloud services, in an onstage conversation before press and analysts this week.
"We had significant outages that were front page news. You never, ever want to be front page news, as a financial organizations," Newman said.
As part of its transformation, the bank is shutting down international operations to refocus on the UK. And it's on an application diet. Starting with 6,500 apps, it's reducing that number to 4,500 and would like to take off 2,000 more, Newman said.
Figure 1: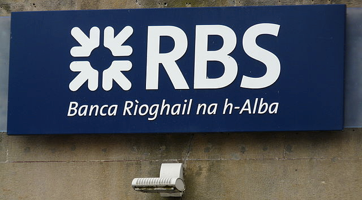 Photo by Chandres (Own work) [CC BY-SA 3.0], via Wikimedia Commons
"We're trying to better service our customers and earn back their trust," Newman said. The goal is to become number one in customer advocacy and trust in 2020.
In technology, the bank is looking to "take infrastructure out of the equation," Newman said -- make infrastructure something the bank can take for granted, so developers can focus on operations. RBS is transitioning to a single platform-as-a-service framework running on internal or external infrastructure -- in other word, hybrid cloud.
RBS calls the new IT infrastructure the "Enterprise Cloud Platform," Newman said. "My boss says 'Enterprise Cloud Platform' is the IT equivalent of 'Bob.' It's a very generic name," Newman quipped.
The problems aren't just technological. RBS needs to change IT culture, Newman said.
"If you don't change the operating model, it's like handing the keys to a Ferrari to your grandmother who's driven an Escort," Newman said. "You're not going to get the value out of the Ferrari because you don't know how to use it."
Additionally, IT needs to "get away from the worst case of not-invented-here syndrome I've ever seen," Newman said. IT needs to innovate, and buy solutions where possible.
And IT needs to get away from an "engineering mindset," Newman said.
"We're trying to move to a customer-service-centric organization," he said. "Rather than building a bunch of stuff in the engineering organization and hoping it lands, we're doing something novel and asking application owners what they want."
IT is changing to a continuous improvement mindset, instead of monolithic projects that take four to five years to roll out and see value in the 34th month.
IT staff and managers have become accustomed to the old way of doing things. And they've had time. The longest tenure at the bank is 43 years in the leadership team, and the average tenure is 20, Newman said.
"We're not doing things in the big bank approach, where we're rolling out a whole operating environment at the same time and hoping it's successful. We're fixing one thing today and we'll fix the next thing the next day."
Related posts:
— Mitch Wagner
Editor, Enterprise Cloud News
Subscribe and receive the latest news from the industry.
Join 62,000+ members. Yes it's completely free.
You May Also Like
---