HPE CEO Whitman to Leave, Soon After Saying She's 'Not Going Anywhere'
HPE CEO Whitman to Leave, Soon After Saying She's 'Not Going Anywhere'
Whitman says HPE's next CEO needs to be a technologist, as current president Antonio Neri takes her job Feb. 1. Less than three months after she said she's "not going anywhere," Hewlett Packard Enterprise CEO Meg Whitman says she's going somewhere -- leaving the top job effective Feb. 1, to be replaced by current president Antonio Neri.
The company announced Whitman's departure Tuesday, along with its fourth-quarter results.
"Let me just say, in closing: It has been the privilege of a lifetime to lead the company founded by Bill Hewlett and Dave Packard," Whitman said on the earnings call. "I'm proud of what we've accomplished during the last six years. We've laid out a strong foundation for a prosperous future, and now is the right time for Antonio and a new generation of leaders to take the reins."
HPE traded at $13.29, down 5.88% after hours.
The announcement comes just a short time after Whitman addressed rumors that she might take over Uber. In a Sept. 5 Hewlett Packard Enterprise earnings call, as those rumors swirled, Whitman said, "I've dedicated the last six years of my life to this company and there is more work to do... I am here to help make this company successful and I'm excited about the new strategy... So, lots more work to do and I actually am not going anywhere." (See HPE's Whitman Says She's 'Not Going Anywhere'.)
Figure 1: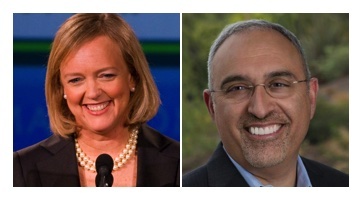 Whitman photo by Max Morse (Meg Whitman speaks at the Tech Museum in San Jose) [CC BY 2.0], via Wikimedia Commons. Neri photo by HPE.
On Tuesday's call, Bernstein analyst Ton Sacconaghi said he was "a little surprised" by the timing of the announcement of Whitman's departure, in light of Whitman's previous statements. The timing "feels a little abrupt," he said, and asked Whitman if "there was a change of heart." The company's server business still has plenty of room for improvement, he said. "It's not obvious at this point that HP is at some ready point for a change."
"There hasn't been a change in sentiment," Whitman responded. "What I think is absolutely true is that Antonio is ready to take the reins and go the distance. We have a much smaller, much nimbler and much more focused company, and I think it is absolutely the right time for Antonio and a new generation of leaders to take the reins."
During Whitman's tenure at HP, she focused on "shareholder value creation, financial restructuring, [and] ignition of the innovation engine," she said, "but the next CEO of this company needs to be a deeper technologist, and that's exactly what Antonio is."
Whitman noted that she's previously said the next CEO of the company needs to be both a technologist and an insider, and Neri fits the bill as a trained computer engineer with 22 years in HP and HPE, who's worked in every part of the company, starting out doing tech support in a call center. (See HPE Appoints Antonio Neri as President.)
During Whitman's tenure, she led splitting Hewlett-Packard into two companies: HP Inc., with a focus on the PC and printer business, and Hewlett Packard Enterprise, for which Whitman took the reins. HP and HPE created 220% shareholder value since the fall of 2012, with an 89% increase for HPE alone since the separation, which is three times the S&P 500, Whitman said on Tuesday's earnings call. Neri will lead the company through simplifying the business and executing strategy which Whitman and Neri put together jointly.
HPE sold off multiple parts of its business, in software and services, to focus the company on "hybrid IT," helping enterprises combine traditional IT, private cloud, and multiple public cloud, to drive business value.
Neri is a good fit for the top spot, Patrick Moorhead, president and principal analyst for Moor Insights & Strategy, said. "Antonio 'gets' the customer and understands what they want, how they want it, and when they want it. In addition, Antonio understands the technology and I think that pair is a good one, especially with the move to multi-cloud," Moorhead said.
What's next for Whitman?
"After a 35-year nonstop career, I am actually going to take a little downtime, but theres no chance I'm going to a competitor. No chance. I have to say I've become quite loyal to Hewlett Packard, and to Hewlett Packard Enterprise, I love this company and I would never go to a competitor," she said.
So, don't count out Whitman popping up at one of HPE's competitors. After all, this is the same woman who said three months ago she's "not going anywhere" from HPE.
— Mitch Wagner




Editor, Enterprise Cloud News
Subscribe and receive the latest news from the industry.
Join 62,000+ members. Yes it's completely free.
You May Also Like
---