Growing Pains Will Force Telcos to Shape Up
Growing Pains Will Force Telcos to Shape Up
In a no-growth future, service providers will need to focus more keenly on cost savings and efficiency gains. For modern-day capitalist countries, the trajectory of economic development has historically resembled an aircraft after take-off, encountering pockets of turbulence but steadily rising.
Recently, though, it has started to look more like a plane that has reached its cruising altitude. In a book published in 2013, Stephen D. King, the former chief economist of banking giant HSBC, surmised that stagnation could become the "new normal" as more people want for nothing and growth opportunities dry up. Per-capita incomes rose by just 4% between 2003 and 2013, he pointed out, after increasing by 36% in the preceding ten-year period.
While digital transformation and automation will continue to produce economic winners and losers, the telecom industry is one that broadly illustrates King's rationale. Following the broadband and mobile booms of the last 20 years, telcos have nowhere obvious left to expand.
Although the difficulty of growing sales is widely recognized in the industry, few would acknowledge that stagnation is an incurable malady. Most telcos still seem determined to unearth the next big growth opportunity, despite the probability it will never be found. "We are really in a business that needs to review the way it operates," says Bengt Nordström, the CEO of consulting company Northstream and a former C-level telco executive. "We've been dreaming of and hyping growth for many years but it has never come."
Much of the current interest surrounds 5G, a next-generation network technology promising faster connections, reduced latency (the delay that occurs during data downloads) and more efficient, software-based networks. Yet 5G seems likely to follow the precedent set by previous generations of network technology, which in saturated markets have largely failed to spur revenue growth despite the initial hopes. "Unfortunately, consumers have been shown to be the only real beneficiaries so far of different tech generations," says Robert Grindle, a Deutsche Bank AG analyst. (See 5G: Another Next-Generation Disappointment?.)
Want to know more about 5G? Check out our dedicated 5G content channel here on
Light Reading. Besides sprucing up their networks, operators have tried expanding into different parts of the value chain, and even entering entirely new industry sectors. Yet these efforts are not bearing much fruit. While a number of Internet giants have marched successfully into communications markets, telcos have struggled to move the opposite way into web territory. From a pure connectivity standpoint, the Internet of Things (IoT) could see 5G and more advanced 4G networks used to support billions of new devices over the next decade. But analysts doubt that connectivity revenues from IoT services will be substantial. (See 5G Guru Predicts Rollout Disparity and Is Sigfox on the Run?.) In fairness, telcos can hardly be accused of peddling 5G as a future engine of sales growth. Several years ahead of its commercial deployment, most operators have been circumspect in their statements on the technology. A few have even expressed misgivings. (See Russia's MTS Knocks 5G as 'Vendor Game'.) Nevertheless, it would take a brave operator to admit that 5G is not a growth opportunity. The UK's EE has perhaps come closest, publicly acknowledging that network upgrades merely slow the ongoing sales decline. As for the financial community, it continues to expect "very little" from 5G, says Deutsche Bank's Grindle, given the well-remembered disappointment of 3G. (See EE: New Tech Is Mobile Revenue Savior.) Next page: The new normal The new normal
The need to protect existing revenues certainly gives operators a compelling reason to invest in 5G. But the unlikelihood of sales growth makes any surge in spending an equally remote prospect, especially as telcos take advantage of the higher-speed and less costly 4G technologies that are now appearing. "It's not really fair to assume limited uptick in revenues and then assume the operators spend lots of money on the upgrade," says Grindle. In his view, overall capital expenditure will not increase unless sales buck expectations and soar: Spending on 5G will simply replace that on other technologies. (See 4.5G Sets High Bar for 5G.) All of this could bode ill for some of the equipment suppliers anticipating a boost from 5G spending. From an operator perspective, more importantly, acknowledging the "new normal" of stagnation will also necessitate a reappraisal of capex priorities. "Historically, capex budgets have gone on things that can potentially generate new revenue streams," explains Nordström. "You could have more focus on investments that will reduce costs for operators." There is plenty of fat that operators can trim, he says. Despite interest in digital transformation, most are still wrestling with outdated legacy systems. Many retail divisions look overstaffed and out of synch with online sales channels. Notwithstanding the obvious differences between telcos and web companies, a revenues-per-employee comparison with Internet giants is unflattering. UK-based Vodafone Group plc (NYSE: VOD) recorded revenues of $502,000 (using today's exchange rates) per employee in its 2015 fiscal year (which runs from April 2014 to March 2015), while for Germany's Deutsche Telekom AG (NYSE: DT) the figure last year was just $324,000. The equivalent metric at Google (Nasdaq: GOOG) was an impressive $1.2 million in 2015. And at Facebook it was $1.4 million. Figure 1: Revenues Per Employee in 2015 Fiscal Year ($)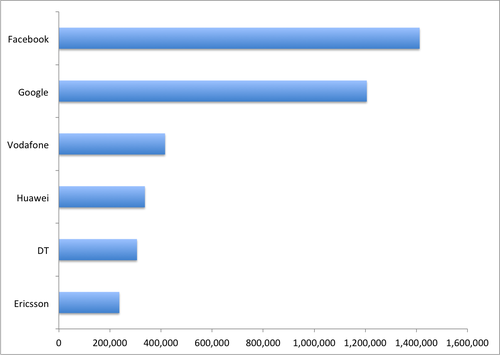 Source: Companies. Ditching old systems and laying off staff is certainly not easy, as many operators have discovered. The sleek vessel of digital transformation has often run aground on the rocks of legacy back-office technology. In unionized labor markets, such as Germany's, hiring and firing staff can be even more onerous than a major IT overhaul. And the software and virtualization technologies that promise efficiency gains (among other things) have thrown up challenges of their own -- not least, getting one vendor's products to work with another's. (See NIA Report: The State of NFV Interop .) But their historical preoccupation with growth has arguably left telcos with only half an eye on such efficiency matters, especially while the industry remains so profitable. Circumstances could rapidly bring about change. In the future that HSBC's King describes, shaping up will be the only way for operators to boost their profits and attract investors, concentrating executives' minds on that very task. It is surely a less exciting vision than one of 5G-fueled revenue growth, but it might be the industry's best hope for long-term prosperity. — Iain Morris,

, News Editor, Light Reading
Subscribe and receive the latest news from the industry.
Join 62,000+ members. Yes it's completely free.
You May Also Like
---