CEO Chat With Huawei's David Wang
CEO Chat With Huawei's David Wang
Huawei's David Wang talks about interoperability, Trump and innovation, and weighs up the key differences between telcos and OTT players. One of the nice bits of my job (other than the teeny tiny salary, obviously) is that I get to pick and choose who I interview for this slot on the Light Reading home page. While all of the interviewees I select qualify as "interesting," my chat with David Wang, the president of network solutions at Huawei Technologies, delivered exceptional insights.
There are a few reasons. First, his level of responsibility: Wang is in charge of end-to-end strategy in R&D, marketing and business and operations management of the entire Huawei Technologies Co. Ltd. network product portfolio, including the access network, optical transmission network and carrier IP and enterprise network. In other words, pretty much everything that matters to Light Reading's audience.
Figure 1: Passionate Believer in Transformation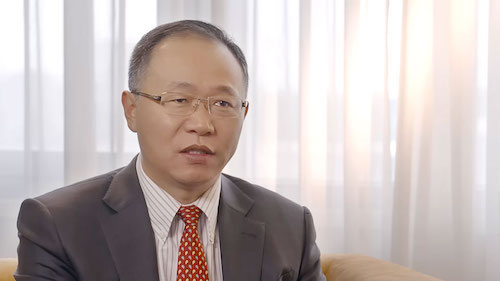 David Wang, president of network solutions for Huawei, says the business the Chinese vendor is in now extends far beyond building networks. Then there's the fact that Wang works for Huawei, which has not just been rocking the boat in our industry -- it's utterly torpedoed the lazy status quo enjoyed by Western incumbent suppliers through the end of the last century, delivering unprecedented levels of growth and margin, and acting as a true industry disruptor. (See CEO Interview: Huawei's Eric Xu, Huawei's Sales Soar but Profit Growth Grinds to a Halt, Huawei's Network Sales Up Around 32% in 2016 and Is There No Stopping Huawei?) Then there's Wang himself -- someone who shares my views about the significance of next-generation communications infrastructure; we are both passionate believers that the business Huawei and others are in now extends far beyond building "networks" to providing a ubiquitous global infrastructure that can have a transformative effect on industries, societies and the individuals that live in them. Finally, Wang is also remarkably free-spoken. Senior executives at Chinese companies tend to be reserved, non-committal. Wang, in contrast, is an enthusiastic, candid and spirited interviewee. Read on for our discussion of the key issues faced by the next-gen communications industry today -- topics on which we found ourselves, for the most part, in violent agreement. Next page: The concrete cloud The concrete cloud
Steve Saunders: You recently announced the all-cloud network. How has it been received? (See Huawei Unveils Its 'All-Cloud' Pitch .) David Wang: People have been talking about cloud for a while, but we think we're now at a point in the industry where cloud will reshape everything. That's why we have released our entire end-to-end all-cloud network solution. Of course we've made cloud announcements in the past, but they've tended to be a bit more generic. This is different; it's a concrete solution that will show all of our customers, our partners -- our ecosystem -- exactly how we will build this kind of a cloud-based network. In the past few years we've heard a lot of people talk at a high level about cloud functionality and services, but mostly that's all it has been: talk. There hasn't been the detail on how to really apply it in the network in a way that drives commercial results for the customer, regardless of which telecom operator delivers it. SS: Well, today the operators can't get at the commercial application because the technology itself is so complicated and there's no interoperability. It's a total mess. To me that's why this is such a significant announcement from Huawei: because companies need to come forward -- in this case, it's you guys -- and say, we will make this simpler, or usable, by providing you with the whole solution. Originally, everybody thought, well, that's the last thing service providers are ever going to want. But today we have the major service providers saying, "if it's this complicated to get products from different companies to work together then actually, yeah, we would like a single solution, thank you." Of course, the one area of the network where I think the service providers will absolutely insist on having multiple vendors providing solutions is in the services, the applications that run over the network infrastructure. And making that interoperability a reality is very challenging. DW: We're pushing hard for exactly that. We don't think one vendor will dominate everything. That would represent a lock-in for both operators and enterprises; nobody wants that. My last job at Huawei was in the wireless business, and there you see all of the key players working together on new technology no matter what their commercial differences and agendas -- Qualcomm, Ericsson, Nokia and Samsung… but also AT&T and Vodafone. A lot of companies are coming together, in a democratic sense, and voting, and the efficiency in developing new tech which works together is actually very high. Want to know more about cloud services? Check out our dedicated cloud services content channel here on Light Reading. Every ten years we define a new generation, a new release, of wireless. From 3G to 4G to 5G. But now look at SDN/NFV. This is not developed in a peer-to-peer way. It's not a fair environment. We don't think the IT principle of developing technology can be applied to the telecom world. So in the telecom world we follow the 3GPP wireless kind of model, a fair model. In the IT world you can in theory build everything on your own platform. But if you want that platform to work in telecom you need to eventually tackle interoperability. You absolutely have to think about the future. You cannot be in a situation as a service provider where you have to renew your infrastructure every two weeks, which is what the IT guys or the OTT guys do… SS: Well, they seem to enjoy it. DW: They really do enjoy it. SS: It's like a hobby for them. DW: Yeah. It is. SS: Service providers hate that [general hilarity round the table]. So it doesn't work at all in the service provider world. Don't you feel like we need standards for all of this? Next page: The business case The business case
DW: Yes, we do need standards. But let's get back to the all-cloud network model for a second. I think we need to start by turning things around -- by asking, first off, what kind of benefit or value can this bring to the operator or enterprise? In other words, the assessment should be value-based, first, not technology based. Otherwise you're just doing what the vendors want by fitting in with their agendas; one just wants to sell their chip set; another wants to put their competitor out of business. That's no good. So we think the analysis should be value-based, and in thinking about how to define an all-cloud network we basically came up with four key features or characteristics that should be included. The first is openness. That means not just having an open ecosystem but being open in a way that allows service providers to easily add new applications or new features. SS: Exactly! I couldn't agree with you more on this. DW: Today's telecom networks are built on a siloed architecture, compared to OTTs, who use a DevOps model that allows them to make a lot of mistakes but also to fix them really quickly. Telcos, in comparison, are really slow. So we need to build an architecture which lets the operator add new applications, fast. That's an agile architecture. We need to move on from the situation where it takes a couple of months, best case, to configure a leased line from Europe to the US. Right now this is partly a network issue, but it's also a cultural issue within telcos. And with this new cloud architecture, we can fix that. We can make this happen. This is really essential, because the opportunity for telecom operators to make money right now is in B2B services [like leased lines]. That's where you can make incremental money, not in B2C, which really isn't changing a lot. So to take advantage of this opportunity the telcos need to become agile. The third feature is intelligence. Look at IP networks today -- each router, each node, is a standalone device. They use the same IP protocol but you don't have one [network] element that knows the entire situation. SS: There's no centralized point of control... DW: …of the entire network, exactly. But today using the cloud-based architecture, we could create an element that intelligently understands the status of every node in the network and can control resource utilization in a much smarter way. And then the fourth point we call high efficiency. And this is actually something that comes about as a result of the other characteristics. SS: But should we not add a fifth point? Security. DW: For sure. I agree with you. Once you move from a silo architecture to a cloud-based architecture the biggest threat is security. Everything is on the cloud, including the control part. So security is not a new feature. It's a must-have function. Part of the foundation. SS: I see. DW: Once management and control are enabled in the cloud we need to start thinking about what kind of new functionality we can deliver. What new benefits can we get? I think a clear opportunity is to help operators deliver a much better user experience in the household. Right now, the end users always complain. The WiFi coverage is very bad. The Internet TV experience is very bad. The home gateway is a box that no one cares about sitting in the corner of the room full of dust. But in a cloud-enabled network the operator is empowered to use this kind of box to support more and more functionality, and give the home user a much richer experience. Doing this will require new router capabilities. This year, for instance, we will be releasing our first routers that are capable of slicing, which will be married to a brain that controls the slicing policy, but also intelligently and flexibly controls the different user connections in the household. Next page: Simple solutions to basic problems Simple solutions to basic problems
SS: I was talking to a leading US service provider recently and they were complaining that they had installed the NFVi solutions from four of the leading US vendors… DW: Not Huawei… SS: …right, but not Huawei. And the service provider was deeply dissatisfied because in each case it took six months for them to get the software to work and, not only that, but the vendors had charged them for the system integration work involved. And then, when they finally got the products working, they found out that they could only run services and applications from the vendor that provided the NFVi. And the representative of this service provider said that if things don't improve they might actually consider talking to Huawei, which is a big deal. But does Huawei have the same issue with its NFVi solutions? DW: We don't need six months but it's not a short process. And you have to dig into the root causes that are causing these very long installations in order to fix them. SS: So what are the causes? DW: The situation is caused by IT work principles being applied in telco markets. We need at least a basic interface. We need to standardize. We need to make it easier for products to interoperate. And we need to take care of all this before we go to the customers. And we can't implement a straightforward IT software business model, and always charge the customer for everything. We need to eat that loss. The point at which we should start charging is when the product is working and the operator is asking for customization, but not before. Just because IT contains concepts or ideas that have value doesn't mean we can import them wholesale into telecom; we need to take the good and abandon the bad. SS: Service providers are getting overwhelmed by how complex the universe of virtualization is. But actually, it's quite simple, isn't it? We don't need to, right now, work on interoperability between every component of the NFV universe. It's not like service providers are going to start mixing and matching different pieces of NFVi from different companies. Where we do need interoperability is between the NFVis and the VNFs, right? DW: Yeah, yeah, yeah. I agree with you. SS: So if we solve that piece, doesn't it then open up a marketplace for the best VNFs, just like I have on my phone for Apple applications? DW: I totally agree. At some point we need to standardize this code to create interoperability. Next page: Trump, isolationism and innovation Trump, isolationism and innovation
SS: You may have heard we have a new president in the US. DW: [Laughs] Yeah, really a very special person. And he's creating some uncertainty, is our understanding. SS: I think it's creating a lot of economic uncertainty around the world, but for those in the next-generation communications industry in North America, specifically, there's a risk that if Trump continues to encourage isolationism, America is going to lose the communications battle with the rest of the world. DW: We have heard that concern in Silicon Valley, yes. SS: Interesting that you mention Silicon Valley. Does the Valley still qualify as the crucible of our industry's technology innovation? I'm not sure it does. Certainly it was in the 1990s. But today Huawei produces a huge amount of unique patented technology, and is investing huge amounts in R&D. Does this mean the center of innovation is shifting outside of America? DW: It's perhaps not as unique as it was but it's still the biggest trigger for new innovation. A lot of the new technology, new ideas and concepts -- even some of the philosophy -- still comes from the Valley. It's true that [Huawei] has a huge investment in R&D but to be completely transparent we still think that there's quite a big gap between us and American companies -- especially in the area of research. From a development point of view we have a huge team, and they're very capable. Very good engineers, who have developed very good products. But on the ideas side a lot of the new tech is still originating in Silicon Valley. It's quite different. That's why we have a research facility there. SS: Yeah. Three hundred people, next to Brocade HQ; I've seen it. DW: Not just there. We're in New Jersey, Dallas, San Diego, Seattle. We have locations in different cities for different technologies. And we're hiring Americans, not Chinese. Of course there are other places which are also very good: in Canada, in Europe, the UK… SS: Cambridge? DW: Yes, Cambridge. Those people are very, very good, especially for optical photonics. There are a lot of very good experts in Munich, and in Sweden. Even in Russia -- we recruit a lot of pure mathematicians there to work solely on the algorithms required in these advanced technologies. That's very important. But I think the Valley is still, well, it's very special. It's unique, edgy. It's still the best. — Steve Saunders, CEO and founder, Light Reading
Subscribe and receive the latest news from the industry.
Join 62,000+ members. Yes it's completely free.
You May Also Like
---