The Long Goodbye Finally Ends
The Long Goodbye Finally Ends
Two years after first announcing my retirement plans, I'm really doing it. No, really. I went public with plans to retire in January 2017, and it was mentioned on the stage of our Big Communications Event in May of that year. The plan was always to cut back to part-time writing for 2018, surrendering my role in Light Reading events and eliminating business travel.
I stuck to that but did appear at four events this year as a journalist, leading to a lot of comments along the lines of "Hey, I thought you retired!" A couple of weeks ago, I was introduced on a phone interview as "a long-time telecom writer who periodically threatens to retire."
Today, I make good on that threat. When I close my laptop at about 1:00 p.m. Central Standard Time, I will be ending more than 45 years of work as a journalist, the last 33 years of that covering telecom.
I have to admit that if someone had told 20-year-old Carol Wilson, the freshly minted J-school grad and rookie sportswriter at the High Point Enterprise, that she would ultimately spend most of her career writing about telecom technology, she would have been flabbergasted... and probably disappointed. The idea that I would consume myself with the business of telephone companies -- TELEPHONE COMPANIES! -- over football and basketball games would have seemed preposterous and, let's be honest, truly boring by comparison.
Figure 1: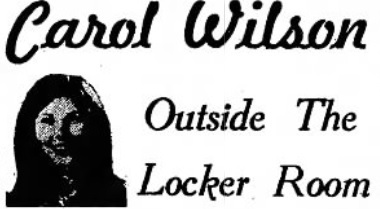 Really bad reproduction of my column logo as a sportswriter.
Looking back, however, I can't imagine a better industry with which to have engaged as a journalist way back in 1985.
Telecom not only gave me a way to support my family and successfully launch two young adults into the world, it also gave me many opportunities to travel that world and to learn more about the complexities of modern communication technologies directly from the people who create and use them. I was given a ringside seat to technological change that has impacted almost every aspect of the life we live today in ways I could never have imagined.
I owe a great debt of gratitude to the literally hundreds of incredibly smart people I've interviewed over the years, who patiently fielded my often naïve and sometimes downright dumb questions, taking the time to explain how fiber optics, wireless spectrum and packet networking all work to someone who couldn't be bothered to take physics in high school.
There are too many people to start listing folks by name, but I hope you know who you are, and that I didn't just say "thanks for your time," at the end of interviews as a formality. I should also mention the many public relations professionals who handled my sometimes arcane requests for information and managed to (usually) keep things on schedule, and by things, I mean me.
You can't cover an industry for 33 years and not feel a part of it, and I have felt very much a part of the telecommunications world. Like many in telecom, I found the mid-90s to be a giddy time, incredibly busy and demanding but also quite lucrative. When the telecom bubble burst, it wiped out my dream job, as editor-in-chief of The Net Economy, a publication of which I am still justifiably proud. I learned what so many who founded their own optical networking companies also encountered -- with great adventures come great risks and sometimes you fail.
Figure 2: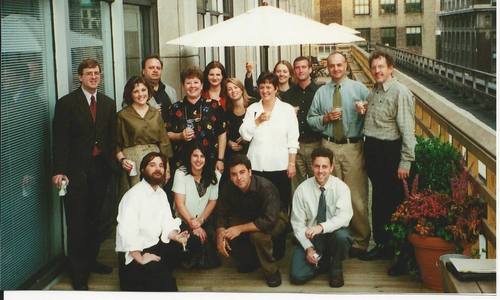 In the go-go 90s, launching a magazine like The Net Economy meant roof parties for the whole staff, here on the infamous Ziff-Davis Media deck.
Fortunately, I was lucky to hang in long enough for the rebound and at least two more rounds of watching the telecom industry re-invent itself.
I am most grateful for the many talented colleagues with whom it has been my pleasure to work. Again, the list is too long to name names but it starts with a wonderful bunch of folks at Telephony who gave me my start, and includes the most driven bunch of smart people you'd ever meet at Inter@ctive Week. The Net Economy was my own hand-picked all-star team of editors and writers. When that failed, I was lucky to find support first as a freelancer and then on a return stop at Telephony before finally landing at Light Reading for the last nine years. (See Telephony's Carol Wilson to Join Light Reading.)
I am proud and happy to end things here, amongst Light Reading and Heavy Reading colleagues who know how to have a good time, as well as how to do good work. Working on LR events has been particularly gratifying -- if also stressful -- and being able to venture into the best cities in the US and Europe along the way was a significant bonus for me.
Figure 3: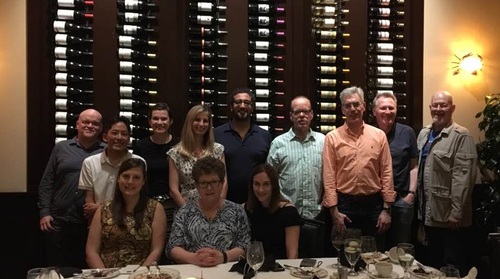 We do still manage to party, here at BCE 2017, my "last."
Figure 4: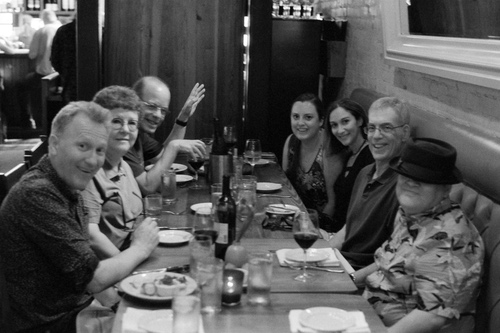 The Light Reading crew at BCE in Austin, Texas.
Some of my favorite professional memories are of keynote panels where I got to pepper some of the industry's brightest folks with questions in front of large crowds. It doesn't get much better than that and if I looked like I was having great fun, it's because I was. Sometimes, I also had fun on camera as with this video, which I promised Ray Le Maistre I'd include in my farewell column:
There are significant things ahead for me still, mostly in the realm of volunteer work. I'm sure I'm going to miss many aspects of my work as a journalist (other than the work part) that I don't yet fully appreciate, and I will certainly miss all of you.
If you've read this far, hoping for some insight into telecom's past or future, sorry. That's not what this column is about. And right now, it seems like way too much work since, after all, I am now retired.
— Carol Wilson, (formerly) Editor-at-Large, Light Reading
Subscribe and receive the latest news from the industry.
Join 62,000+ members. Yes it's completely free.
You May Also Like
---